In the wake of the Yahoo data breaches a few years ago, we showed you how to dump Yahoo Mail in response to Yahoo's poor handling of the situation. The same thing feels appropriate as a response to Facebook's huge Cambridge Analytica "data breach," although leaving a social network might be a lot harder than replacing your email.
Nevertheless, it sure looks like there's a #DeleteFacebook hashtag on Twitter, which means plenty of people are ditching their Facebook accounts in response to these revelations. It's actually pretty simple to delete your account, and we're going to tell you everything you need to know about it.
First of all, you should know this wasn't actually a hack. This is a crucial detail. Your data has not been stolen and you're not at risk. However, developers used the user data resources Facebook put at their disposal, and then went creative about using said data for election-related purposes. Does that mean any apps could have, at the time, harness the same information about you? That's probably likely, which is why this may turn out to be a huge headache for Facebook.
Before you deactivate or delete Facebook, you might want to consider downloading a copy of your Facebook data, just to make sure everything you've been posting on Facebook all these years isn't lost — there's a Download a copy of your Facebook data option right below Manage Account in the Settings menu.
Also, you should consider deactivating or deleting Facebook on a computer rather than on mobile, so you can grab your data beforehand. But make sure you remove your Facebook apps from smartphones and tablets if you go through with deleting or deactivating Facebook.
Deactivate Facebook
If you want to deactivate your Facebook account, load the social network in your browser and then tap on that down arrow in the top right corner. Click on Settings, which automatically loads the General Account Settings page.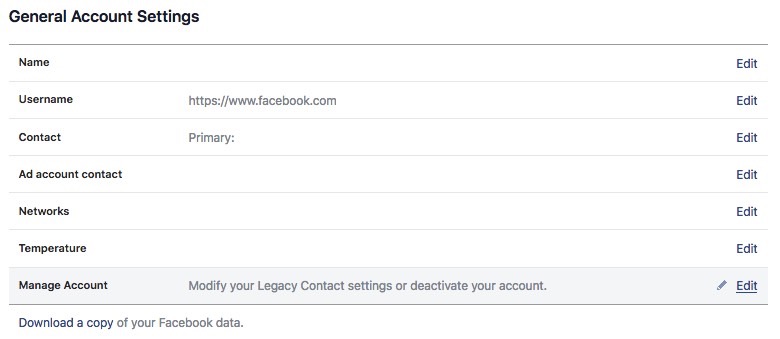 After you've saved your data, click on Manage Account, the last option in the list, which lets you modify your legacy contact settings or deactivate the account. Then look for Deactivate your account.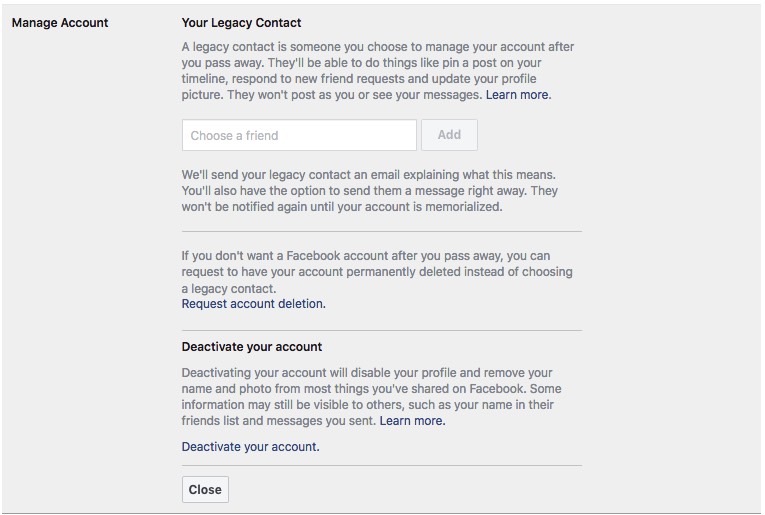 This is where Facebook will ask for your password to make sure you actually want to go forward with this.
If you go forward with this option, you'll be able to rejoin Facebook whenever you want and your data will still be there.
Delete Facebook
A Facebook account deletion, meanwhile, actually removes all your data from Facebook, which is probably the action that fits best with the #DeleteFacebook movement.
To delete your Facebook account, head straight to Facebook's Delete My Account page.
You'll still have to wait some 90 days until your data is permanently removed from Facebook servers, but your account would effectively be deleted the moment you request it.