Facebook late on Friday quietly revealed in a blog post that it suspended Cambridge Analytica (CA) and Strategic Communication Laboratories (SCL) from Facebook for illegally accessing and sharing user data more than two years ago.
Facebook explanation reads like what you'd expect from a company that just found out the data of its customers had been stolen and it's taken steps to fix it. However, Facebook is not the victim. The most significant social network in the world is just as guilty as CA and SCL for this particular "breach" — it wasn't a data breach in the actual sense of the word. What's worse is that Facebook knew about this "hack" for years and never acknowledged it until now.
"The claim that this is a data breach is completely false. Aleksandr Kogan requested and gained access to information from users who chose to sign up to his app, and everyone involved gave their consent," an update posted on Saturday morning on Facebook's blog post reads. "People knowingly provided their information, no systems were infiltrated, and no passwords or sensitive pieces of information were stolen or hacked."
So, apparently, people thought that CA stole data from 50 million people and then used it to target particular groups with political messages to sway them over to the Trump side? That would have been a great thing for Facebook.
Suspended by @facebook. For blowing the whistle. On something they have known privately for 2 years. pic.twitter.com/iSu6VwqUdG

— Christopher Wylie 🏳️‍🌈 (@chrisinsilico) March 18, 2018
But CA and SCL obtained they data by doing precisely what other Facebook app developers did. They played by the rules available to them at the time those data-harvesting apps were created. If CA and SCL had tech that was able to collect all your data, and data about your friends, then that's because how the Facebook apps game worked.
This kind of experiences were devised by Facebook, and access to user data was probably what lured in developers and companies looking to turn the growing power of social media into revenue. And user data can be precious if you want to sell your product. Even if that product is Ted Cruz or Donald Trump.
Here's what Kogan was able to extract from Facebook back in early May 2014, well ahead of the Trump vs. Clinton election — the following screenshot was published in a The New York Times expose that you need to read, right alongside Facebook's explanation of what went wrong: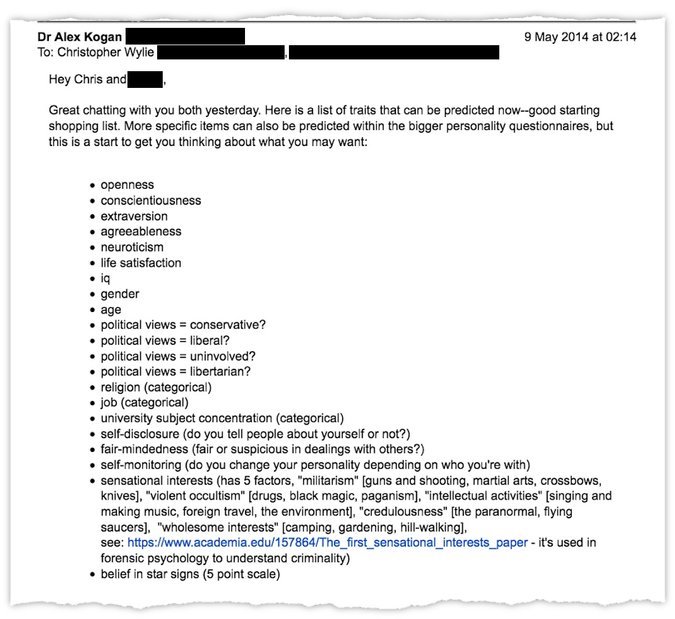 The Times wasn't the only newspaper to talk to Christopher Wylie, the CA whistleblower who's now been banned from Facebook. The Guardian also has an extensive report on the matter , and a video interview with Wylie that you should also check out:
Just because smart folks at CA and SCL figured out how to game Facebook to their advantage doesn't make Facebook a victim. Particularly because the company knew what happened soon after it happened. Had Facebook made a big deal about it two years ago, maybe things would have happened differently.
One crucial detail in this whole mess is that Facebook allowed the data collection of this app for academic research. Has anyone else obtained such access to user data under similar conditions?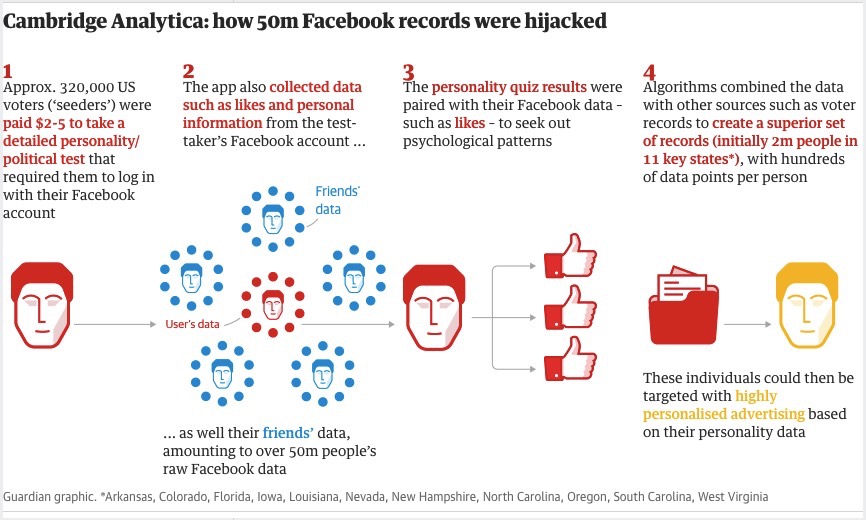 Let's not forget that there's one other big corporation out there that used Facebook to help Trump win, and whose CEO was reelected for one more six-year term with what will probably be a considerable percentage of the popular vote. Russia gamed Facebook via fake news and political ad buys. But is it possible that bright people in Russia were also able to collect data about Facebook users just like CA did?
What about other intelligence agencies in the world? If for-profit companies were able to extract all that data out of Facebook, isn't it safe to say that intelligence agencies may have been just as eager to spy on certain Facebook users especially in these post-Snowden times?
And finally, what would Mark Zuckerberg, the presidential candidate, do with all the data Facebook collects about its users who happen to be registered American voters?
Speaking of Snowden, he was quick to react to Facebook's CA problems. He also seems to think Facebook is an accomplice rather than a victim.
Facebook makes their money by exploiting and selling intimate details about the private lives of millions, far beyond the scant details you voluntarily post. They are not victims. They are accomplices. https://t.co/mRkRKxsBcw

— Edward Snowden (@Snowden) March 17, 2018
Businesses that make money by collecting and selling detailed records of private lives were once plainly described as "surveillance companies." Their rebranding as "social media" is the most successful deception since the Department of War became the Department of Defense.

— Edward Snowden (@Snowden) March 17, 2018
With all that in mind, Facebook has more explaining to do about what kind of information it shared with third parties over the years, and its role in influencing an election.