The iPhone 15 models come with two exclusive battery health features that Apple decided not to bring to older iPhones. One lets you prevent charging the battery above 80%, and the other tells you how many battery charge cycles your iPhone has performed.
Separately, Pixel phone owners running Google's latest Android 14 beta discovered that Pixel phones will also show the battery cycle count.
I believe that all smartphones, regardless of operating system or vendor, should offer this functionality. After all, we live in a world that cares more than ever about waste and the environment. Also, smartphone buyers hang on to their devices for longer. Battery life is consistently cited as one of the most important factors when buying a smartphone.
As I explained before, there's no reason for Apple to keep the battery cycle count exclusive to the iPhone 15 and iPhone 15 Pro. I can use a third-party app with any iPhone model to determine exactly how many charge cycles it has gone through.
"A normal battery is designed to retain up to 80% of its original capacity at 500 complete charge cycles when operating under normal conditions," Apple says in its iPhone battery support documentation. You should swap your battery for a new one once battery health degrades below 80%.
It's what I did with my iPhone X, but I needed more than four years and nearly 1,700 cycles for the battery health to drop below 80%.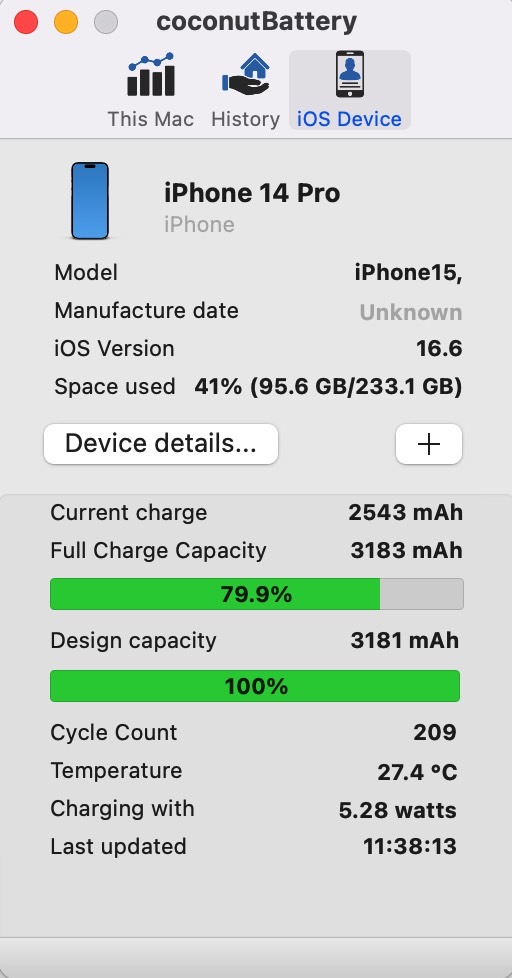 Put differently, battery cycle information alone might not be enough to provide useful information about your handset's battery health. You'd want to look at both the degradation percentage and the number of cycles if you're worried about battery life.
Unlike Apple, Google will not only display battery cycle information on the latest Pixels. The Pixel 8 models aren't even out. Android 14 beta testers found the new Battery Information menu on current Pixel models. In there, you'll find the battery cycle count.
Google can and should expand this battery information to all Android phones that can handle the Android 14 upgrade. It'll be up to device makers to also support it, however.
Knowing the battery's state is great information to have on hand. A simple look at the phone's settings app would get you that data. It'll put your mind at ease about the battery's health or prompt you to act accordingly and schedule a replacement. The information will also reduce the number of unnecessary visits to support centers or repair shops. And it should reduce battery waste.
Also, smartphone buyers who purchase used handsets will be able to inspect the battery health stats immediately and decide whether to get the phone. Or negotiate the price.
iPhone and Android handset owners who routinely pass their devices to family members can also look at the battery cycle information and decide whether to replace it before giving the phone away. That's what I've been doing with iPhones for years. I always replace the battery with a new one if a replacement is warranted so the new owner can get the best possible experience.
Hopefully, more Android vendors will deliver this sort of battery health info to their customers. And Apple will expand the iPhone 15 battery features to more users.