When in business meetings, happy hours, or creating professional connections, it's usual for people to exchange paper business cards. But, in 2023, how many paper cards have you actively saved in your iPhone Contacts app before forgetting where that contact info was in the first place?
This is where DejaView – QR Code Card shines. Just released in the App Store, this app makes it easy to create your digital card fast with only the information you need. Unlike other apps, you can easily create QR codes for networking, whether for business, social media, or website.
It's possible to create a VCard QR code or an URL Card. With the first option, you can select your contact, choose which fields to include – and that's it. With that, whenever you make changes to your contact, they are automatically reflected in the DejaView app. With the URL Card, you can create a QR code from any link you like, whether it's instant messaging, your homepage, your profile on a social networking platform, etc.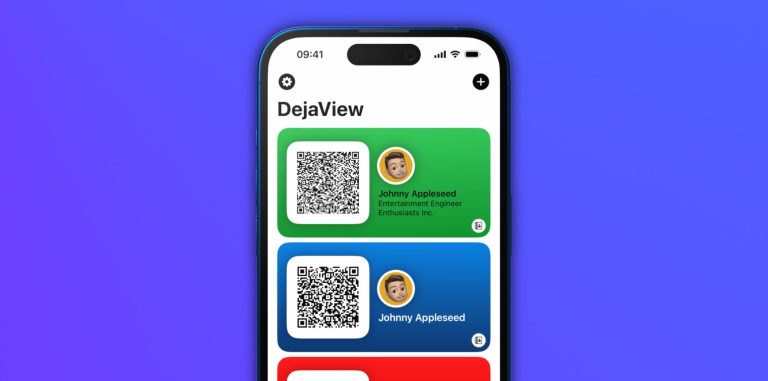 Personally, the VCard QR code is very useful because you can create different cards for each use. For example, you can add your website, business email, and business phone number for a professional one. For the personal card, you can add your personal e-mail, mobile number, social media, and birthday. It's also possible to add personalized profile photos (Memoji or from the gallery) and select the color.
Here are some of the highlights of DejaView:
Individualize your card: create a card easily, select a picture, and choose your favorite background color, gradient color, and text color;
Auto-color: with auto-color, DejaView automatically adds a gradient to your card based on your selected background color, and chooses the appropriate text color;
Widgets: choose from various Home Screen Widget types or add a widget to your Lock Screen;
Home Screen Quick Actions: directly access up to four cards right from the app icon;
Privacy by default: DejaView doesn't require an internet connection, registration, or user account. Everything is stored on your device only.
DejaView has a try-before-you-buy business model. You can create as many cards as you want, and make use of widgets along with all the other features. If you think it's worth it, you can get DejaView Pro to unlock QR codes. It's a one-time purchase of $3.99 and comes with a lifetime license. You can find it in the App Store here.