Every year at the Worldwide Developer Conference, Apple shows off the latest and greatest improvements to its growing slate of operating systems — and while this year's event was once again held virtually, WWDC 2021 proved just as exciting as always.
At WWDC 2021, Apple showed off updates to all of its operating systems, in the form of iOS 15, macOS Monterey, watchOS 8, and iPadOS 15, all of which will be released to the public later this year. Not only that, but the company also announced some updates to Siri, AirPods, and more.
Yeah, it was an action-packed event.
Did you miss Apple's keynote? Or just want a refresher on everything that's new? Here's everything that Apple announced at WWDC 2021.
iOS 15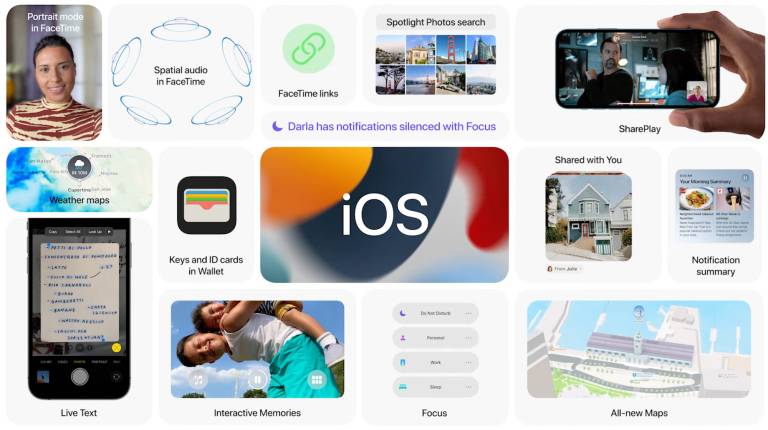 Apple's iOS got a relatively big refresh last year with iOS 14, which brought home screen widgets, the App Library, and more. That doesn't mean this year's update is minor though — in fact, on the contrary, there are tons of new features on offer.
FaceTime, for starters, has gotten a massive overhaul with a series of new features. Notably, the app now supports Spatial Audio, which helps make voices feel like they're in the room with you. FaceTime has also gotten a new Grid View, and support for the new SharePlay API, which allows you to share video, audio, and your screen. FaceTime is also taking on Zoom with the addition of FaceTime Links, which lets you schedule calls and even invite friends and family with Android phones, who can join on the web. Other features include a new Portrait Mode, and the ability to leverage machine learning to focus on your voice.
Notifications are getting a revamp in iOS 15 too. For starters, notifications have gotten a fresh look, with larger images and more rounded corners. Apple has also introduced the so-called "Notification Summary," which can be scheduled for any time during the day, and will show users an overview of their notifications.
Other aspects of iOS have gotten revamps too. The operating system now offers improved sharing features, including the ability for shared photos to automatically be brought into the Photos app from Messages. And, the iPhone now supports profiles with the new Focus feature. This allows you to set which notifications you'll see based on things like whether you're working, at home, working out, and so on.
The same text-recognition tech that worked with the Apple Pencil is now available straight from the Camera app, allowing users to quickly and easily copy text from the real world. Wallet also now supports key cards for things like hotel rooms, smart locks, and more, plus it also supports digital IDs in supported states. Last but not least, Apple Maps will get support for things like elevation, improved driving graphics, and better transit line support.
iPadOS 15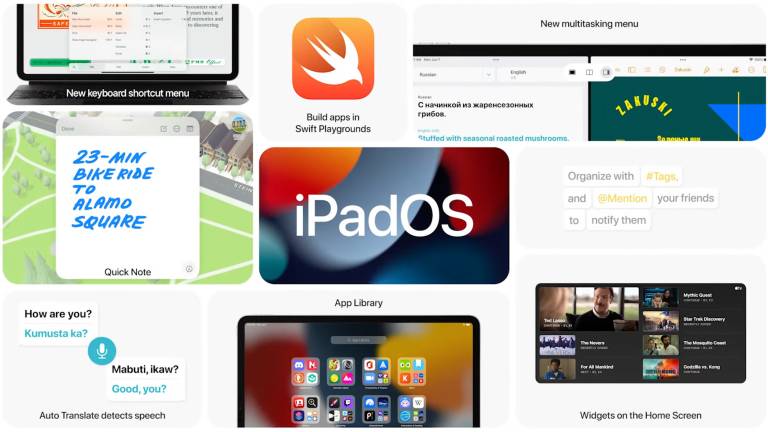 Apple separated iOS and iPadOS a few years ago, and this year iPadOS gets a number of new features that make it more productive and capable.
Many of the new features on iPadOS bring it in line with iOS. For example, iPadOS gets the iPhone's ability to add widgets on the Home Screen, access to the Translate app, and the App Library. On iPadOS, the App Library goes a step further though, with the ability to access it straight from the dock.
Perhaps more important are the updates to iPadOS's multitasking features. In iPadOS 15, users can now more easily switch to Split View or Slideover with the three-dot menu at the top of a window. And, the new "Shelf" feature allows users to see virtual desktops when they switch apps.
Notes is getting some improvements in iPadOS 15 too. For example, you can now create "Quick Notes" in iPadOS, which lets you quickly and easily create a note from any app or window.
macOS Monterey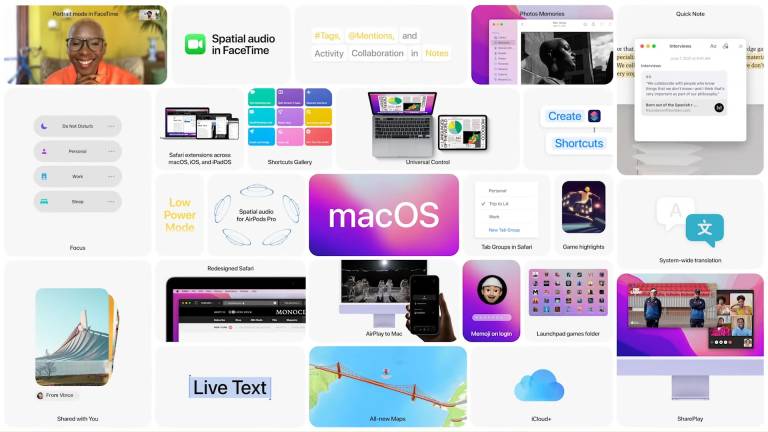 macOS got a massive update at last year's WWDC, and as such, this year's update is a little smaller — though still interesting. macOS Monterey gets many of the features that were announced for iOS 15, including Focus, SharePlay, and Quick Notes. It also gets a few features of its own.
First up, Continuity is getting an upgrade in macOS. There's the new Universal Control feature, which allows users to move their Mac's mouse right over to the iPad or another Mac, without the need for any setup in Sidecar or anything else. The feature supports the MacBook's trackpad and keyboard, and even allows users to drag-and-drop files right over to their iPad or other Mac. And, the Mac is getting AirPlay, which lets users play content from another device on the Mac's screen or through the Mac's speakers.
Next up is Shortcuts, which is making its way to the Mac from the iPhone. Shortcuts on macOS allows users to automate tasks on their Mac, and edit actions for specific workflows on the Mac. Users will be able to import Automator workflows into Shortcuts too.
Last but not least is Safari, which is getting a major overall in macOS Monterey. Perhaps the biggest feature is Tab Groups, which allows users to group tabs together into different views, then switch between those groups from the sidebar. Tab Groups can be saved for later, sync across all devices, and are updated as you go. These updates are also available in Safari on the iPad and iPhone. And, Safari is getting support for Extensions across devices, meaning that users can access the Safari Extensions from their Mac on their iPhone and iPad too.
Read more about macOS Monterey
watchOS 8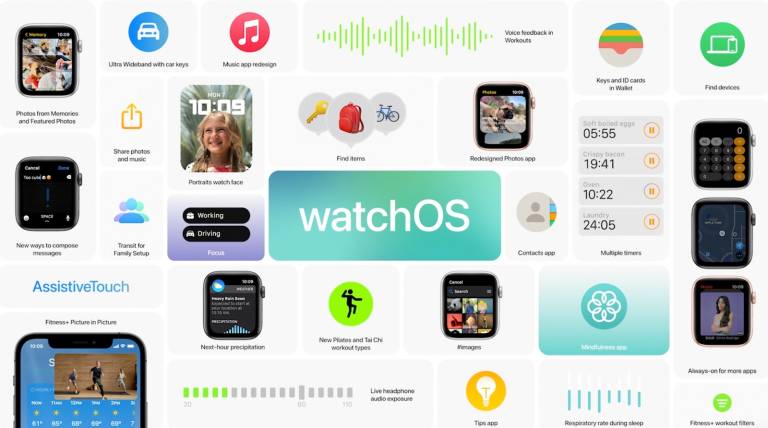 Next up is Apple's watchOS, and this year it's focusing on mental health. The Breathe app will now better help users practice breathing techniques. And, there's a new Reflect feature which prompts users to reflect on different aspects of their life. These features will live in the new Mindfulness app.
As you might expect, the Apple Watch is getting a few features related to fitness too. There are new workouts in the Fitness+ service, plus a few new workout types to choose from.
Other features include the new Portraits watch face, which takes Portrait photos, and uses their depth data to dynamically animate them.
Other stuff
Apple is working to make Siri a little more ubiquitous, and to that end, is finally opening Siri up to third-party devices. Now, developers will be able to build Siri into their HomeKit products, allowing users to access Siri in the home without needing to buy HomePods.
Even iCloud got some love at WWDC 2021. The service got a new Account Recovery feature and a Digital Legacy feature that allows users to pass their data on to their family members when they pass away. iCloud is getting the Apple subscription treatment too, with iCloud+. iCloud+ subscribers will get access to a new email forwarding feature called Hide My Email, along with support for unlimited HomeKit Secure Video cameras.
AirPods are getting a few updates too. Notably, Spatial Audio now finally supports Apple's tvOS, plus users will be able to see and track AirPods in the Find My app.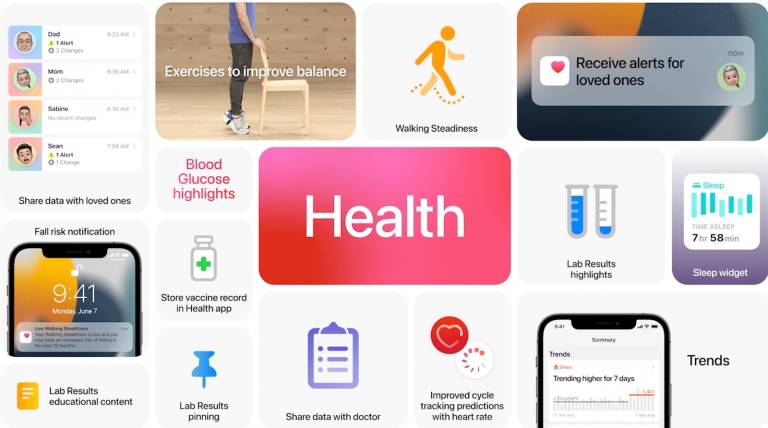 Next up is Apple Health, which will now help users track and learn more about changes in their overall health. For example, the Health app will now track users' "Walking Steadiness," which determines if users are steady when they walk, or if they're at risk of falling. And, the app now supports "Trends," which can give insight into potential health issues, and show improvements in things like your average steps. Last but not least is Health Sharing, which allows users to see trends and health data for their family members.
Of course, as you would expect from a developer event, there are some updates to developer tools too. On the Mac, developers can use the new Object Capture tool, which allows them to create a 3D model of an object using images of the object taken from different angles. Swift also now supports Concurrency, which helps make for cleaner code that's less prone to errors. And, the Mac now supports Testflight, which helps make the development process more like that on the iPhone.