During the WWDC 2023 keynote, Apple introduced the Vision Pro, its first spatial computer. While we were able to get a good first look at this product – the first of its kind where you don't look at it but through it – we were still missing interesting insight into the development of this spatial computer and how Apple envisions this device.
That said, Debbie Millman recently published its Design Matters podcast episode with Alan Dye, Apple's VP of Human Interface Design (via AppleInsider). This hour-long conversation happened right after the WWDC keynote, and they talked about Dye's early years, the beginning of his career, and, of course, Apple Vision Pro.
While the whole podcast is worth listening to, the Apple Vision Pro part starts in the last 30 minutes of the show. One of the first questions about this product was what it is. Alan Dye said: "Apple Vision Pro is, we've been interested in AR for a long time, how we've been shaping AR for a long time, and spatial computing we think is the evolution of that. And that is bringing computing and vision experiences directly into your space. This is very much not VR; we're not taking you into some dystopian other place isolated from the world around you; we actually want you very much to stay in your world, in your place, by bringing all those digital experiences to you."
Millman then says that Apple is pretty straightforward about naming products, so why Vision and Pro? Dye responded: "I think Vision is a lovely name because it's putting the digital world into your sightline, into your space. And Vision it's what it's all about. I think that's how we got there. This is a computer that is doing remarkable things in real-time, all the time."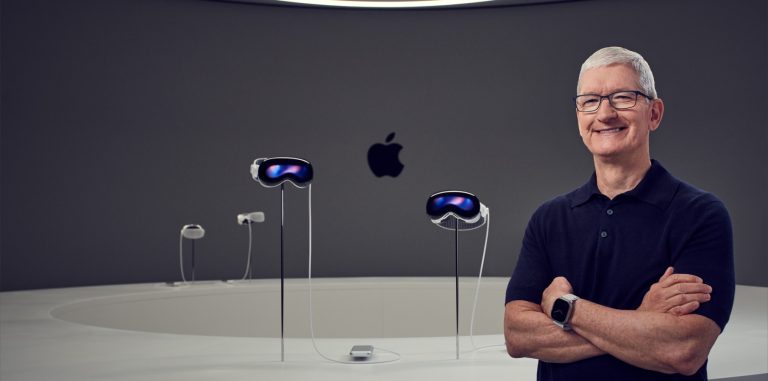 He then reminds Millman about the development time of this product during the pandemic and how connection became such a central part of Apple Vision Pro: "Only Apple could make a product like this. Some of the ideas were really hard to get to but big. (…) One of the big ideas we have is a connection, staying connected to your world, but then also connecting with those that aren't with you, but executing on that and doing that in a way that truly feels natural. (…) This is the most challenging design program we have ever had."
"We created a UI, our first UI for the rest of the world, right? If I'm wearing them and you walk up to me, I can look at you, and you can see my eyes. That's a huge deal for us, and it took literally years and invention for us to invent the EyeSight display. We fundamentally believe you should not feel isolated," he concluded.
Dye reminds us that Apple Vision Pro has over 5,000 patents, and everything in this project has been invented. One of the most exciting features is the ability to create spatial images of a day in the park, your kid learning how to walk, and more.
He said: "We are able to capture video and photos in essentially 3D and play them back at you in this product in life-size. And when it's your content, it's quite profound, nostalgic. When we first started working on this and seeing some of this, it almost made a lot of us quite sad that we didn't have this product when our children were younger, you know, or maybe when our parents were around."
Apple Vision Pro will launch early next year in the US. BGR will keep you posted about this spatial computer.