In a lot of ways, Amazon today is reminiscent of the Microsoft of old, if only because it's become increasingly hard to keep track of everything the Seattle-based company has its hand in. Though Amazon started out as a simple website where customers could order books online, the company's business has since exploded to include a remarkable selection of products and services, a list which now encompasses original TV shows and movies, an ever-growing selection of smart speakers, and much more. Additionally, Amazon last year took a significant leap into the food industry with its acquisition of Whole Foods.
One of the more intriguing initiatives launched by Amazon in recent years has been Amazon Go, a futuristic grocery store where a vast array or sensors keep tabs on what items shoppers pick up in real-time. As a result, shoppers with Amazon accounts can simply walk right out the door — their items in hand — without having to endure the hassle of waiting in line and fumbling through their wallets for cash or a credit card. It admittedly all sounds pretty cool, but sometimes it can be hard to determine if ambitious endeavors like Amazon Go are actually game-changers or nothing more than highly polished gimmicks.
Well, as luck would have it, Amazon this week opened up a brand new Amazon Go location in downtown Chicago, thus giving me an opportunity to head on over and see if a) the technology works exactly as advertised and b) if the concept itself is actually useful.
First things first, you have to download the Amazon Go app to get started. Once you punch in your credentials, you'll be presented with a QR code and you're essentially good to go.
I walked into the Amazon Go store at about 11:15 in the morning and was immediately greeted by an Amazon employee eager to answer any questions I might have. At the front of the store is a turnstile with a QR reader. I simply swiped my phone with the aforementioned QR code over it and, just like that, I was inside the belly of the beast.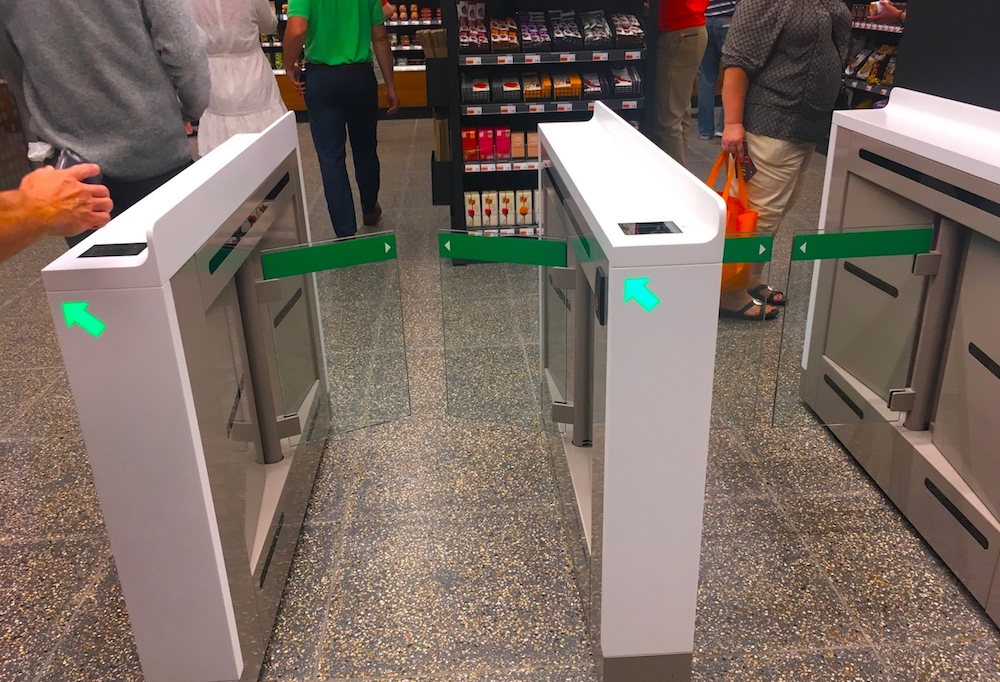 The store was decently packed as far as early lunch crowds are concerned. Incidentally, the store is staffed by a swarm of employees all wearing incredibly vibrant orange t-shirts, which certainly makes it easy to ask for help if you need it. Speaking to the novelty of the concept, most of the workers seemed to be busy explaining how everything worked to excited and curious shoppers.
Once inside, the Amazon Go store is like any other small grocery store you might saunter into. Aside from the usual array of items like candy, frozen food, ice cream, chips, and an assortment of drinks, the store boasts an impressive number of substantive food items, a list which includes fresh fruit, cold sandwiches, wraps, deluxe subs, and salads. And as a nice touch, Amazon notes that it also makes an effort to provide food options from "chefs and favorite local kitchens and bakeries." It's worth noting that the pricing is pretty cheap across all products as far as downtown Chicago is concerned. It's also worth noting that many of the lunch items are much more high-end than what you'd find at a convenience store like 7-11.
As far as more elaborate meals are concerned, there's an entire section dedicated to Amazon Meal Kits which essentially are pre-packaged boxes with all the requisite ingredients to put together a tasty meal. It's essentially Amazon's own version of Blue Apron. The meal kits themselves were for the most part creative and enticing, with one kit offering up Five-Spice Chicken with Sesame-Hoisin Lo Mein Noodles and another offering up Salmon Nicoise Salad with Herb Crust & Olive Aioli.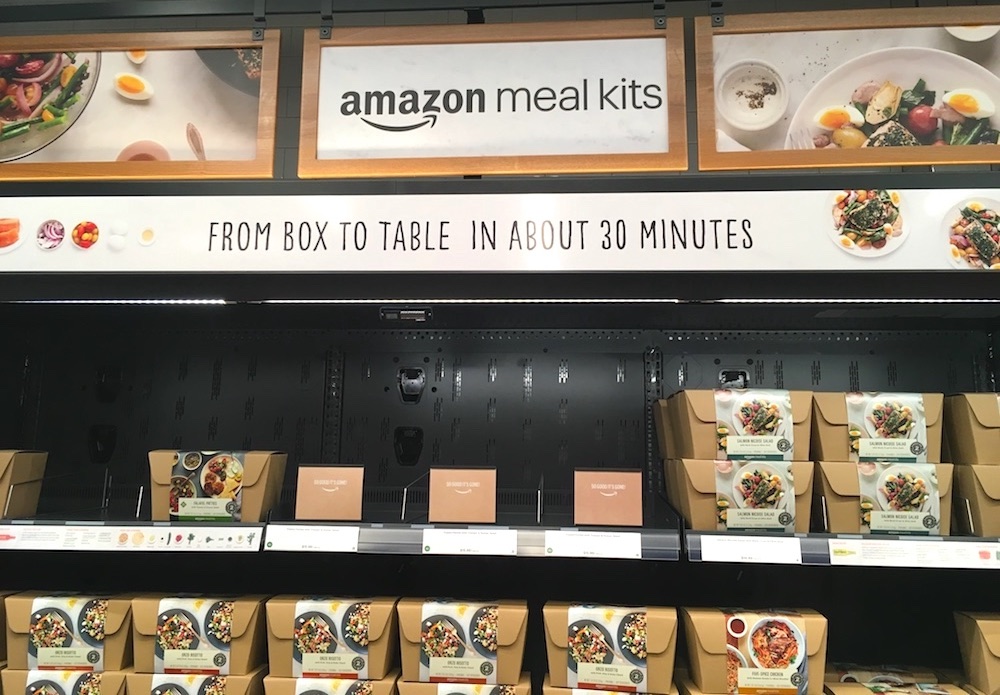 There are also a range of already-made salads and meals that are somewhat creative. As a quick and representative example, one meal I saw was a butter chicken dish with mahkini sauce, roasted cauliflower, cilantro-mint chutney, and turmeric rice. All in all, not a bad option when you're surrounded by overly familiar chains like Chipotle and Subway at every turn.
Notably, there's nothing on the store shelves that appears any different from what you'd find in any other supermarket. Instead, all of the tracking and sensors seemingly happen from above. Indeed, the ceiling across the entire store is littered with an assortment of sensors and cameras. In one small section of the store that simply housed a variety of beverages, I counted in excess of 25 sensor boxes closely packed together overhead. For the entire store, I wouldn't be surprised if there were well over 100 of said boxes. Amazon has played coy with the specifics of how the Amazon Go technology works, but the company has noted that it relies upon a mixture of advanced machine learning, computer vision technology, and AI.
While browsing through the store, I tried to "trick" the system as best I could. I'd pick up a few items, walk around the store, put some items back, pick up a few new items. At one point I even put back a bag of chips in an improper location just to see if that might do anything. I also tried to slyly and quickly pick up a few small items in an effort to see if I could evade detection. So yeah, I basically tried to shoplift as best I could to see just how closely my behavior was being watched and tallied.
When it was time to check out, everything worked exactly as advertised. You just walk out through a turnstile on your way out and you're all set. No cashier. No credit card. No cash. No wait. No lines. It was all refreshingly convenient and easy. A few minutes after leaving the store I received a notification from the app with my receipt. To my pleasant surprise, the receipt was accurate. All my efforts at shifting items around didn't fool the system at all. My career as a shoplifter ended just as swiftly as it started.
The word "game-changer" is thrown a lot in the technology world, but what Amazon has accomplished with Amazon Go certainly has the potential to be just that. Imagine a scenario, for example, where the technology finds its way into a full-fledged supermarket, say in a place like Whole Foods. Now imagine walking in and strolling right out the front door with a huge cart of groceries without having to deal with any lines. It's downright futuristic and an immense time-saver.
For the time being, though, Amazon is looking to start off somewhat smaller. According to a recent report from Bloomberg, the company is currently debating between "a convenience store that sells fresh prepared foods as well as a limited grocery selection similar to 7-Eleven franchises, or a place to simply pick up a quick bite to eat for people in a rush, similar to the U.K.-based chain Pret a Manger…"
No matter the direction the company chooses, Amazon recently said it's aiming to have approximately 50 locations by the end of 2019 and upwards of 3,000 Amazon Go stores open by 2021. Once Amazon Go stores start becoming more commonplace, I think they're going to become incredibly popular. The food options are tasty and affordable, and the overall experience is amazing.
One final thought: while it's one thing to see a company like Amazon unveil incredibly cool technology, it's far more impressive to see that technology leveraged in such a way as to make our day-to-day lives easier. Amazon Go manages to do just that with relative ease. Without exaggeration, it may very well represent the future of retail shopping.