Most smartphones ship with a pretty decent amount of built-in storage. 64GB should be more than enough for your immediate needs, especially on Android devices. Most of them come with microSD slots, which can take cards of up to 400GB of fast storage, in case you need even more room for photos, videos and apps.
But if that's still not enough, then you should know the first phone with 512GB of built-in flash memory is currently in the works. However, you might not be able to purchase it when it launches.
That's because Huawei is the vendor behind it — a company that's having a hard time selling smartphones in the US. After AT&T and Verizon ditched plans to carry the Huawei Mate 10 Pro earlier this year, reports this week said that Best Buy would cease its partnership with the Chinese conglomerate as well.
Other electronics retailers are still stocking Huawei hardware, although you'd have to pay full price if you want to get your hands on one. It's unclear at this time what the 512GB Huawei phone is, but it's likely a flagship device: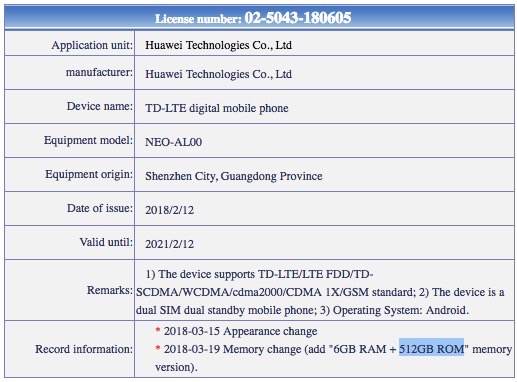 A listing on Chinese regulator TENAA's site mentions a NEO-AL00 phone. The documentation was just recently updated, as PhoneRadar explains, with details on a "memory change." The phone, which lacks a commercial name for the time being, packs 6GB of RAM and 512GB of storage.
PhoneRadar says the phone may be a Mate X concept phone the company is supposedly working on. Huawei already trademarked the "MateX" moniker in Europe under the smartphone category.
What's clear is that the Huawei P20, set to launch next week, will not come in a 512GB version. That's because we already know pretty much everything there is to know about the P20 line, and a 512GB model was never on the table.
What's also interesting is that only Samsung seems to manufacture the 512GB UFS modules that Huawei would require. Samsung announced as much last year, prompting speculation that the Galaxy S9 would be available in a version with a whopping 512GB of storage on board. That never happened, however.