The Google Pixel 8 may be smaller than the Pixel 7 but it packs a bigger punch. Is it worth the higher price?
Pros
Better display
Cool AI camera features
Great software experience
Good battery life
| Buy From | List Price | Sale Price | |
| --- | --- | --- | --- |
| | $699 | $699 | See It |
Pixel phones haven't necessarily sold all that well, but they have always showcased the approach to Android that Google itself envisions. Over the past few years, however, Google has been making more investments into features that go beyond the operating system itself, and lean heavily into AI processing and camera features that you simply can't get anywhere else.
But the rest of the phone has always been relatively impressive too. The latest and greatest in the Pixel series are the Pixel 8 and Pixel 8 Pro — and while the Pixel 8 Pro is the clear flagship of the two, with a more versatile camera and better screen, the standard Pixel 8 actually makes a pretty compelling case for itself.
It's also more expensive than last year's Pixel 7. Does the Pixel 8 do enough to justify that price boost?
Google Pixel 8 specs
Dimensions
150.5 x 70.8 x 7.8 mm
IP rating
IP68
Display resolution
1080 x 2400 pixels
Display size
6.2 inches
Display type
OLED
Display refresh rate
120Hz
Display brightness
2000 nits (peak)
Chipset
Google Tensor G3
Memory
8GB
Storage
128GB, 256GB
Rear cameras
Wide: 50MP, f/1.68
Ultrawide: 12MP, f/2.2, 125.8-degrees
Video
4K at 60fps
Front camera
10.5MP, f/2.2
Ports
USB-C
Battery size
4,575mAh
Charging
27W wired, 18W Wireless with Pixel Stand, 12W Qi Wireless
Connectivity
Bluetooth 5.3, Wi-Fi 7, 5G
Colors
Hazel, Obsidian, Rose
Price
$699
Google Pixel 8 design
Google isn't radically changing the design of the Pixel for the Pixel 7, but there are a few changes to speak of.
The Pixel 8 still offers the large camera bar across the back of the phone, with an oval-shaped cutout for the actual camera sensors. You'll still get the USB-C port on the bottom and a flat display on the front.
I actually quite like the overall look of the Pixel 8. The phone is relatively unique in a sea of square-camera-bump devices, and while some argue that it doesn't necessarily feel like the most premium phone, I definitely think it has gotten better over time.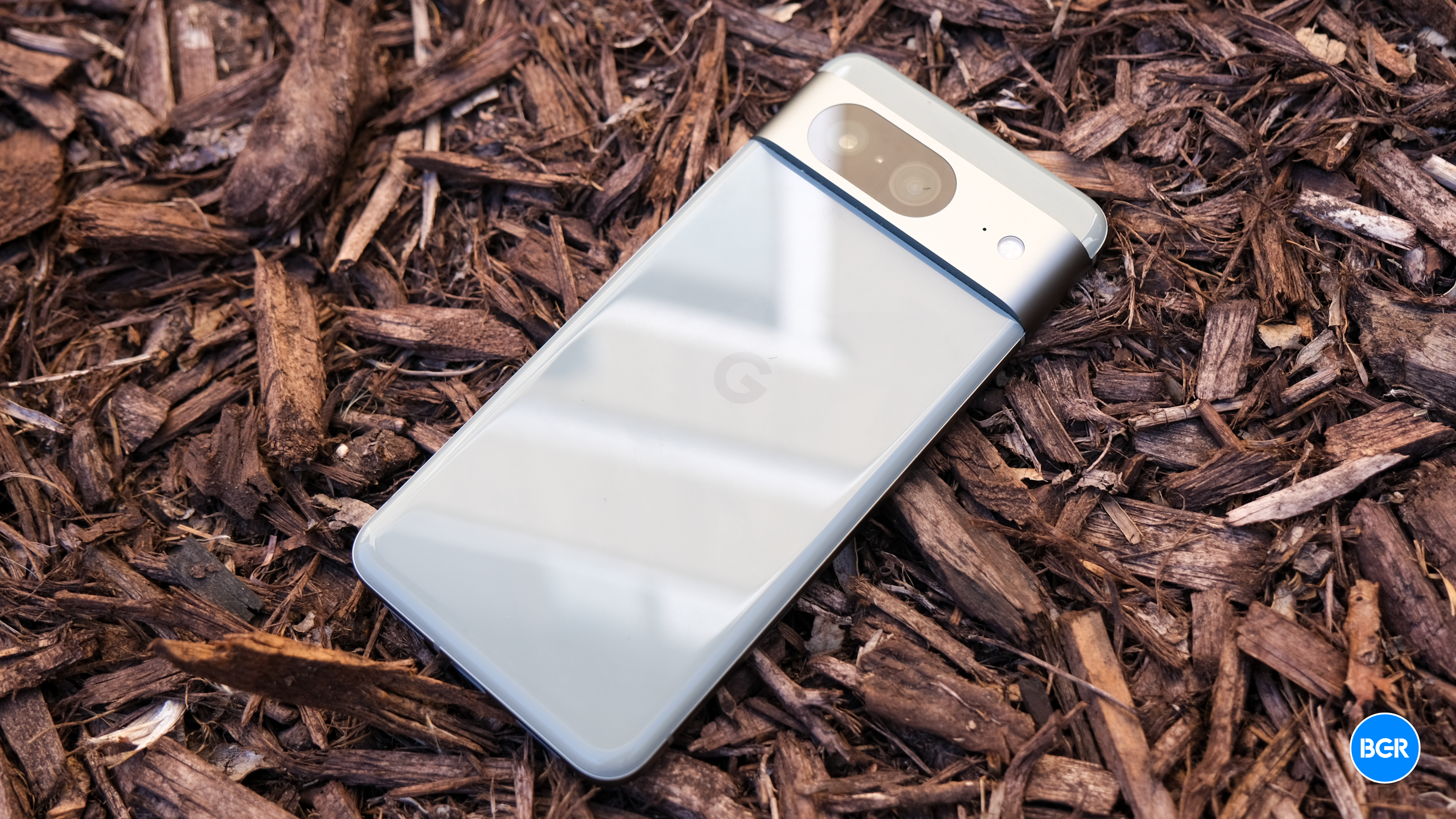 The Pixel 8, interestingly, is smaller than the Pixel 7 — with a display size of 6.2 inches compared to the 6.3 inches on offer by the Pixel 8. That sounds like a tiny change, but the Pixel 8 is actually noticeably smaller, and it feels quite a bit smaller in the hand.
The Google Pixel 8 is available in three different color options: Hazel, Obsidian, and Rose. We're reviewing the Hazel model, however, Rose looks to be the most interesting color. Regardless, if you still want a subdued black phone, you can still get it in Obsidian.
Google Pixel 8 display
The Pixel 7 offered a decent display experience, but the Pixel 8 takes things to the next level. The device has a 6.2-inch display with a resolution of 1080 x 2400, which is pretty similar to last year. Now for the Pixel 8, however, is the fact that the display can now reach a super-smooth 120Hz.
Unlike the Pixel 8 Pro, the standard Pixel 8 cannot range from 1Hz to 120Hz — instead having a range of between 60Hz and 120Hz. This is still pretty good though, and it means that when necessary, you'll be able to get among the smoother display experiences out there on the Pixel 8.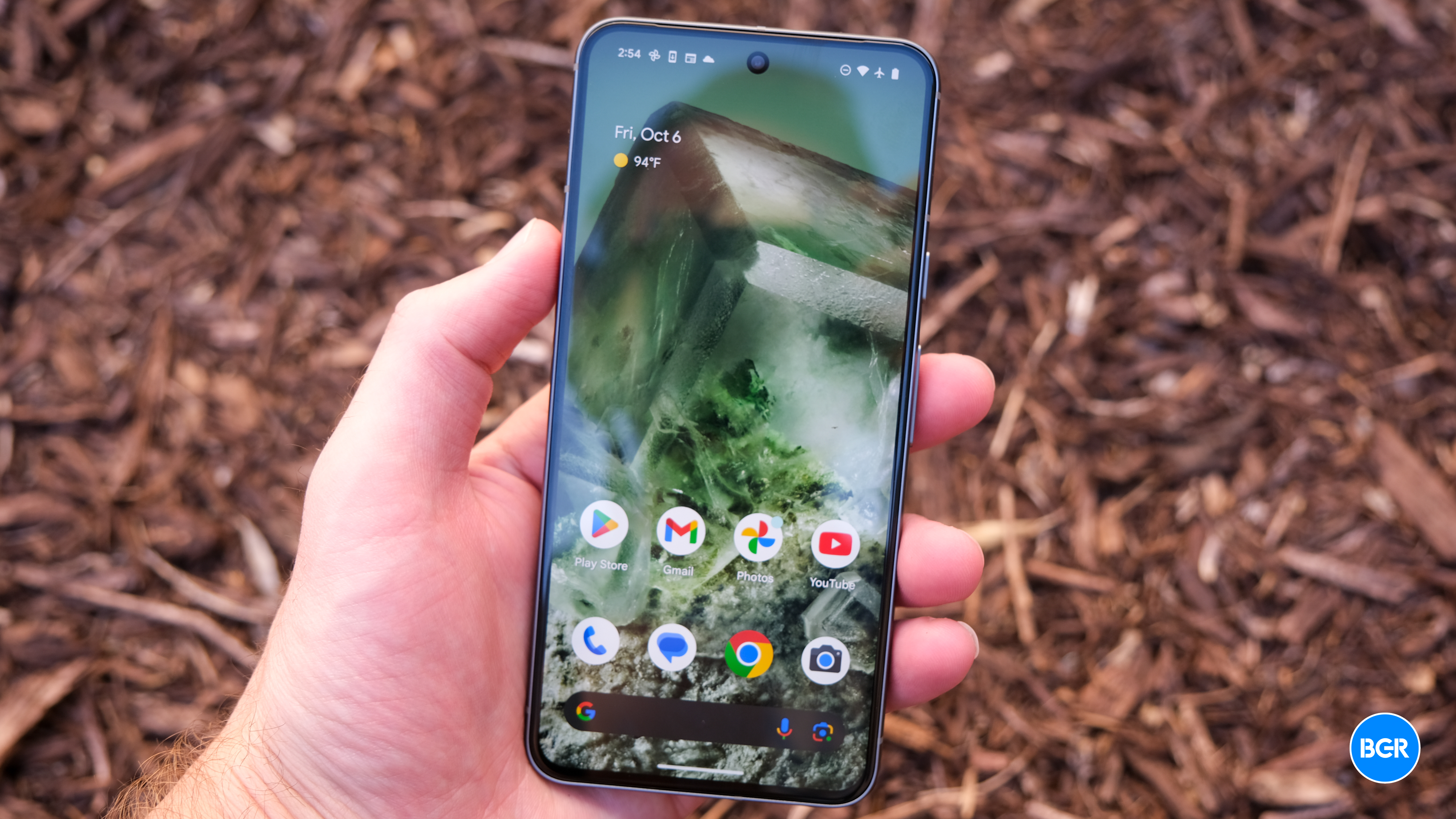 Now, to be clear, most won't be able to tell much of a difference between the 90Hz display on the Pixel 7 and the 120Hz display on the Pixel 8. But it's still nice that the new device is on par with more expensive phones out there.
The Pixel 8 display also gets brighter than the Pixel 7, with a claimed peak brightness of 2000 nits. Indeed, the display does look brighter on the new phone, which should help in super bright environments or direct sunlight.
Google Pixel 8 performance
The Pixel 8 offers Google's new Tensor G3 chip, which doesn't necessarily offer too much in the way of basic processing, but it does have a new Tensor Processor Unit or TPU, that's aimed at delivering better AI processing.
Generally, I found that the Pixel 8 was able to handle day-to-day tasks smoothly and quickly. Games loaded relatively quickly, and while the phone did start to throttle a little when it started heating up, most won't run into that issue on a regular basis.
I'm a little disappointed to see that there isn't much of a boost in basic day-to-day processing. To be clear, the Pixel 8 will easily be able to handle most tasks that you can throw at it in 2023, however, we'll have to see how it performs in five years or so.
We'll get into the new AI features a little later, but for now, know that for the most part, the new TPU did process them relatively smoothly. I do wonder exactly how much of that has to do with on-device processing though — the new Magic Editor, for example, seems to at least partially work in the cloud.
Google Pixel 8 battery and charging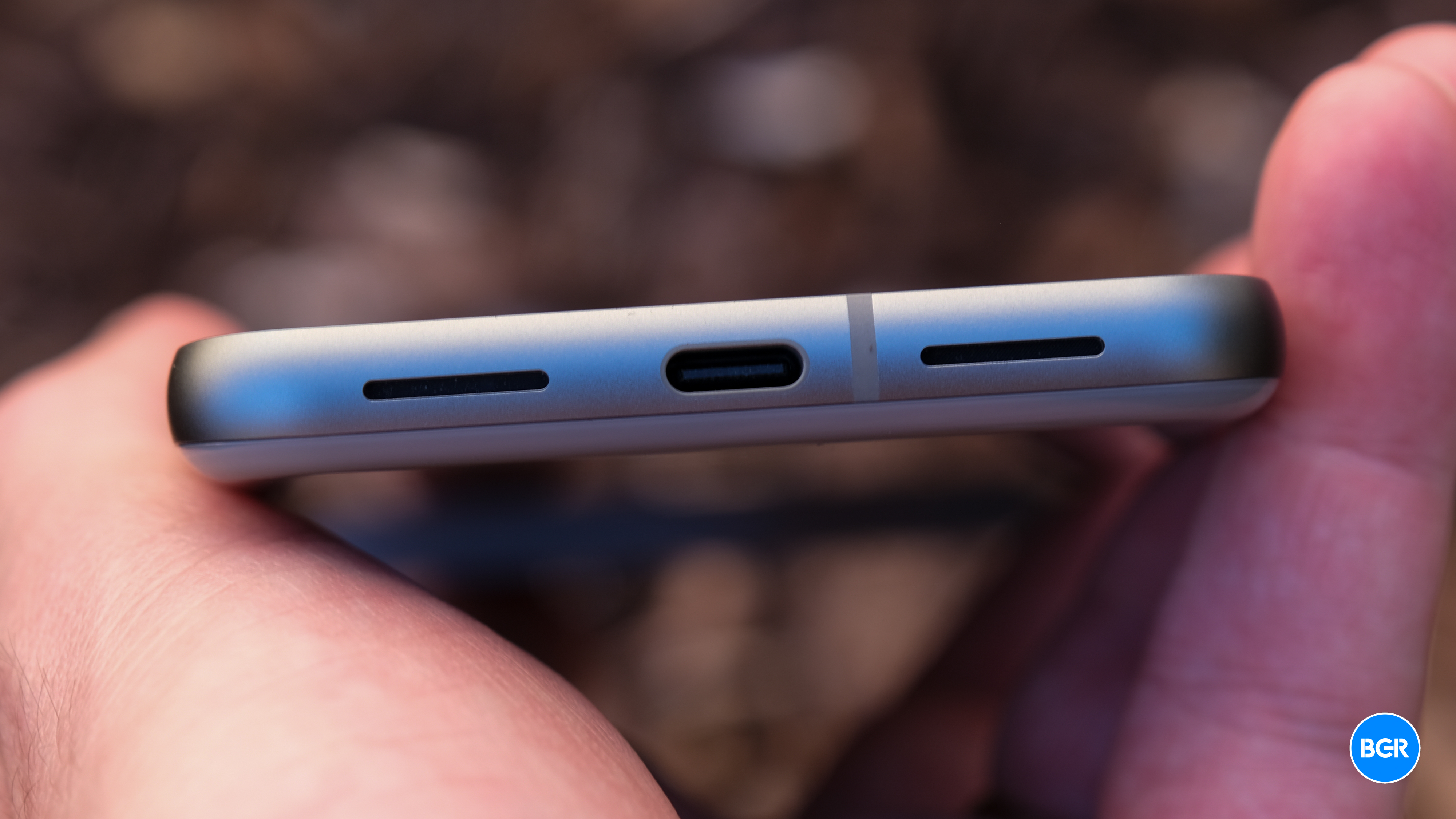 The Pixel 8 offers a 4,575mAh battery, and I found that it actually delivered a pretty good battery life — and a better one than the Pixel 7. For the most part, I finished a day of moderate use with around 50% or so, which is pretty solid. If you're a very heavy user you may find yourself with less at the end of a day, but most users should be perfectly happy with the battery life of the Pixel 8.
Thankfully, it's relatively easy to charge the phone — though you won't be able to charge it super quickly. The phone supports wired charging at 24W with a compatible charger, which is a little slow compared to much of the competition. It also supports Qi wireless charging at up to 12W, or wireless charging at up to 18W with the Google Pixel Stand. I didn't have a Pixel Stand to test that with, though.
Google Pixel 8 camera
Camera features are always a big part of the Pixel experience, and that remains true for the Pixel 8. The Pixel 8 has a dual camera array, with one 50-megapixel main camera, and one 12-megapixel ultrawide camera.
As you would expect, in day-to-day life, the Pixel 8 performs excellently. Images have good dynamic range, with vibrant colors and good detail overall. That's true of both images captured with the main camera and those captured with the ultrawide camera. I do wish the phone had a telephoto camera, even if it was a lower quality one than the Pixel 8 Pro — however thankfully Google's Super Res Zoom tech does help make digitally zoomed shots look a little better, within reason.
The big push for Google when it comes to camera tech is about AI features. The Pixel 8 and 8 Pro both offer Google's new Magic Editor tech, which takes the Magic Eraser and improves it even further. Now, you can move objects around in an image, remove them entirely, resize them, and more. And, guess what? It works pretty crazily well.
Of course, it's not quite perfect. I moved an object from a fountain, and obviously, the reflection of that object was still present. But issues like that aside, Magic Editor seemed very good at being able to edit photos in a way that still looked realistic.
The other big new feature is called "Best Take." This leverages the fact that you might take many photos of a group of people, for example, and allows you to select the best take for each person's face for the image. So, if you took four photos and found one that you look great in, but your kid is blinking, you can swap your kid's face for one from a different shot. Again, this feature worked quite well, however, I found that if there was a lot of variation in the shots, I saw areas of the image that didn't look quite right.
There are other interesting new features too, like the new Photo Unblur feature. This makes blurry photos look sharper, however, while it generally worked quite well, the result is often a kind of "smoothing" effect. Still, that's better than a blurry photo.
Google Pixel 8 software
The Pixel series has long offered the most Google-focused Android experience you can get, and the Pixel 8 doesn't change that. I, however, think that's a good thing — I love the approach to software that Google takes. Android on the Pixel 8 is smooth and easy to navigate, and if you use Google services, you'll find that there's little bloatware.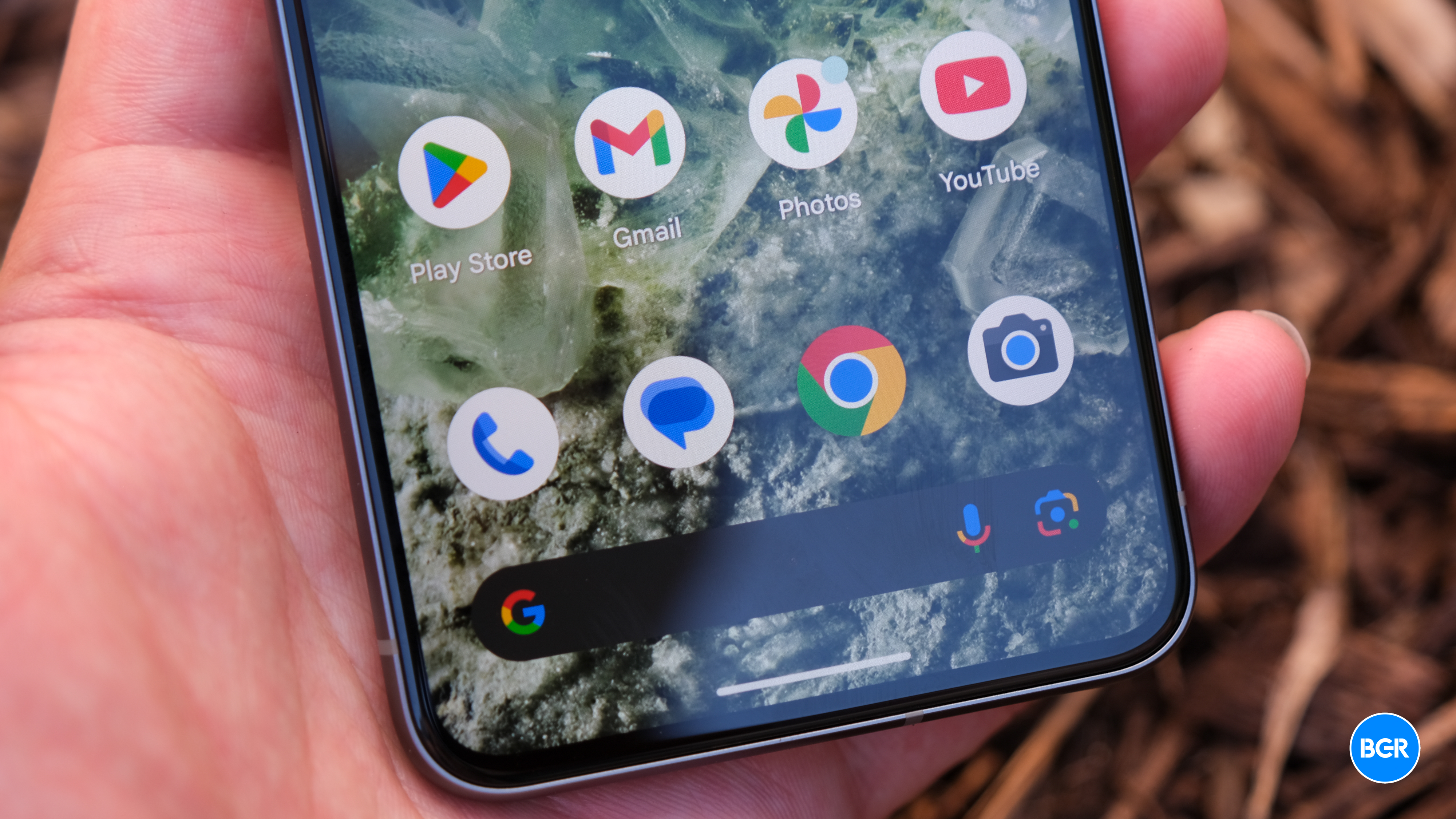 Even better is the fact that Google has promised a massive seven years of operating system updates for the Pixel 8, which is pretty huge. This brings the Pixel series about on par with Apple — something that no other Android manufacturer offers right now. I hope other companies follow suit.
Conclusions
The Google Pixel 8 offers a number of improvements over the last-generation Pixel 7. There's better AI processing, cooler camera features, and the promise of an impressive seven years of software updates. It's a meaningful update to the Pixel line, to be sure.
The only downside? The fact that the base Pixel is $100 more expensive than before, and while it does have some upgrades, those seem more incremental than generational. I'm not sure they warrant the price bump over the Pixel 7 — though the phone is still a great buy.
The competition
Despite the fact that the Pixel 8 offers these upgrades, it's not necessarily for everyone. Those who already have a Pixel 7, for example, don't need a Pixel 8. And, if you want features like a telephoto camera, it's worth going for the high-end Pixel 8 Pro or considering something from another manufacturer.
Should I buy the Google Pixel 8?
Yes. It offers a range of cool AI features and an excellent software experience.