The DJI Mavic 3 adds two extra cameras over the standard DJI Mavic 3, plus it's fun to fly. Is it worth the cash?
Pros
Good battery
Great cameras
Easy to fly
The DJI Mavic 3 built on DJI's previous-generation flagship drones with a better image quality, longer range, and more. Now, however, the company is taking it to the next level with an improved camera that will make it much more appealing to videographers who want a little versatility. The DJI Mavic 3 Pro builds on the Mavic 3 by adding a third camera.
Apart from the extra camera tech, there isn't a whole lot that's different about the Mavic 3 Pro, compared to the standard Mavic 3 that was released in late 2021. And, there's a third variant, called the DJI Mavic 3 Pro Cine too, which is slated to launch in the next few months.
Because of this, the DJI Mavic 3 Pro is kind of caught in the middle. But that doesn't necessarily mean it's not worth buying.
DJI Mavic 3 Pro design
If you've seen a DJI drone before, you'll immediately recognize the overall design of the Mavic 3 Pro. The drone continues with DJI's black-and-grey color-scheme, and I don't mind that at all — generally, I find the drone to be good-looking overall. That said, my tastes aren't everyone's tastes, and some cool colors would definitely be welcome.
Like previous-generation DJI drones, the Mavic 3 Pro's two front arms fold out, and two rear arms fold down and out. The drone comes with a nice protective guard for when it's not in use, which will keep the camera secure and safe.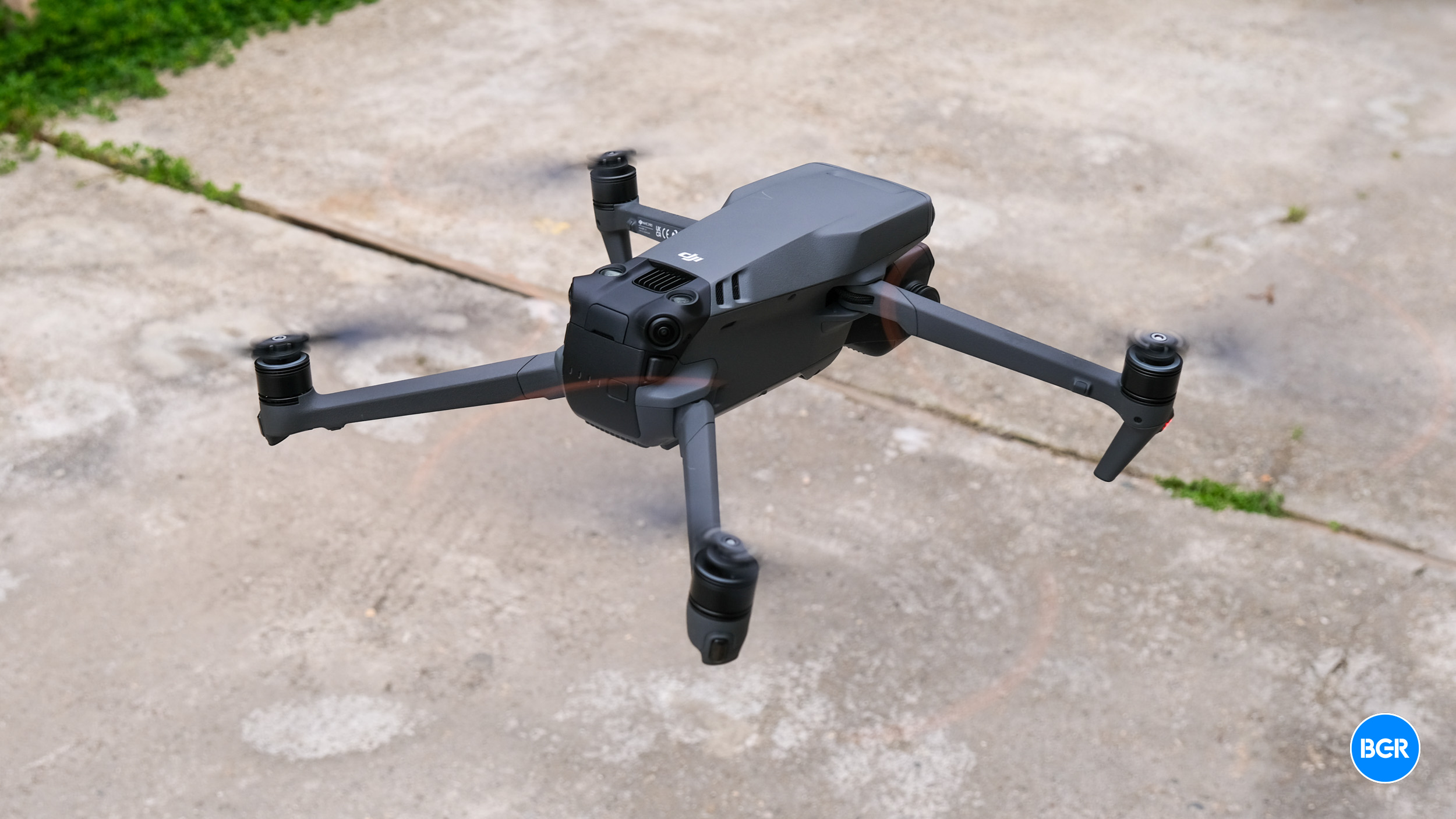 As you would expect from a Mavic drone, it's on the larger side of consumer drones — and because it's over 250 grams, you'll need to register it with the FAA, if you're flying it in the U.S.
The design of the controller is also largely the same as previous-generation drones. Our review unit is a bundle that comes with the DJI RC Pro controller, which means it comes with a few more controls, more internal storage, a 4G connection, and more. Most don't need to spring for a bundle with the RC Pro controller, as the standard DJI RC controller still comes with a large display and supports the OcuSync 3+ technology that allows the drone and controller to communicate at up to a massive 15km (9.3 miles).
On the back of the drone, you'll find a rubber door that hides a USB-C port and a MicroSD card slot. You'll also find those ports on the bottom of the controller, along with a HDMI port.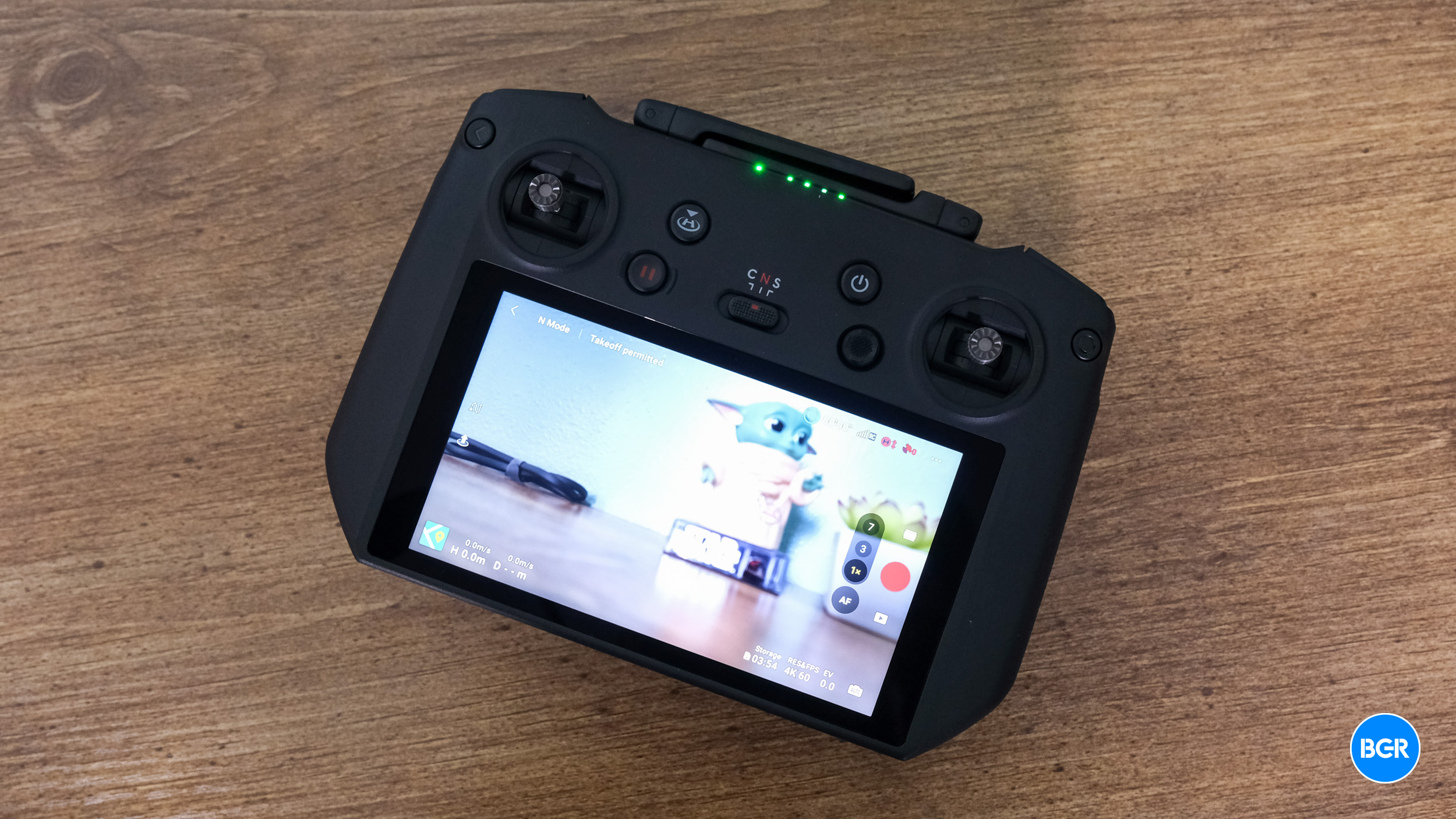 In the box, there are a range of other accessories too. Our particular bundle comes with a slew of extra propellers, two extra batteries and a battery charger, and more. There are three Mavic Pro bundles in total, plus a bundle with the DJI Mavic 3 Pro Cine.
Flying the DJI Mavic 3 Pro
Of course, once the drone is in the sky, it's design doesn't really matter all that much — all that matters is how the flying experience is. As is usually the case with a DJI drone, flying the DJI Mavic 3 Pro is a complete blast. I live very close to the beach, and flying the drone along the cliffs and around the area was incredibly fun overall.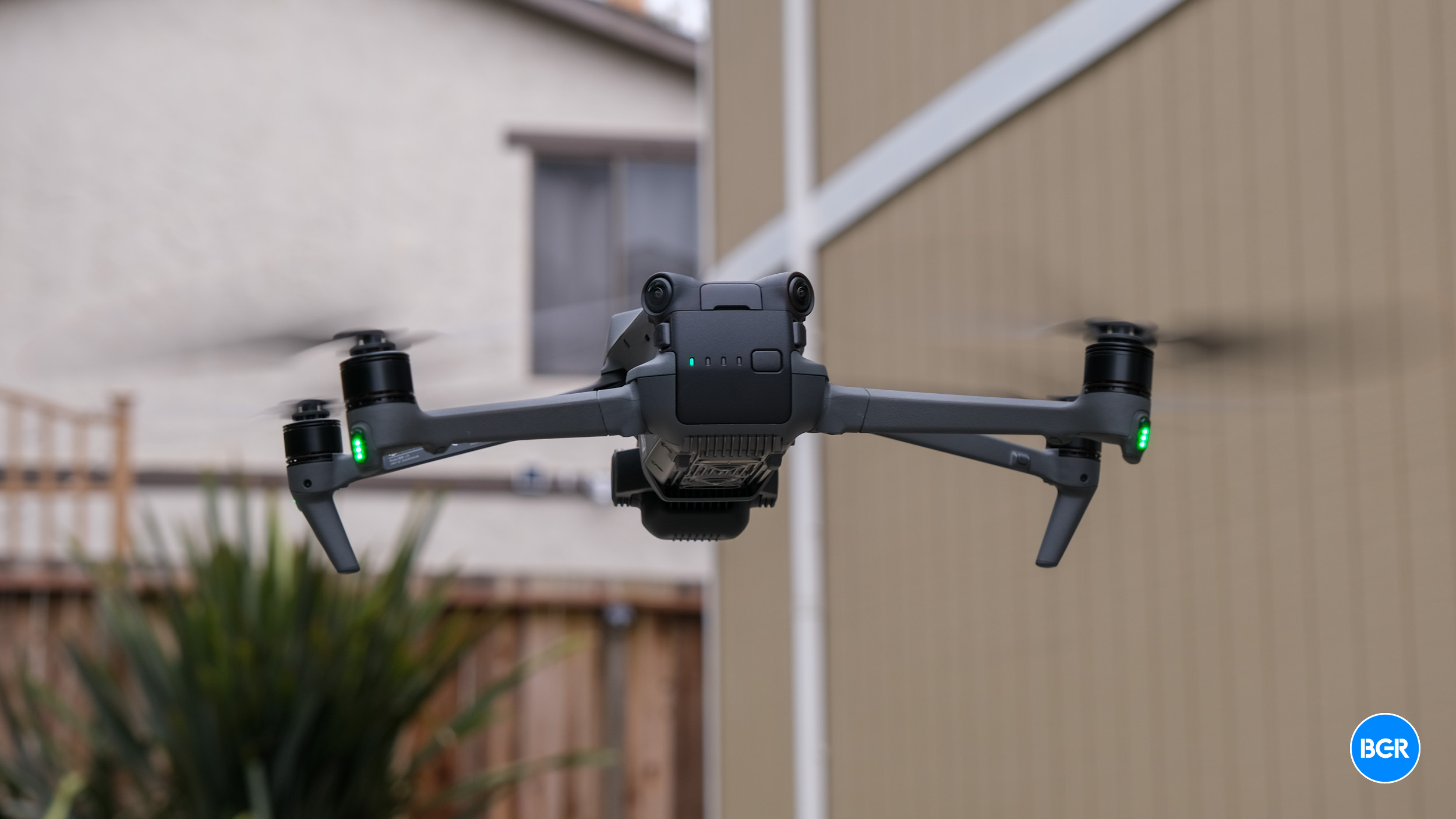 If you haven't used a DJI drone before, it will take a little getting used to the controls — and it's worth diving into DJI's instructional material to do so. After all, you don't want to find yourself in a situation where your drone is in the air and you don't know how to get it back home.
Flying modes
The drone comes with a number of main flying modes, as well as a series of intelligent flight modes that can help in automating flight and capturing better video content. The main modes include Cine, Normal, and Sport, which basically impact how fast the drone flies, and how much it relies on obstacle avoidance (in Sport, obstacle avoidance is off).
As you would expect from a drone like this, you'll also get modes like subject tracking and orbiting, and those modes seemed to work very well. The drone can't use all modes with all cameras — for example, you can't use Active Track with the telephoto cameras, but for the most part, it still manages to keep its intelligent flight modes no matter what camera you use. You'll even be able to use subject tracking at 7x, which is pretty nice.
OcuSync 3+
The Mavic 3 Pro supports DJI's OcuSync 3+ technology, and it's pretty stellar. In perfect environments, that means getting a transmission distance of up to 15km, or around 9.3 miles. In the real world, you're pretty unlikely to reach those kinds of distances — but I still found that the drone was able to get further than any other drone I've reviewed before (including the Mini 3 Pro), before starting to lose a signal.
Even at these distances, OcuSync 3+ is able to transmit video of up to 1080p, and while it'll automatically downscale the video resolution if you start to get too far away.
Obstacle avoidance
The Mavic 3 Pro offers obstacle avoidance tech called DJI APAS 5.0, that's able to avoid obstacles in front, behind, below, and on top of it. That means that no matter what direction you're going, you can take advantage of the obstacle avoidance features on offer my the drone. And, DJI has improved on some of its AI flight modes, and the drone is now able to track a subject while also avoiding obstacles. That's pretty handy.
Battery life
The Mavic 3 Pro offers a ton of tech, including better cameras — and unfortunately, that comes at a slight battery hit. While the standard Mavic 3 offers a battery life of up to 46 minutes, the Mavic 3 Pro offers up to 43 minutes. To be fair, that's not a huge difference, but when the battery life on drones is also notoriously low, every minute counts. And, that number assumes you're not using the APAS 5.0 obstacle avoidance tech.
DJI Mavic 3 Pro camera quality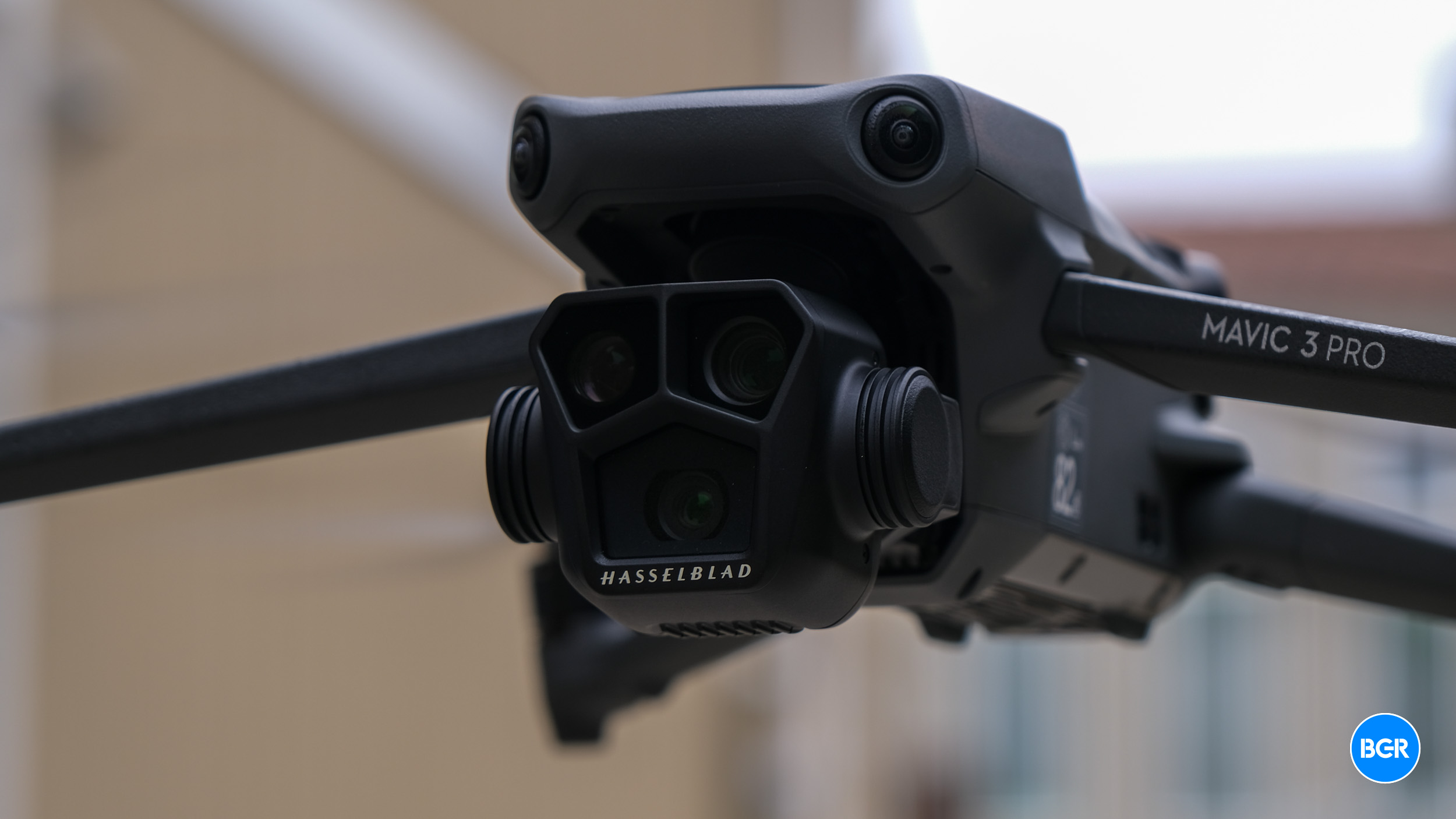 Of course, the big reason to buy the Mavic 3 Pro over the standard Mavic 3 is its camera system, which includes a triple camera array that should make the drone more appealing to videographers who want a high-end, versatile system.
The three cameras include a main sensor that's equivalent to 24mm, with a f/2.8-f/11 aperture and an 84-degree field-of-view; a medium telephoto camera that's equivalent to 70mm, and a full telephoto camera that's equivalent to 166mm.
When it comes to video specs, the camera is able to up to 4K footage at 60 frames per second on the two telephoto cameras, and up to 4K at 120 fps or FHD at up to 200fps on the main camera sensor.
So how well do the cameras perform? Well, very well. Video is generally vibrant and detailed, even if you employ digital zoom using the 7x toggle in the interface. Sure, it's not as perfect as footage at 1x, but it's still very impressive — and the telephoto camera clearly helps. Here's a look at some footage.
Conclusions
The DJI Mavic 3 Pro is a meaningful improvement over the standard DJI Mavic 3 — but only for those who really want the extra camera for more versatile options. That said, it certainly exceeds at this — the drone is able to capture great footage and is very easy to fly.
The competition
If you're looking for a drone just to fly, then it's worth considering something cheaper, like the standard DJI Mavic 3, the single-camera DJI Mavic 3 Classic, or something in the DJI Mini series. If, however, you want a great drone for capturing video footage, and don't want to shell out for the upcoming DJI Mavic 3 Pro Cine, the Mavic 3 Pro may be the way to go.
Should I buy the DJI Mavic 3 Pro?
Yes. For the right person, it's a great drone.