We've slowly been ramping up our car coverage here at BGR and I have to say, I couldn't be happier about it. Reviewing smartphones is great, but it's not quite the same as spending a week in a $100,000 luxury coupe. We've got plenty more planned — including an exciting look next month at a new $300,000 sports car with more than 600 hp — but I first wanted to turn back the clock a few months to May and June of this year.
I first spent time with the Lexus LC 500 late last year, and I was floored by how impressive this car was. Luxury is obviously something we've come to expect from Lexus over the years, but it's certainly not the first brand that comes to mind when one thinks of aggressive sport coupes. The LC was an absolute blast to drive though, and I even found myself pricing out leases at one point. I couldn't get over how impressed I was with this beast from the East.
While I never ended up pulling the trigger and getting myself an LC, I couldn't stop thinking about it. That's why I was so excited earlier this year when I got to spend some more time with not one, but two new LC models from Lexus' press fleet.
The LC is nothing short of a German luxury coupe wrapped in one of the most sleek and aggressive modern Japanese sports car designs I've ever seen. The throaty 5.0-liter V8 cranks out 471 horsepower and 398 lb-ft of torque, pushing the car to a top speed of 168 mph. That's right, it's a Lexus that does 168 mph.
To me, the LC's handling was much more impressive than its speed. With a wide stance and curb weight of more than 4,300 lbs, Lexus' sport coupe is glued to the ground. It hugs corners as well as any other car I've driven in its class — better than most, actually — and the perfectly contoured sport seats are more than just a luxury. They cradle the driver in all the right places and keep the torso perfectly still around quick turns.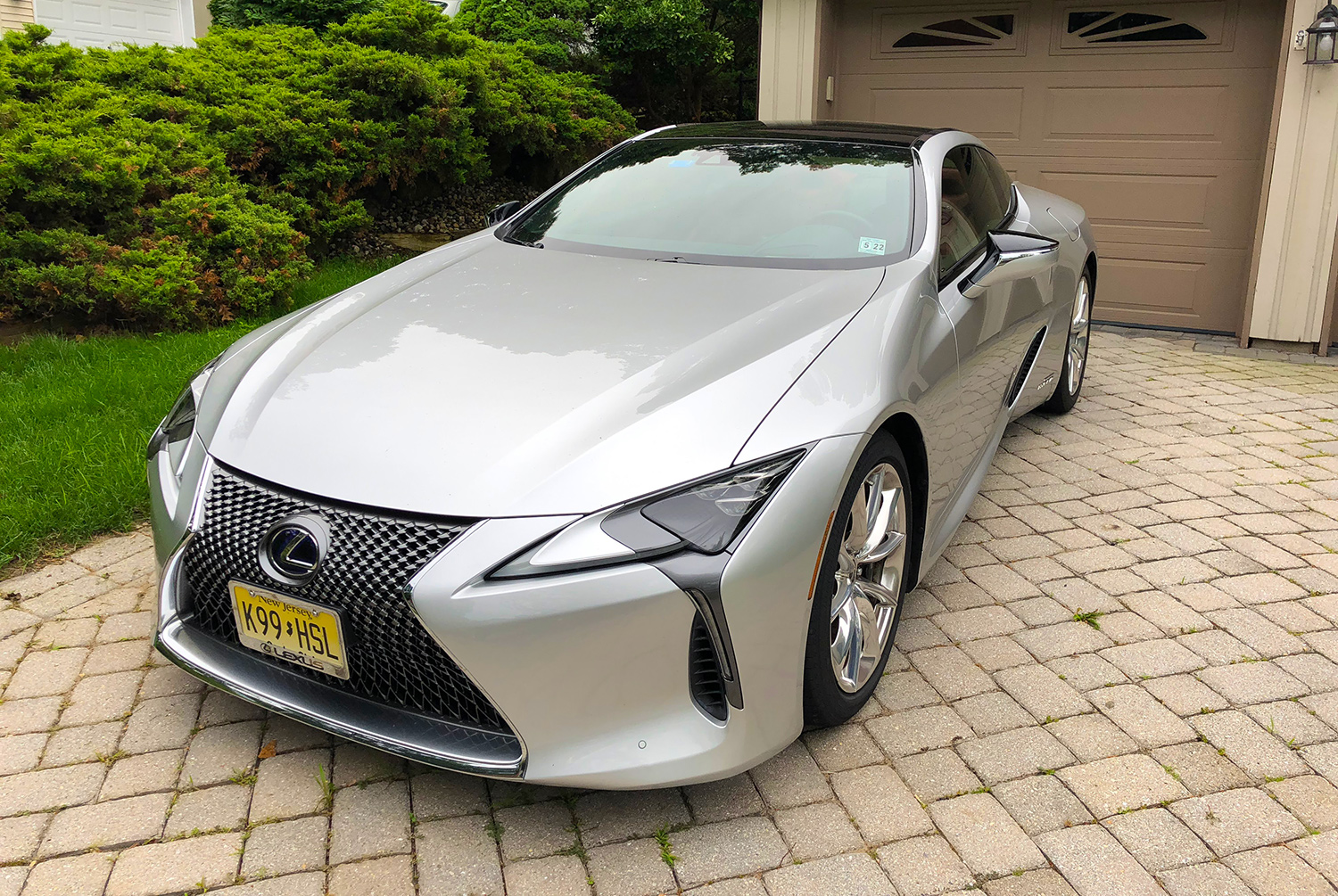 My biggest problem with the LC 500 was the transmission. The 10-speed Sport Direct Shift automatic tranny was smooth as butter, but it was sadly also slow as molasses. Okay fine, that's an exaggeration. The LC 500 simply wasn't responsive enough though, and it was due entirely to the lag between the throttle and shifting. When you're driving a $100,000 coupe and you stomp on the gas, you want to go now.
This was among the main reasons I was so interested in giving the other version of Lexus' LC a test drive.
The Lexus LC 500h can easily be mistaken for an LC 500 on the road, but inside it's a different beast entirely. The 5.0-liter V8 is replaced by a 3.5-liter V6 and a pair of electric motors that are combined in a very unique way. The LCh essentially has two entirely different transmissions, a continuously variable transmission (CVT) and a 4-speed automatic gearbox. Lexus calls its multi-stage hybrid transmission an "Electronically Controlled Continuously Variable transmission paired with four-speed automatic transmission," and Car and Driver has an excellent explainer if you're so inclined. Here's a quick nibble:
The CVT half of Multi Stage is an evolution of the longitudinal hybrid transmission found in those Lexus sedans. The big difference in Multi Stage from the older transmission is the additional four-speed planetary gearbox attached at the CVT's output. In the current GS and LS, MG2 gets a two-speed reduction, but in the Multi Stage the ICE drives MG1 and/or MG2 directly, but both MG2 and the ICE get the additional reduction of the four-speed auto. This keeps MG1 from hitting its redline, the cutoff for electric-only driving, and allows for EV driving as fast as 87 mph (up from 40 mph in the GS and LS).
Long story short, this is an evolution of the Toyota Hybrid Synergy Drive system Toyota first introduced all the way back in 1997. On steroids. And because I found the LC 500's power to be far too inaccessible, I was very interested to see if the LC 500h and its advanced hybrid powertrain fared better.
First, the bad news: it doesn't. Now, the good news: it's no less responsive than the all-gas version of the car, and it's surprisingly fast for hybrid V6.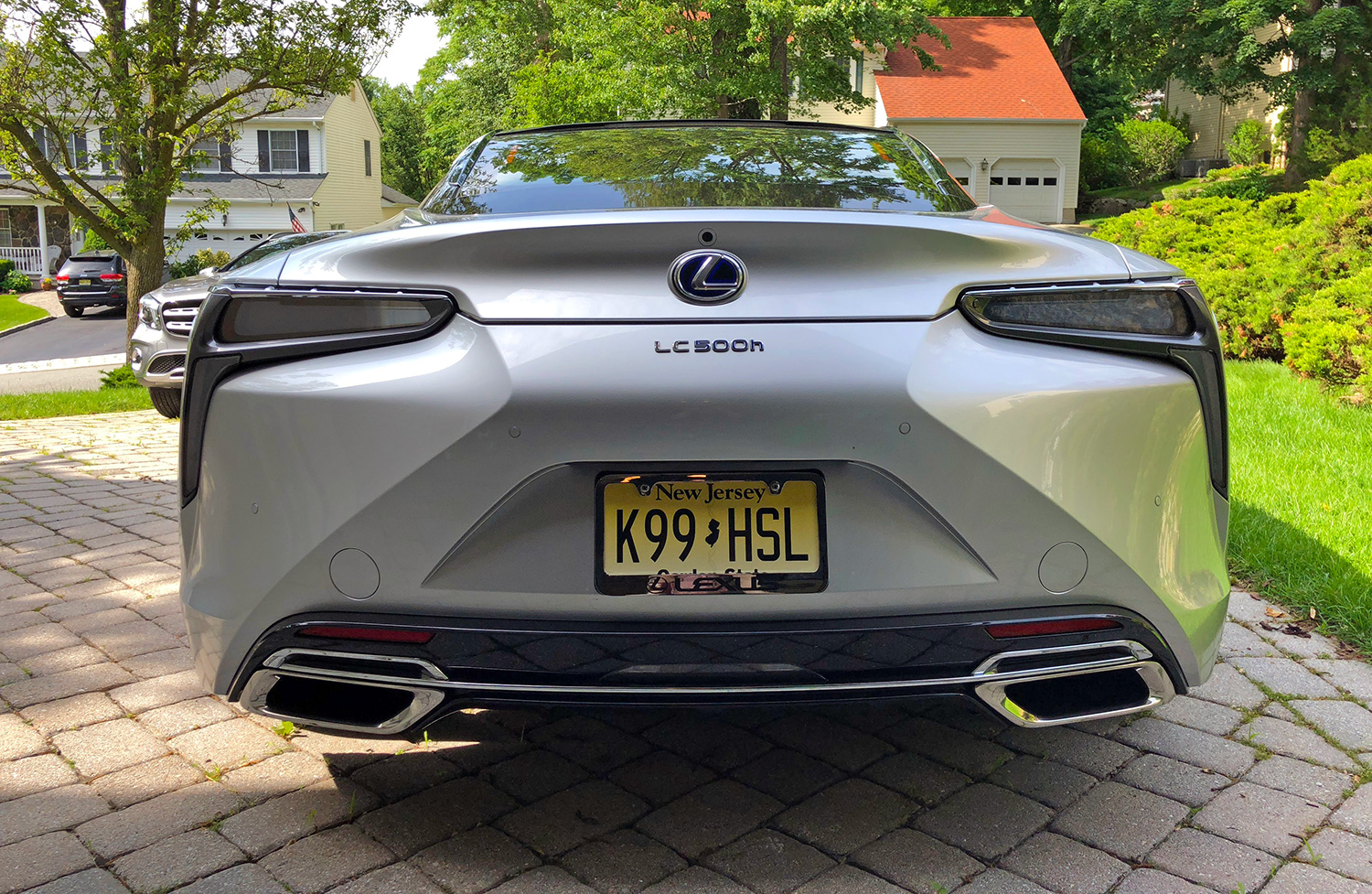 Think about how crazy this is: the Lexus LC 500h is a 4,435-lb luxury coupe with a 356 hp hybrid V6 that's only three-tenths slower to 60 mph than the 471 hp all-gas version. Wait, I'm not finished… it also has a combined fuel efficiency of 30 mpg!
The 5.0-liter V8 in the LC 500 gets a combine 19 miles to the gallon, and that's perfectly fine. But the LC 500h offers similar performance, the same insanely good handling, the same wonderfully luxurious interior, the same beautifully aggressive styling, and gas mileage that is more than 50% better. Lexus says the LCh gets 26 mpg in the city and 35 mpg on the highway, which compares to 16 mpg and 26 mpg for the V8.
I'd still like to get a little more speed out of a $100,000 coupe, but I felt the exact same way about the V8. Lexus' LC 500h really did surprise me, though. I would have never thought that a V6 hybrid could go toe to toe with a 5.0-liter V8, but I sure believe it now. To get this kind of performance out of a V6 hybrid is beyond impressive, and it has me pricing out leases yet again.