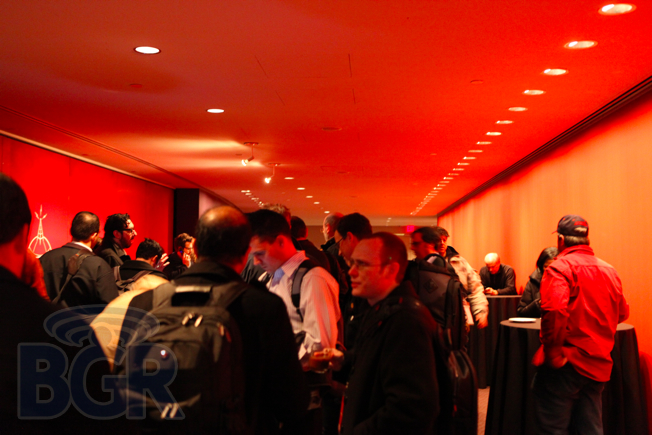 We're here, waiting in line, and ready to go. Everyone is expecting Verizon Wireless to announce that they will be carrying the Apple iPhone within weeks, and we'd be pretty shocked if that's not what we'll get. Could there be some other light Apple news sprinkled in? Maybe FaceTime over 3G? It's possible, but we wouldn't bet on it. Let's see if the Verizon iPhone supports world roaming or even simultaneous voice and data — a huge win, if they can pull both of those off. Our live coverage is after the break, and make sure to refresh the page often as updates come pouring in!
UPDATE: Don't forget to check out Verizon Wireless' iPhone 4 announcement with all the details you need — and our Verizon iPhone hands-on impressions is now live, complete with images and a video!
12:01PM:Sorry guys, we had some massive server failures and the rest, as they say, is history. Verizon Wireless' iPhone 4 will cost 199 for the 16 GB model and 299 for the 32 GB. It will become available for pre-order on February 3rd and it'll hit store shelves on the 10th.
11:11AM:iPhone 4 comes with 5 megapixel camera with LED flash, and Apple's custom A4 chip. But most importantly, iPhone provided an integrated customer experience which is far beyond what anyone else is providing.
11:10AM:We've designed a CDMA iPhone 4 that connects to Verizon's network. FaceTime, Apple
11:09AM:10's of millions of customers have purchased the iPhone in that amount of time
11:09AM:I'm incredibly happy to be with you all today, we've been looking forward to it for a long time. Since 2007 the iPhone has been a phenomenal success.
11:08AM:Lowell is thanking the senior team at Apple, and they have been great. To explain more about the product, here is COO Tim Cook!
11:08AM:Today's announcement is larger than just the iPhone. It's a strategic alliance that will continue.
11:07AM:Our goal has always been to provide all the people in the US the best devices, and in order to give them the best choice, we'd have to have a partnership with one of the best smartphone companies. We spent over a year testing and collaborating on wireless design and performance. Apple's team has been great to work with. Two years of talks and planning. Apple's iPhone is a magical product. Today we're extremely gratified to announce that early next month, it will be available! We were right!
11:06AM:Today we're bringing to market… something with Apple!
11:05AM:As we showed at CES last week, we're building on a bunch of partnerships to make broadband more mobile, and this includes devices and tablets and more.
11:05AM:The industry is being driven forward through innovation in new products. To compliment our network strategy, we've worked closely with partners across the industry to develop robust platforms and devices.
11:04AM:We've launched LTE in 38 markets.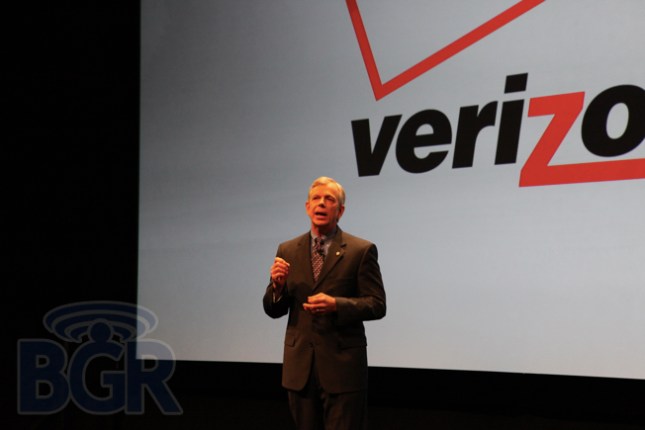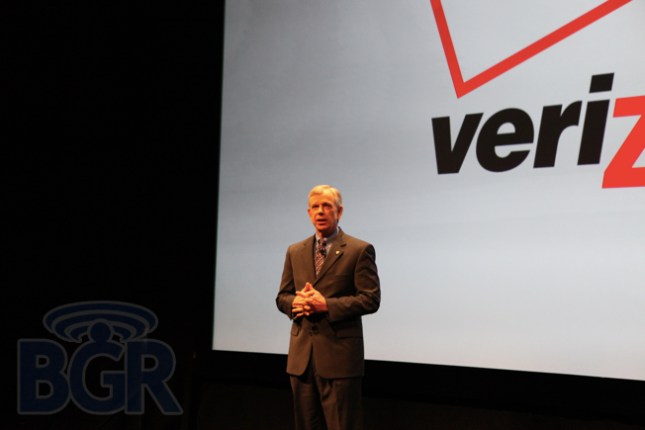 11:02AM:Today two industry innovators are coming together. We're going to use the power of our broadband networks to deliver content over multiple screens and devices. Verizon has made network reliability and speed the hallmark of their network.
11:01AM:It was very clear at CES that data, broadband, and video are the major forces driving growth across the high tech marketplace. With computing power moving from the desktop to the smartphone, people want to carry everything they have, wherever they go.
11:00AM:We guess you're expecting a big announce, we don't think we'll disappoint. We at Verizon are very, very excited about our announcement today. Let me first say a few words to put this announcement into context. It's a great day for wireless customers across the United States
10:59AM:Good morning, please welcome Lowell McAdam!
10:59AM:Lights are dimming and music is off!
10:59AM:Announcer just kindly asked everyone to take their seats as the program is about to begin. We're almost there guys!
10:58AM:Definitely a packed house in here… the talk of the room? Why the Verizon iPhone, of course! People are going through every theory…
10:56AM:It was a Daily Show correspondent. Funny. Not really.
10:56AM:Some guy just stood up and started screaming obscenities. We're guessing security is escorting him out. Nope, he's still going… Now here comes security.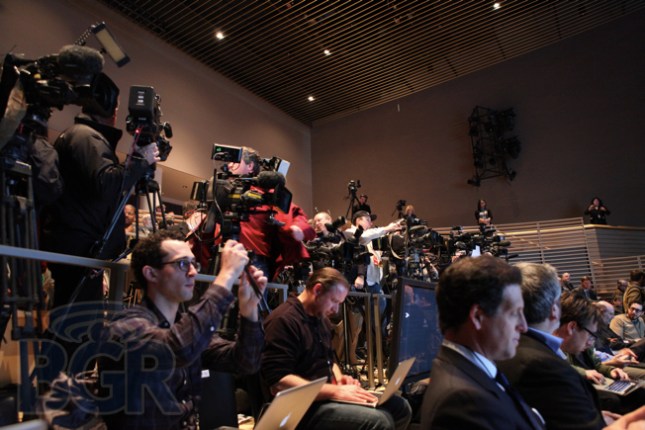 10:53AM:Kind of cozy in here…
10:48AM:Some snazzy Jazz music playing in the background while we wait.
10:47AM:We're seated! It looks Verizon will be continuing to Rule The Air with today's announcement…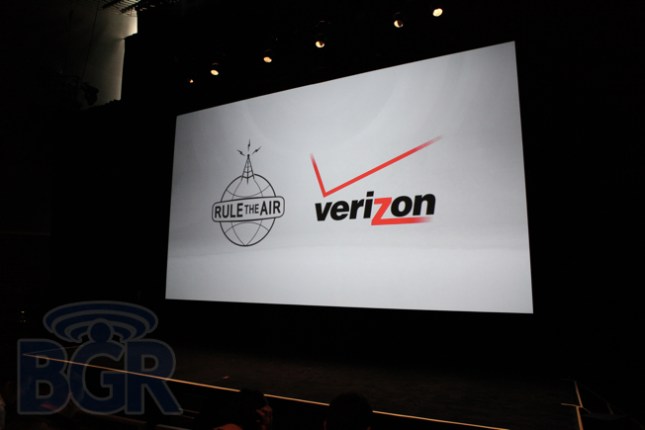 10:42AM:Doors are opening — we're headed in!
10:41AM:This guy in front of me has a Nexus S… And is trying to take a photo with it. He's failing miserably.
10:40AM:There are around 100 people here and were probably going to head in in about 15 minutes
10:40AM:Were standing in line right now after being led through scary elevators to an unmarked floor.