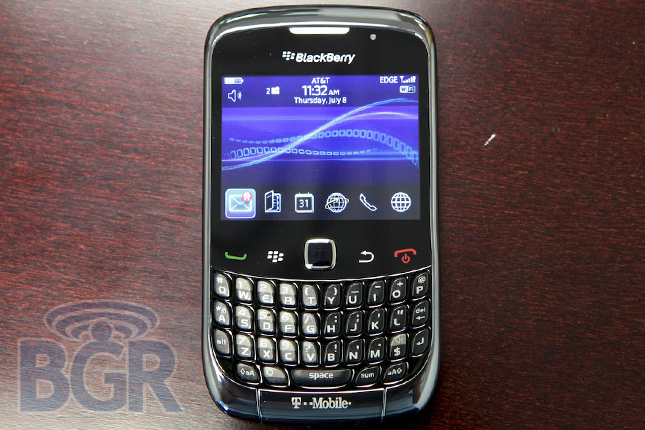 Man, news on RIM has been quiet as of late. And why wouldn't it? RIM has some interesting products coming up, but let's not beat around the bush — they can not really compare to the mind-blowing devices that have just been released. From the simply amazing iPhone 4, to the incredible Incredible, to the super-large super-capable Droid X, it's hard being a mid-range player with a mildly dated operating system. With that said, we'd like to officially welcome the BlackBerry Curve 9300 into the BGR offices. Here are some first hand impressions of the unreleased device:
It's, uh, just like the BlackBerry 8520. Literally. Same camera, same size (we believe off hand), same feel, same screen, same keyboard, same buttons. So what's changed? Besides a glossy metallic plastic finish on the case, and the inclusion of a UMTS radio…not much. As we just mentioned, the BlackBerry 9300 we have features T-Mobile's AWS 3G bands, so if that's something to push you over the edge to upgrade from your existing 8520, you'll be pleased as punch.
We also wanted to get your feedback before we do a full hands on gallery/review. Anything you want to see featured? Maybe size comparison photos to a specific handset, or possibly some network speed tests on the BlackBerry 9300 over 3G? Let us know and we'll include as many of your requests as possible!