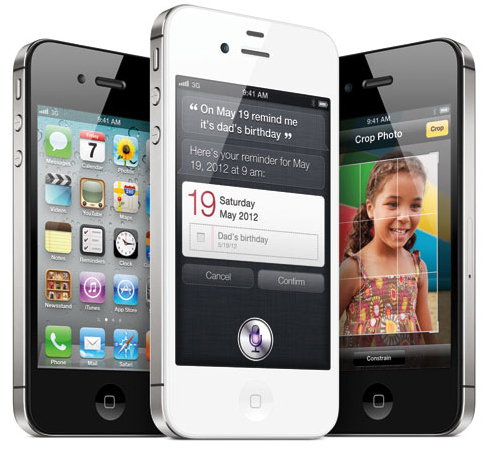 It's official: Apple's brand new flagship handset, the iPhone 4S, is here. While confusion was sprinkled throughout the industry on exactly what Apple would announce, most seemed to agree that the iPhone 4S would be the smartphone that Apple ultimately would unveil. The iPhone 4S features an upgraded Apple A5 dual-core processor that is twice as fast at executing tasks, and it offers performance up to 7x better than the previous iPhone in terms of graphics. Even with the increased performance of the new A5 chip, Apple is stating battery life has increased to 8 hours of 3G talk time. Hit the break for more.
In addition, Apple is touting a brand new antenna system where the phone will "intelligently switch between two antennas" to offer up even better call quality. Data speeds are increased by almost 2x thanks to HSPA+ 14.4 support. The iPhone 4S is also a world phone, working on multiple carriers and networks globally.
An 8-megapixel camera can been dropped into the new iPhone 4S, offering up 60% more pixels, with a CMOS backside illuminated sensor supporting a staggering 73% more light than the iPhone 4 sensor, and it's 33% faster. In addition to face detection and a 2-3x reduction in the time it takes to capture a photo compared to competitors' smartphones, the iPhone 4S will take 1080p HD video with image stabilization in real-time.
If that wasn't enough, Apple is including the ability to use AirPlay Mirroring right on the iPhone 4S in addition to the iPad 2, which already supports this feature.
Apple also introduced Siri, a personal voice assistant for your phone that includes a voice dictation feature. Simply talk to the phone and Siri will transcribe your spoken voice to text in any text field where there is a keyboard.
Black and white versions of the iPhone 4S will be available on the 14th when the phone launches, and they come in 16GB, 32GB and finally… 64GB capacities. Prices? $199, $299 and $399 respectively. The iPhone 4, as rumored, will be available for $99 with 8GB of storage, and the iPhone 3GS? Free on contract.
In terms of launch, the iPhone 4S will be available starting October 14th with pre-orders starting October 7th for the U.S., Canada, Australia, United Kingdom, France, Germany and Japan. Oh, and Sprint will be getting the iPhone and it only had to offer $20 billion in guaranteed sales over four years to make it happen.