Days before tickets go on sale for the limited theatrical run of Zack Snyder's Rebel Moon, Netflix decided to close out its Geeked Week 2023 festivities by dropping the first full trailer for the controversial director's latest spectacle-filled project. It's an epic and explosive first look at Rebel Moon — Part One: A Child of Fire, a space adventure in which a young woman from the outskirts of the galaxy leads a band of rebels in a fight against a tyrant.
To anyone hung up on the plot's resemblance to a little franchise by the name of Star Wars, my response is: The overlords at LucasFilm would actually do well to check this one out. With the exception of Andor on Disney+, it's been years since I've cared about anything or anyone from the galaxy far, far away, a result of Star Wars falling into the same trap as Marvel. Hidebound, increasingly averse to creative risk-taking, paint-by-numbers plots, and visuals that stopped impressing me a long time ago. Say what you will about Snyder, but his movies tend to be wild, escapist, and unapologetically fun.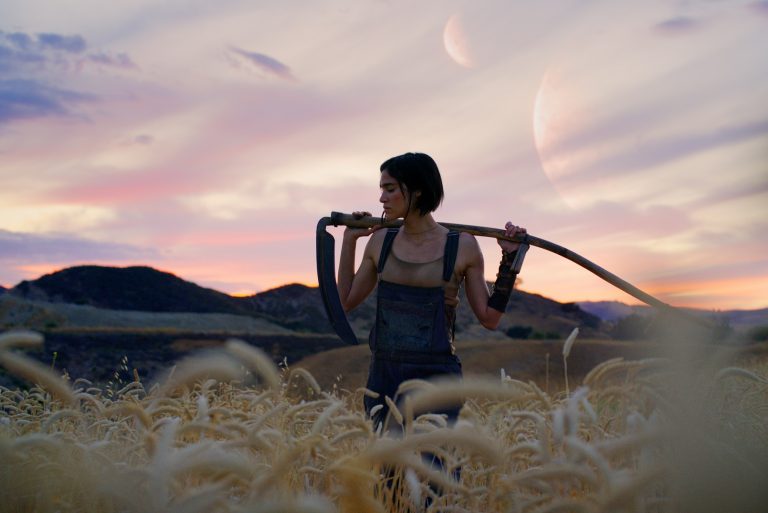 Netflix is giving Rebel Moon a one-week run in select theaters starting Dec. 15, ahead of its Dec. 22 debut on the streamer, and I don't blame them. Snyder is clearly going for a supersized movie experience here — in more ways than one, actually. His script, for example, was long enough that it required splitting Rebel Moon into two parts, with the second (Rebel Moon — Part Two: The Scargiver) coming in April 2024. And as if that wasn't enough, both parts of the movie will also come with longer director's cuts.
"When a peaceful settlement on a moon in the furthest reaches of the universe finds itself threatened by the armies of the tyrannical Regent Balisarius," the official Netflix summary explains, "Kora (Sofia Boutella), a mysterious stranger living among the villagers, becomes their best hope for survival. Tasked with finding trained fighters who will unite with her in making an impossible stand against the Motherworld, Kora assembles a small band of warriors — outsiders, insurgents, peasants, and orphans of war from different worlds who share a common need for redemption and revenge.
"As the shadow of an entire Realm bears down on the unlikeliest of moons, a new army of heroes is formed."
Check out the new Rebel Moon trailer below.