Thor: Love and Thunder premiered at the El Capitan Theatre in Hollywood on June 23, 2022, and was released in the United States on July 8 as part of Phase Four of the MCU.
Thor: Love and Thunder finds Thor (Chris Hemsworth) on a journey unlike anything he's ever faced — a quest for inner peace. But a galactic killer known as Gorr the God butcher (Christian Bale), who seeks the extinction of the Gods, interrupts his retirement. Thor enlists the help of King Valkyrie (Tessa Thompson), Korg (Taika Waititi), and ex-girlfriend Jane Foster (Natalie Portman) to battle the threat.
Together, they embark on a harrowing cosmic adventure to uncover the mystery of the God Butcher's vengeance before it's too late.
The curious case of the missing Thor 4 spoilers
With No Way Home and Multiverse of Madness, we've had months of plot leaks that preceded their theatrical releases. As a result, spoilers fans knew everything about each movie well in advance. That hardly ruined the appeal of each of those titles, with No Way Home and Multiverse of Madness making nearly $3 billion at the box office.
If anything, plot spoilers helped No Way Home hit almost $2 billion, and the movie will return to theaters with a unique cut featuring additional content. Doctor Strange 2 is just over $50 million shy of $1 billion, a figure that seems impossible now that the movie is streaming online.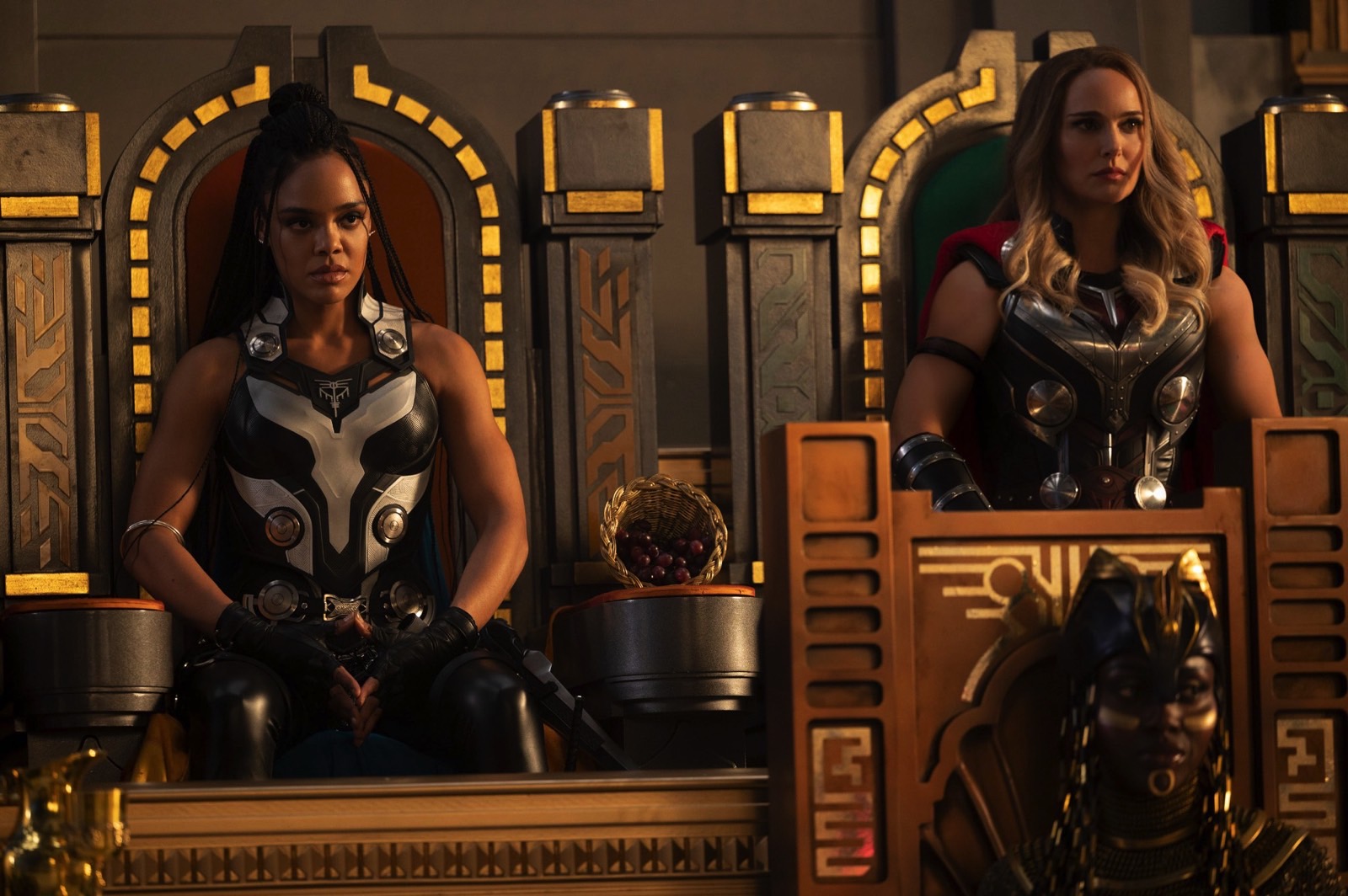 King Valkyrie (Tessa Thompson) and Mighty Thor (Natalie Portman) in Love and Thunder promo image.
It'll be interesting to see how Thor: Love and Thunder fares in theaters. Not only did the film lack big plot spoilers until the red carpet premiere, but it also featured a shorter marketing window.
However, Chris Hemsworth's Thor has a considerable following, especially since director Taika Waititi reinvented the character with the help of Thor: Ragnarok. Plot spoilers or not, Love and Thunder, should still crush it at the box office.
What we know about the Love and Thunder story
While we didn't get any big Love and Thunder plot leaks before the red carpet premiere, we do know what the story is about. Thor, Jane (Natalie Portman), and Valkyrie (Tessa Thompson) will fight against the newest threat in the universe: Gorr the God Butcher (Christian Bale).
We know from the trailers that Jane has the Mjolnir hammer, which has a new power. We saw Russell Crowe's Zeus and Olympia and Gorr killing Gods.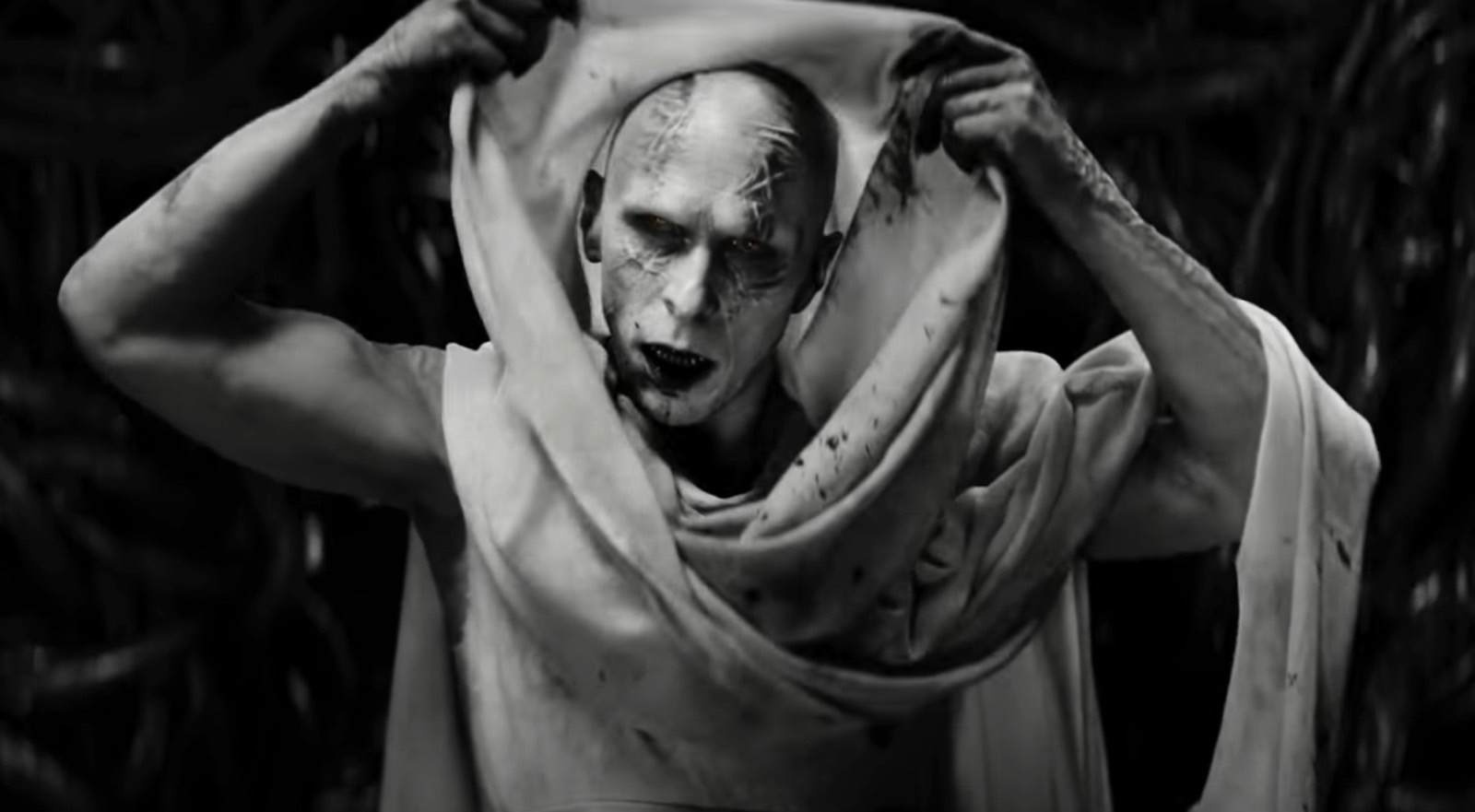 We know that Jane Foster is suffering from an illness, likely stage four cancer, and is looking for alternatives apart from science to get out of the mess. When checking out books on Norse Mythology, she hears a call from Mjolnir.
Mjolnir can help her contain the condition. And we know that Gorr has suffered terribly at the hands of the gods, which is why he's out for revenge.
Thor and Jane Foster cross paths when a fight breaks between Gorr, his shadow army, and Asgard. To Thor's surprise, Jane inexplicably wields the Mjolnir. But before they can catch up, Gorr takes all the children of Asgard hostage and flees.
With that in mind, this is your last chance to avoid the big Love and Thunder spoilers below.
The big Thor: Love and Thunder plot leak
A Redditor posted the Thor: Love and Thunder plot on the MarvelStudiosSpoilers subreddit, with the community's mods vouching for its authenticity. It's not as detailed as the No Way Home and Multiverse of Madness plot leaks, but it offers the story's broad strokes.
Jane has cancer, and her presence in Asgard will be enough for the Mjolnir hammer to repair itself. Thor's power will give her strength and improve her health. But the power also drains her while in human form, accelerating the evolution of cancer.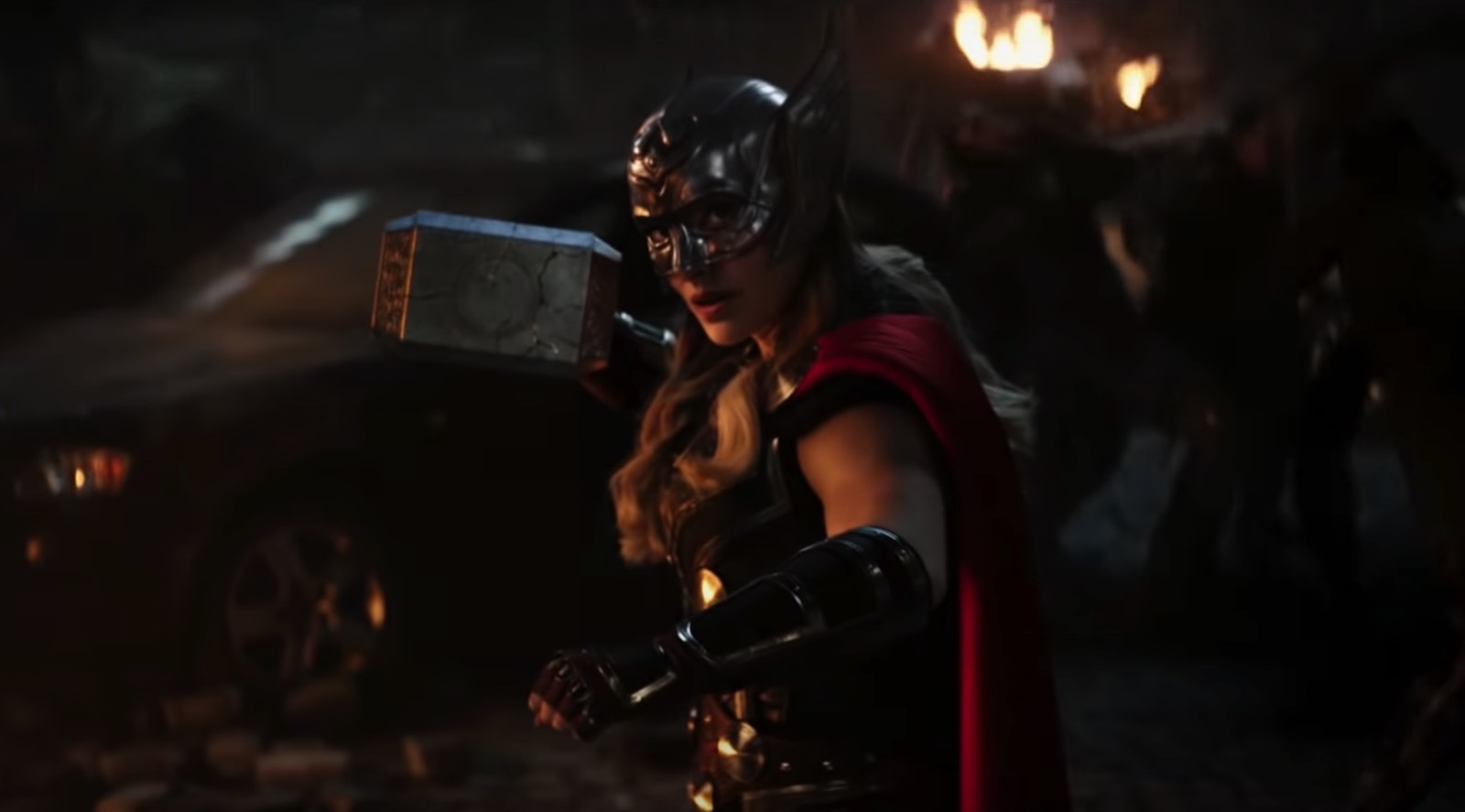 Gorr is searching for the god Eternity after he lost his entire family. Gorr wants them back, but he can't find Eternity. Instead, Gorr will discover the sword that can destroy gods. And he swears to kill them all.
As a result, Thor, Jane, and Valkyrie will team up to fight Gorr. They'll try to warn Zeus, but the latter is evil and crazy. One of the most rewatched Love and Thunder trailer scenes indicated that Zeus would capture Thor. But that's not the reason why people watched it.
The Thor: Love and Thunder plot leak also says Valkyrie will take Zeus's lightning weapon from him, which we also saw in the trailers.
Gorr the God Butcher
The three will fight Gorr, with Jane destroying Mjolnir again to stop Gorr. She dies as a result, but Gorr is touched by the moment and decides to stop killing gods. Eternity brings his daughter back to life, but Gorr dies too.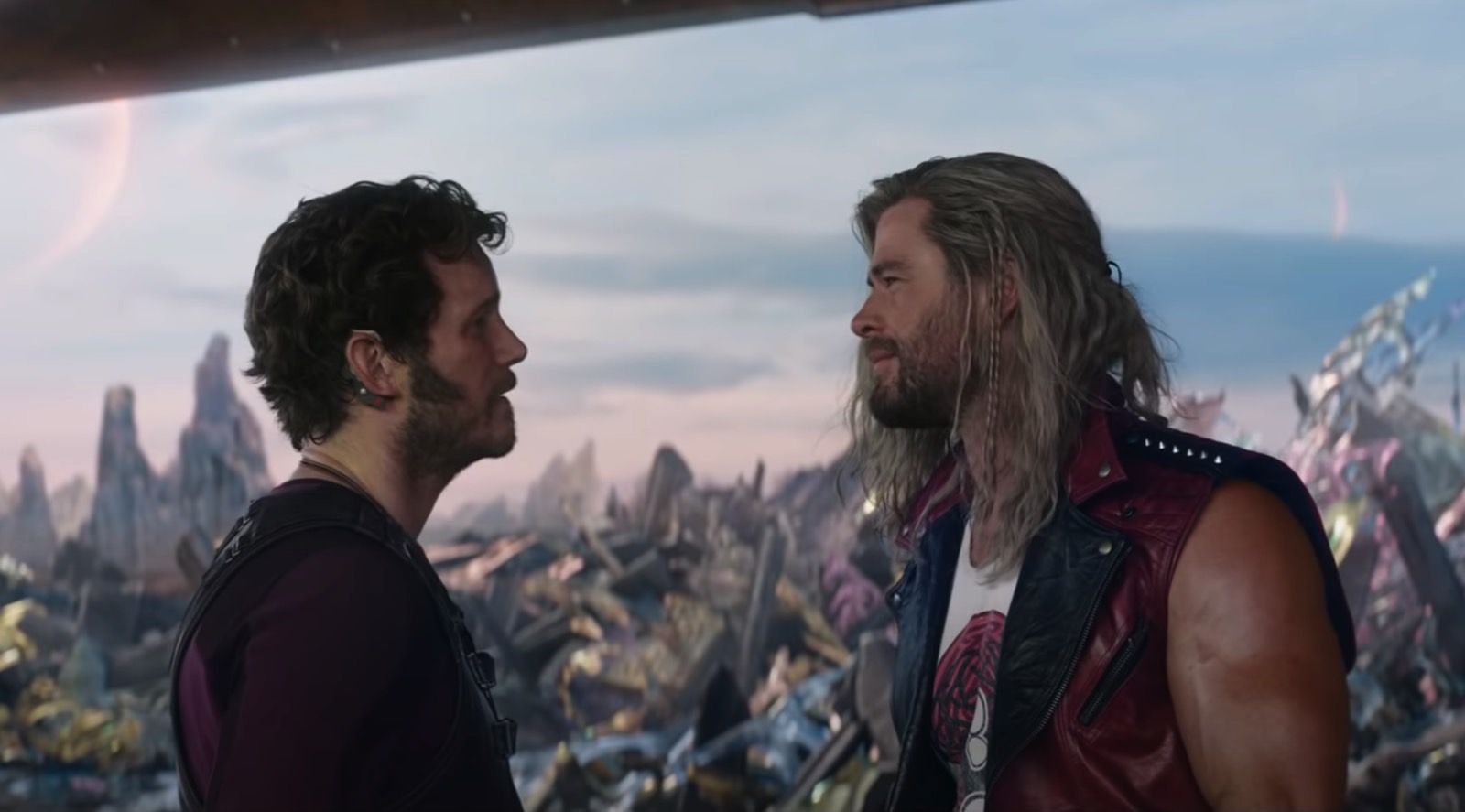 Thor and Gorr's daughter go together on new adventures, the plot leak says, and that's how Love and Thunder ends.
Gorr was a dedicated disciple of the God Rapu. His faith in him made him pray to him even when he was stranded in the desert and had no means of survival. However, when his daughter died fighting for her life and when he came face to face with Rapu. He realized that the gods are self-absorbed people who think of nothing but themselves.
The darkness of the sacred blade "Necrosword" (which is just casually lying there) took over him when he was talking, pleading, and asking for the reason for his wrath upon him and everyone that worships him.
This newfound realization, coupled with the vengeance for his daughter and the manipulation of the shadowy deity in the sword, leads Gorr towards darkness and takes it upon himself to kill all the gods in the universe.
The Guardians only appear early in the movie.
The post-credits scenes
Moreover, the Love and Thunder plot leak also briefly describes the two post-credits scenes. In one, we have an upset Zeus sending Hercules to kill Thor, a teaser for a Thor 5 story.
The second post-credits feature Heimdall (Idris Elba), welcoming Jane Foster to Valhalla. We might see these characters again in the MCU if this is real. You can read this Love and Thunder plot leak in full below.
Detailed Love and Thunder plot leaks

With just a few days to go until the Love and Thunder premiere, an even more detailed Love and Thunder plot leak made its way online.
If knowing the big spoilers of the marvel cinematic universe movie does not ruin the fun, you'll be able to go over a more detailed Love and Thunder plot leak before seeing the film. It's all thanks to FictionHorizon, which posted everything about the movie. And the detailed Love and Thunder plot account also seems to confirm the post-credits scenes mentioned in the more limited plot leaks above.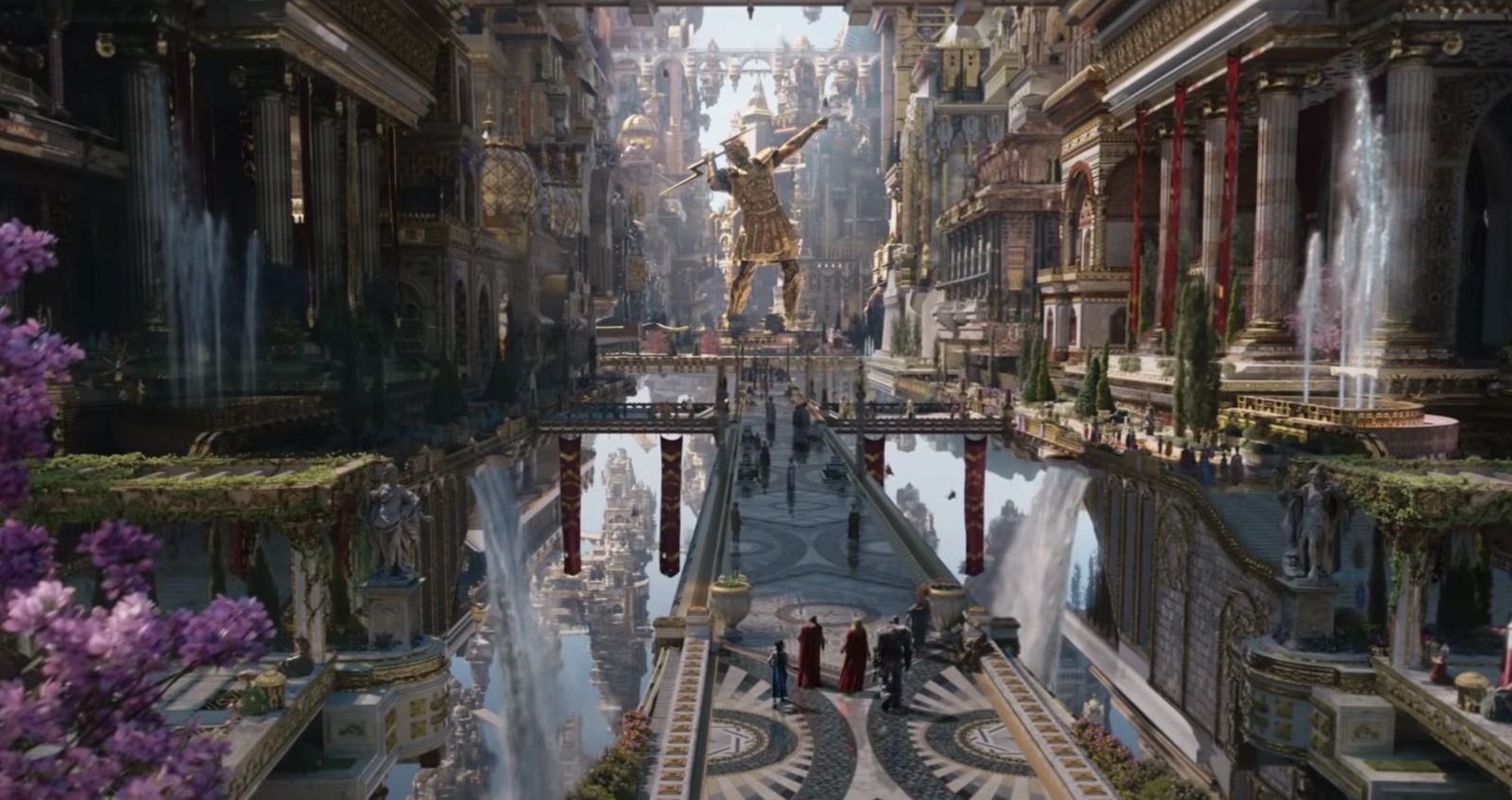 The plot spoilers are confirmed
Love and Thunder started playing in some international markets as early as July 6.
The previews were enough to inform us that the plot spoilers that leaked after the red carpet premiere were accurate. It's not that we doubted their authenticity before. As we explained, these Thor 4 plot spoilers dropped after Marvel showed the movie to reviewers in mid-June.
Not only that, but clips from the movie are already circulating on social media. YouTube being a great place to find recordings from theaters. A simple search might surface some of the exciting scenes in the movie. And that's enough to tell you the Love and Thunder plot leaks were genuine. Marvel will surely remove those YouTube videos and shorts quite fast.
Thor: Love and Thunder ending explained
After fighting Gorr, Thor, Jane, and Valkyrie narrowly escape with their lives. However, Gorr manages to grab Thor's axe – Stormbreaker. Gorr proceeds to the gates of Eternity using the magic axe and his strength from Necrosword.
He still has the children captive, so Thor decides to go after him alone. Thor arms himself with Zeus's (Russell Crowe) thunderbolt and Bifrosts himself in the nick of time, saving the children in the nick of time.
Thor gives all the kids a part of his thunder power to make fighting Gorr easier. They put up a fight, but with the power of the Necrosword on Gorr's side, it's a losing one. Jane shows up just when Thor is about to lose.
While Jane fights Gorr, Thor is able to retrieve the Stormbreaker from him. They destroy the Necrosword in time, but the gates of Eternity still get opened up. Thor and Jane manage to convince Gorr to ask for his daughter's resurrection instead of killing off all the Gods. He agrees as he is no longer under the spell of the Necrosword.
Thor promises to take care of Gorr's daughter after his demise, as the darkness of the sword has already consumed him. Gorr's daughter appears from within Eternity as he dies, looking at her one last time.
The children of Asgard return home and are trained in combat by Valkyrie in case a similar situation repeats itself. Korg returns to his original form after being dissipated in Omnipotence city. He holds hands with his lover Dwayne over lava so they can have a rock baby.
In the final sequence, Thor adopts Gorr's daughter, who now goes by the name Love.
She can also wield Thor's Stormbreaker, and they team up to beat the bad guys. This makes the title of this Thor movie make a lot more sense. Thor also reunites with Mjolnir.
FAQ
What is the plot of Thor: Love and Thunder?
Thor's retirement gets interrupted by Gorr the God butcher, a monstrous killer who seeks the extinction of the gods. To combat the threat, Thor enlists the help of king Valkyrie, Korg, and his ex-girlfriend Jane Foster who wields Mjolnir, his magical hammer. Together, they set out on a harrowing cosmic adventure to uncover the mystery of the God Butcher's vengeance.
Who is the villain in Thor: Love and Thunder?
Christian Bale's Gorr The God Butcher is the villain in Thor love and Thunder.
How does Jane become Thor?
Mjolnir telepathically calls Jane to New Asgard and imbues her with great power.
Does Thor lose his powers in Love and Thunder?
No, Thor doesn't lose his powers in Love and Thunder. However, in the Mighty Thor comics by Jason Aron, he does.
Who does Thor fall in love with in Love and Thunder?
Thor falls in love with Dr. Jane Foster in Thor: Love and Thunder.
Who is the new female Thor?
The new female Thor is none other than Dr. Jane Foster, played by Natalie Portman. In the comics, she goes by Mighty Thor.
Will Thor return after Love and Thunder?
Following the post-credit scene where Zeus sends Hercules to hunt Thor, we believe there might yet be another addition to the four Thor movies that we already have.
This article was originally published on July 1st, 2022, and has since been updated with additional information.
---
More Marvel coverage: For more MCU news, visit our Marvel guide.