With the launch of the PlayStation 4 Pro, the era of 4K gaming has officially begun.
That's the primary selling point of Sony's mid-cycle console refresh — it's the first-ever 4K console. But aside from outputting 4K graphics, the PS4 Pro is also packed with some powerful new hardware that will make all of your games run faster and smoother than before, while also providing benefits to gamers who have yet to upgrade to a 4K TV set. So is it worth upgrading to a PS4 Pro?
In order to answer that question, we need to take a closer look at the console.
MUST SEE: Battlefield 1 review: Make war matter again
First of all, from a purely visual standpoint, the PS4 Pro is just one-and-a-half slim PS4 consoles stacked on top of one another. It's not the sleekest nor the most attractive console refresh of all time, but the matte black finish is, in my opinion, a significant improvement over the glossy/matte mix of the launch PS4.
Look a little closer and you'll find that the PS4 Pro is equipped with an extra USB 3.0 port, an optical audio port (which is missing from the slim PS4 model) and an HDMI 2.0 for 4K resolution output. Other than that, it looks like a fat PS4 slim.
But as with electronics and people alike, it's what's on the inside that counts. While the standard PS4 and the PS4 Pro share the same AMD Jaguar CPU, the Pro's processor has been boosted from 1.6GHz to 2.1GHz. Far more important is the doubling of the GPU's power, from 1.8 teraflops to 4.2 teraflops. There's also an additional 1GB of DRAM to help the console switch between apps more easily.
These are notable upgrades, but as Sony has confirmed, many games won't reach native 4K on the PS4 Pro. Instead, developers will pump the resolution as high as they can before implementing a technique called checkerboard rendering to bring the game the rest of the way to the desired 2160p resolution.
If you're playing a PS4 game that hasn't been updated to support the PS4 Pro, it will run virtually identically on the Pro as it would on a launch PS4 or slim PS4. And, just to be clear, every game that Sony releases for the PS4 will run on a PS4 Pro, and vice versa. No compatibility issues for any model of PS4.
I was curious about how complicated and time-consuming the transfer process would be to bring all of my data over to the PS4 Pro from my original PS4. I had well over 300 GB of games, saves, screenshots and videos to transfer.
Thankfully, it was neither — all I had to do was plug an Ethernet cable into both consoles, decide which data I wanted to keep and wait for an hour or so. Once the transfer was complete and I turned on the PS4 Pro again, I legitimately couldn't tell the difference. Everything was right where it was supposed to be.
So now that my PS4 Pro was set up and my new 4K TV was plugged in, I wanted to see if I could actually tell the difference between a standard game and a game with PS4 Pro support. I started with The Last of Us: Remastered, which was the first game to receive an update that pushed its graphics to 4K.
The difference was noticeable (as I switched the HDMI cord back and forth between my old 1080p Samsung TV and the new UHD Sony TV), but not exactly striking. The lighting was improved and the textures looked sharper, but this wouldn't have been the showcase game I would have chosen to convince someone that it was worth spending an extra $100 on a PS4 Pro over a PS4.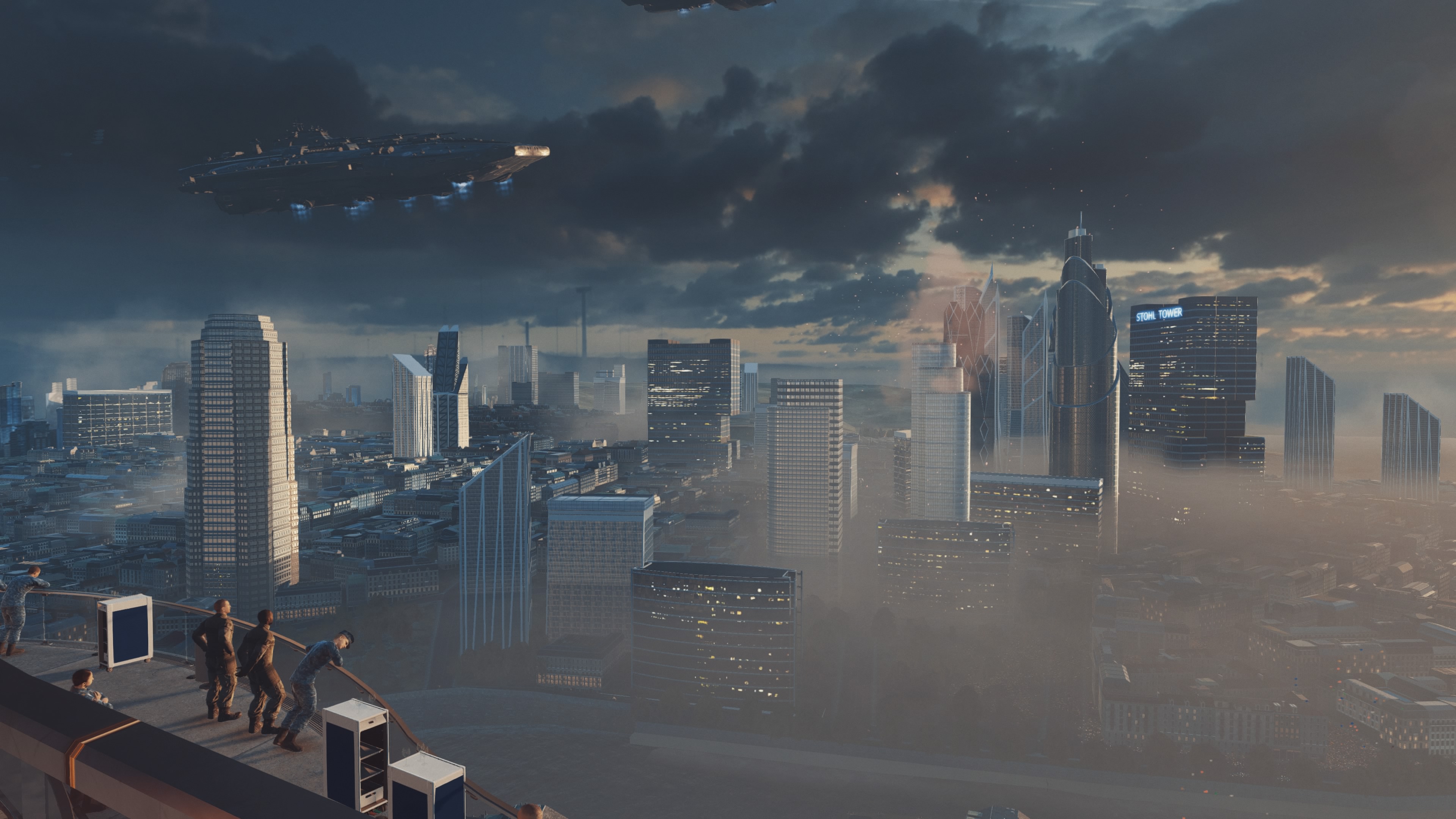 Then I got around to installing Call of Duty: Infinite Warfare on the PS4 Pro and I suddenly understood why Sony thought the PS4 Pro would be a good idea. The new Call of Duty is one of the first games to feature PS4 Pro support on the disc, and it looks as close to a PlayStation 5 game as I've seen so far.
While the 4K resolution and HDR lighting are more pronounced in some areas than others, it really does feel like a step up from the current generation of graphics. Developers have had a relatively limited amount of time to work with the new hardware, and there's some controversy regarding the console's ability to render native 4K vs. using checkerboard upscaling to reach a higher resolution, but what Infinity Ward and Activision have managed to accomplish with Infinite Warfare is impressive, and should quench the 4K thirst of anyone upgrading to the PS4 Pro.
In case you haven't seen the list, Infinite Warfare, The Last of Us and Infamous: Second Son (another Pro game that didn't blow me away) are just a fraction of the 30+ games that will support the new console when it launches on November 10th. We'll update this review after the console actually hits store shelves with some thoughts on some of the dozens of others games (including a sizable selection of PS VR titles) once their developers add PS4 Pro support.
As with the new, slim PS4, the PS4 Pro package includes an ever-so-slightly updated DualShock 4 controller. The only two differences between the new controller and the old one are 1) the addition of a thin light bar to the touch pad on the front of the controller, and 2) USB communication as well as Bluetooth.
When deciding whether or not to pick up a PS4 Pro, keep in mind that you're only buying this console for one reason: upgraded graphics. The machine itself is nothing to write home about (although the mechanical power and eject buttons are a welcome change), there's nothing new in the box (other than the upgraded console, obviously), and it can't play 4K Blu-ray discs (while the Xbox One S can).
But if you want your PS4 games to look nearly as good as a PC game running at max settings, and you're willing to pay a premium for it, the PS4 Pro is the console you should pick up this holiday season. Sony's most recent software updates have made the PS4 ecosystem more functional than ever, and the list of upcoming exclusives is as encouraging as it has been in quite some time, with titles like The Last Guardian, Horizon Zero Dawn and Persona 5 on the way.
Microsoft is sure to give Sony a run for its money next holiday season with the release of Project Scorpio, but for now, the PS4 Pro is the most powerful console on the market. If that's what you're looking for out of a hardware refresh in 2016, you're not going to be disappointed with the PS4 Pro.