Confession time: I've read the Scott Pilgrim graphic novels by Bryan Lee O'Malley, at this point, too many times to count. I also thought director Edgar Wright's 2010 live-action adaptation of the story was an absolute blast (obviously!). So you can only imagine how excited I am to return to Toronto to get re-acquainted with Scott, Wallace Wells, Ramona Flowers, Sex Bob-Omb, and the league of evil ex-boyfriends when a new eight-episode anime adaptation of the Scott Pilgrim graphic novels joins all the other brand new Netflix releases next week.
And it's not just because I'm such a fan of the story. It really does feel like it's been forever since we've had something this unapologetically fun to binge on the streaming giant. Based on the screener episodes that I've already started watching, I can confirm this anime treatment is an absolute delight for fans of the books — while, at the same time, there are also plenty of surprises packed into the story.
That's because this isn't a straightforward adaptation of the books; the story goes to some unexpected places, including a shock death of [SPOILER] at the end of the first episode that I didn't see coming.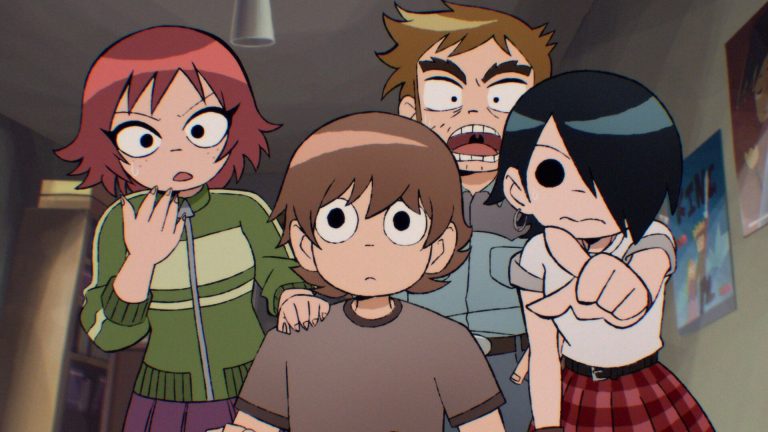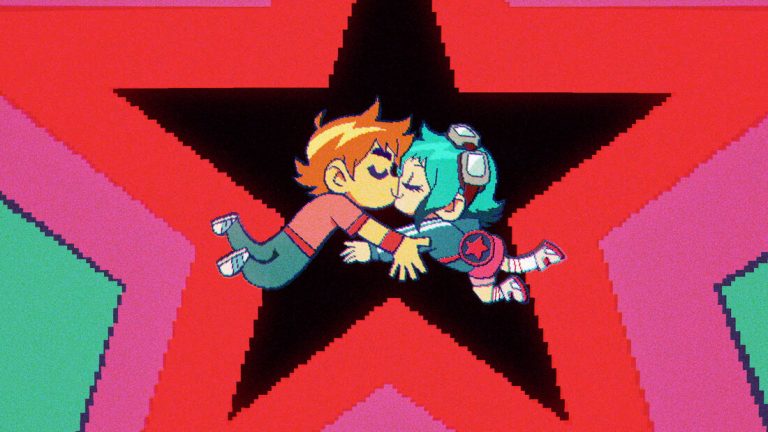 Of course, Scott Pilgrim Takes Off isn't the only new title coming to the streamer over the next several days. In addition to Netflix's animated romp about the bass-playing, lovelorn slacker who fights Ramona's ex-boyfriends in video game-style fights, next week's Netflix releases also include new episodes of The Crown, a documentary about gangsters, a new live Netflix sports event, and much more.
Once I finish watching the final showdown between Scott Pilgrim and Gideon Graves — the most evil of Ramona's evil ex-boyfriends — I'll be streaming the Netflix releases that you can read more about below (Scott Pilgrim Takes Off, by the way, debuts on Nov. 17).
This coming week, among other things, marks the beginning of the end of one of Netflix's biggest original releases of all time. The Crown, from creator Peter Morgan, did so much to supercharge the streamer's ambitions around original prestige — and its peeling back the curtain around the British Royal Family brought in viewers by the tens of millions.
Given that it wants to squeeze every last bit of viewership it can out of the sixth and final season of the show as possible, Netflix has chopped up the final season into two parts. With 10 episodes in total, the first four episodes drop on Nov. 16, with the final six coming on Dec. 14.
Plot-wise, the new season deals (among other things) with Princess Diana's and Dodi Fayed's fateful car journey, during which they were relentlessly pursued by the paparazzi. Continues Netflix about the new season: "Prince William tries to integrate back into life at Eton in the wake of his mother's death as the monarchy has to ride the wave of public opinion. As she reaches her Golden Jubilee, the Queen reflects on the future of the monarchy with the marriage of Charles and Camilla and the beginnings of a new Royal fairytale in William and Kate."
By way of setting up this next title of the coming week's Netflix releases, one easy point of comparison is HBO's Gomorrah. Which is to say: If, like me, you loved that one, this continuation of the Suburra saga should appeal to you, as well.
Mind you, I'm not saying Suburræterna is as good as Gomorrah — but, then again, nothing is. Also, this new series is not too far below it in terms of quality, so that's saying something.
Netflix's three-season crime drama Suburra: Blood on Rome was a bloody-yet-addictive saga set in Italy's capital that shows how the Church, state, organized crime, and real estate developers collude and collide in a never-ending quest for power. Suburræterna is an eight-episode continuation of that story. New players, for example, are upsetting the power dynamic in Rome, and revolution is spreading from City Hall to the shores of Ostia.
Continues Netflix: "Spadino (Giacomo Ferrara) must return home to avoid his own family being eradicated along with it and will have to make new allies, even among people he would've never thought could join forces … But war is war, and the control of Rome is once again at stake."
Two more can't-miss Netflix releases
In addition to those Netflix releases, meanwhile, here's a brief snapshot of what else is coming to the steamer over the next few days — including a first-of-its-kind Netflix live event.
How to Become a Mob Boss: In this 6-episode docuseries, coming on Nov. 14, Peter Dinklage's narration guides viewers through a "darkly satirical how-to guide that explores the rise and fall of history's most notorious mob bosses — from Al Capone to Pablo Escobar — and their tactics for success."
The Netflix Cup: Swing to Survive: Netflix has experimented in fits and starts so far with live events (examples: Its Chris Rock special, and baby animal cam). On Nov. 14, Netflix will stream its first-ever live sporting event — The Netflix Cup, featuring athletes from its series Formula 1: Drive to Survive and Full Swing. "The drivers and golfers will pair up to compete in a match play tournament at Wynn Golf Club at Wynn Las Vegas, the only 18-hole, championship golf course on the Las Vegas Strip, to kick off the week of the inaugural Formula 1 Heineken Silver Las Vegas Grand Prix."