Hearthstone is notoriously stingy when it comes to handing out free in-game currency and packs, but in celebration of the fictional Midsummer Fire Festival, the game is going to be more generous than usual. From now until the end of the festival — which is said to last about two weeks — all Hearthstone players will be able to earn double the normal amount of gold by completing quests.
In order to take advantage of the double gold rewards, all you have to do is log in and complete your daily quests. Whether you have some quests stored up from the past few days or already completed every quest but today's, the rewards will be doubled. For example, I have a Priest Mastery quest right now to play 50 Priest class cards. That would normally net me 60 gold, but now it's worth 120 gold.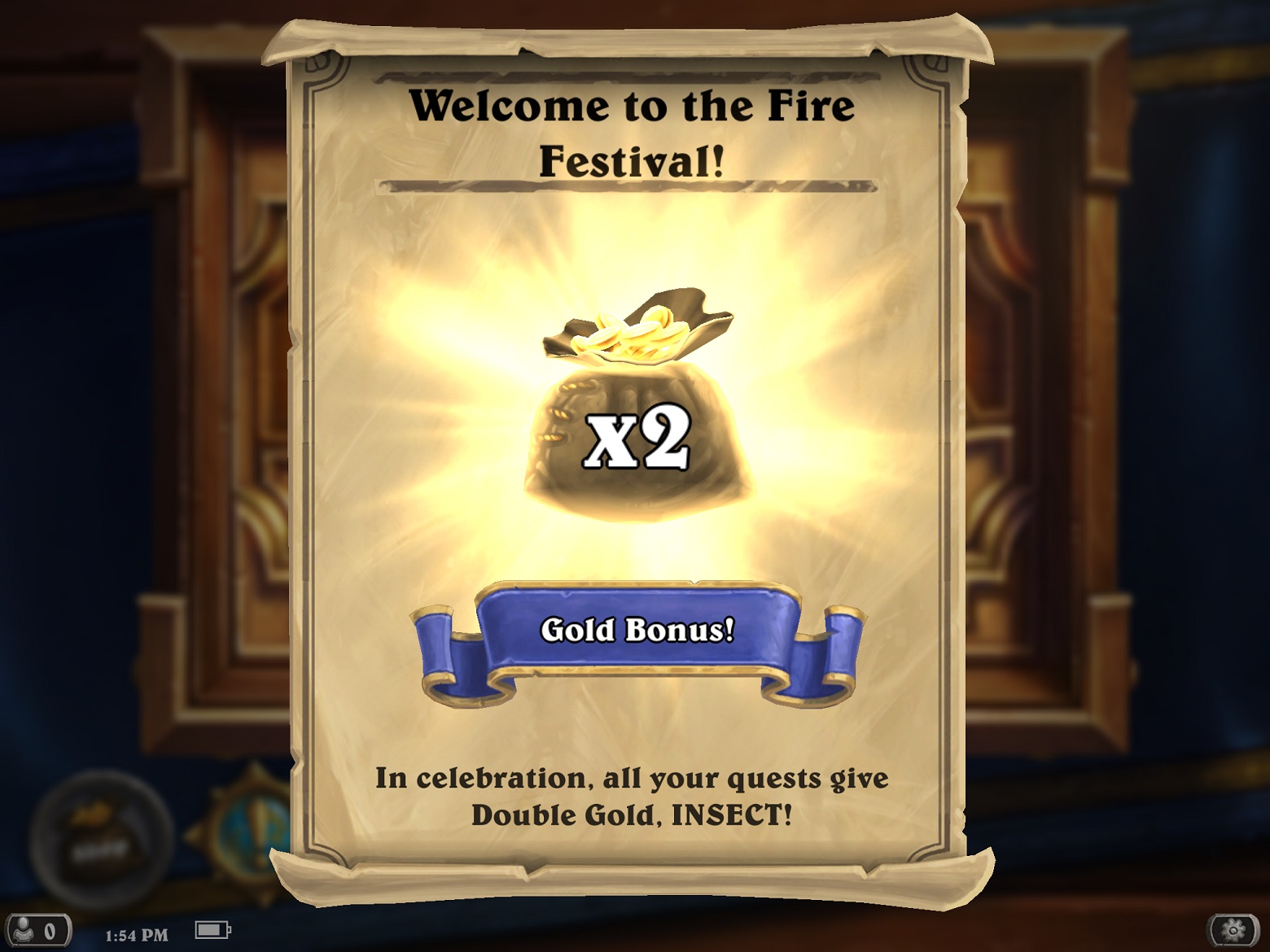 Here's the all-caps announcement from Warcraft's own Ragnaros, who is very full of himself:
IT IS I, RAGNAROS THE FIRELORD, AND IT IS TIME TO PARTY, INSECTS. THE MIDSUMMER FIRE FESTIVAL BEGINS TOMORROW, AND YOU WILL CELEBRATE IN MY HONOR.

I HAVE MADE ARRANGEMENTS:

THERE WILL BE A SPECIAL TAVERN BRAWL FEATURING ME, AND ALSO SMALLER ME.

YOUR EXPRESSIONS OF AMAZEMENT WILL BE AS EXPLOSIVE AS MY DANCE MOVES.

NOT IMPRESSED YET, INSECTS?

AT MY PARTY YOU WILL ALSO EARN DOUBLE GOLD WHEN COMPLETING QUESTS.

THE MIDSUMMER FIRE FESTIVAL BEGINS JULY 5.
DO NOT MISS IT!

BY FIRE (FESTIVAL) BE ENTERTAINED!
In addition to the double gold rewards, there's also a new Tavern Brawl called "Ragnaros' Fire Festival." You build your own deck for this brawl, in which a Mini-Rag jumps back and forth on the board, shooting missiles at the player opposite it and their minions. The more minions the Mini-Rag kills, the stronger it becomes. You can't kill it — rather, you want to feed it to make it as big as possible.