I'm old enough to remember a time when Google wasn't the only search engine in town. You say, way back in the day, the search engine landscape was littered with a seemingly endless number of options, from Altavista to Webcrawler.
In the late 90s, Google came along and quickly implanted itself as the de-facto search engine. Thanks to its clever page-rank algorithm, Google managed to deliver more accurate and helpful search results than the competition. Google's rise to search engine dominance was well-chronicled in Steven Levy's In the Plex, but one of the more interesting aspects of Google's ascension was its penetration of the mainstream vernacular. Google didn't just change the way we used the web, it changed the way we talked. After a few years of dominance on the web, the word Google eventually morphed into a verb.
DON'T MISS: See how Google's new Pixel phones stack up to last year's Nexus phones
These days, you ask someone a question and they might hit you back with, "I don't know, why don't you Google it." On a related note, medical professionals will often bemoan the use of Dr. Google, a reference to patients who put more faith in the search engine than in anything else.
Today, the phrase "Google it" is just a part of the everyday vernacular. And while it's impossible to pinpoint when it became commonplace, it is possible to pinpoint the first time the phrase was used on national TV.
According to Charles Arthur, author of Digital Wars, the first reference to Google as a verb took place on October 15, 2002 during an episode of Buffy the Vampire Slayer. The character Willow (played by Alyson Hannigan) asks the following in reference to a girl, "Have you Googled her yet?"
The response? "She's 17!"
Clearly not catching the reference, Willow clarifies, "It's a search engine."
Arthur writes: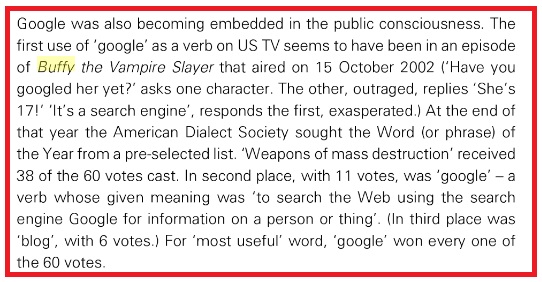 You can view the clip in question below at about the 2:40 mark.
Shortly after Google's debut on Buffy, the word would soon resurface during an episode of ER in early 2003. When a doctor notices two of his colleagues on a computer and asks what they're doing, they respond with "Googling your blind date."