Build a base, save a universe and run your own dinosaur factory with this week's selection of free iPhone, iPad and iPod touch games. It's set to be a scorching hot day here in New York, so rather than wander out into the heat, I plan on cranking up the AC and settling in to play some fun mobile games.
Battle Islands: Commanders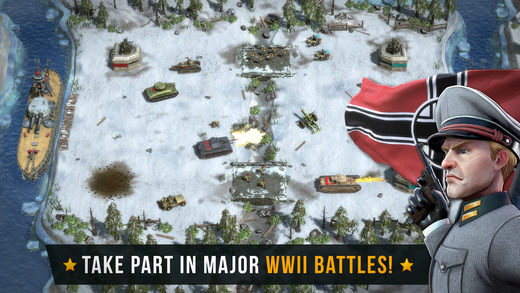 Dominate the battlefield! From the creators of the popular WWII strategy game, Battle Islands, comes an explosive head to head combat game!

Take part in major WWII battles in Battle Islands: Commanders, from the sandy dunes of North Africa to the bitter cold of the Eastern Front! Master the art of war against real opponents from around the world and reap the spoils of war.

Build your army and launch an offensive now!

• Lead troops into real-time combat against players from around the world
• Build the ultimate Battalion and destroy the enemy's defense
• Earn Supply Crates and unlock new Units to open up new tactics and strategies
• Battle across vast deserts and frozen landscapes. Unlock new Theaters of War as you conquer enemies
• Form an Alliance to exchange Units and spar with your friends

IT'S TIME FOR BATTLE, COMMANDER!
Download Battle Islands: Commanders free on the App Store
---
Combat Elite: Border Wars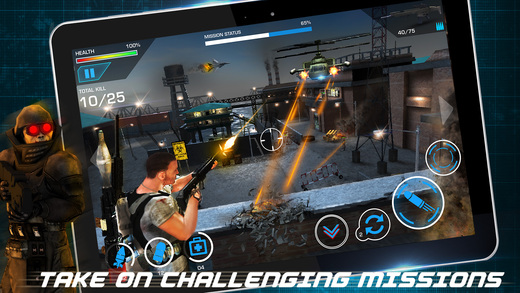 Enter Combat with destructive weapons, armored bikes and deadly shooter equipment in this Sniper edition of popular Border Wars series. Unveil your sniper arsenal, face perilous urban warfare, take down criminals and Enemies across cities of the world, and defend yourself in breathtaking PVP missions. Join the new world order and rise to become the Supreme Commander.

COMMAND A WEAPONS ARSENAL
Load up with advanced armor-piercing Weapons designed to take out tough criminals! Strategize with deadly Rifles, RPGs, Grenade Launchers, Pistols, Heath Kits and Armor.

BATTLE IN GLOBAL PVP
Challenge other personnel online and prove you are the top ranked. One Aim. One Kill.

UNLEASH TACTICAL COMBAT
Take Down Helicopters, Armored vehicles and bring the rain in Events and Challenges. Enhance weapons to inflict devastating damage.

RISE TO THE CHALLENGE
Complete missions across cities to become the ultimate weapon against the forces of terror. Eliminate all enemies to travel and attack new target locations. Defeat Evil Bosses to save the cities from destruction..
Download Combat Elite: Border Wars free on the App Store
---
Dino Factory
BECOME THE GREATEST DINO CREATOR IN THE WORLD!

The Formula for Growing Dinos was recently discovered and released worldwide. A whole new market is born: creating and selling DINOSAURS!

As the CEO of your own Dino business, it's your job to make it grow! Hatch eggs, discover new creatures, manage your scientists and keep the MONEY rolling in!

Expand your reputation, improve your factory and develop CRAZY dino-themed businesses to keep your customers happy: pet shops, riding schools, parks, arenas, and many more!

And remember: no one gets to the top without help! Recruit friends to work for you, trade gifts, or challenge them in insane DINO RACES!

Are you ready to become a true DINO TYCOON? It's time to spread the word: a new Factory is in town!

————————————————————

RUN YOUR DINO FACTORY
▪ Breed & create over 84 dinos!
▪ Manage & evolve your scientists
▪ Improve your business and stores to attract new customers

EXPAND YOUR REPUTATION WORLDWIDE
▪ Create wacky dinosaurs to satisfy your customers
▪ Conquer dino fans around the world
▪ Complete wacky quests & unexpected events

PLAY WITH FRIENDS
▪ Ever seen a dino race? It's time to give it a try!
▪ Recruit your friends to work for you
▪ Send them items and receive gifts

HAVE FUN IN A LIVELY WORLD
▪ Enjoy several bonus mini-games
▪ Meet colorful characters: The Prof, Fat CheeZ, Ford Digdug, and many more!
▪ The life-like crowd, wacky situations, intuitive controls and hitch-less game mechanics will get you hooked forever!
Download Dino Factory free on the App Store
---
EverClicker
Can you save the EverVerse? Battle an endless army of enemies in an all-new RPG. Awaken tons of legendary heroes. Set up your team to fight for you nonstop. Collect rewards like gold, spells, pets and more, even while you're away! Everclicker is fast and simple to start, but infinitely challenging to master!

EVERCLICKER FEATURES:
• Endless role playing game action: Save the EverVerse from the ravenous Star Devourer.
• Summon knights, chefs, ninjas, killer shrooms and more. Your misfit hero collection awaits.
• Level Up and restore the EverVerse in our ultimate prestige system.
• Share and compete: Join team battles to earn epic rewards and premium currency!
• Unique SciFi Fantasy original world and story.
• 3D graphics and incredible animation.
• Collect pets, spells, legendary abilities, and enchanted weapons.
• Click heroes to fight: Fun, intuitive combat system.
• Idle RPG mode: Collect gold nonstop and avoid the grind by letting your team fight for you.

EverClicker is completely free to install and play. However, some game items can be purchased for real money.
Download EverClicker free on the App Store
---
Guardian Kingdoms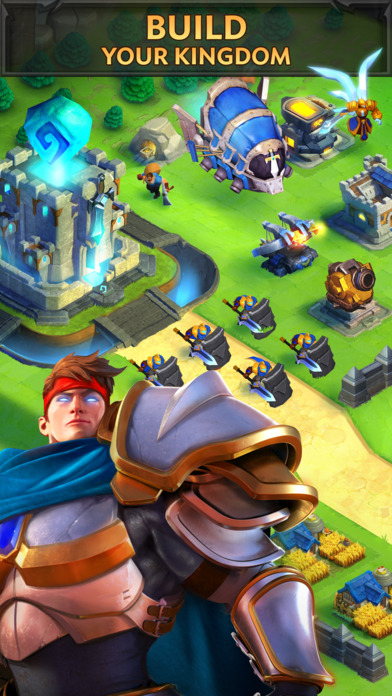 Make way for the ultimate strategy experience on mobile! Immerse yourself with jaw-shattering visuals as you defend your castle alongside your friends, in real-time! Attack rival kingdoms with fun and exciting troops such as Warships, Ballistae, and even the mighty Reavers, armored mammoths ready to lay siege to opposing kingdoms! Quest your way through the land of Ilyria to defeat the Chaos Legion and make a stand against the giant Ancients that they summon.

Guardian Kingdoms is a game full of vibrant detail, action soaked spectacle, and pure fun! Join an Alliance today and battle your way to victory!

Packed with the most exciting features:
• Engage in battles with up to 6 players at a time with thousands of units on the field!
• Control Mighty Champions with game-changing skills that you cast in real-time!
• Train, upgrade and deploy massive armies and watch in glee as they bring destruction and glory
• Fight legendary bosses and defeat the Chaos Legion for epic rewards
• Join alliances and play alongside friends and ensure no kingdom goes undefended
• Get free and frequent updates to all the fun: new Champions, troops, quests, bosses and more!
Download Guardian Kingdoms free on the App Store
---
Phobos Children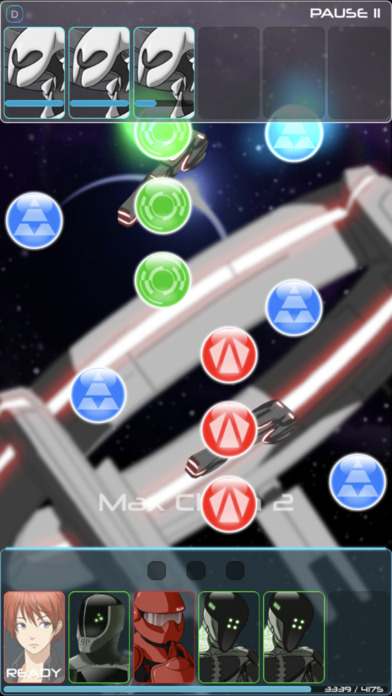 ■ STORY

Year 2326. The I.S.S. Phobos, a space station orbiting around an extraterrestrial planet called "Saia", is suddenly attacked and evacuated. Lots of families get separated, hundreds remaining on the wrong side.

Twenty years after the "Phobos Incident", the humanity come back to Saia searching for what they lost. Reina Diaz-Tachibana, a young and promising soldier, is looking forward to fulfilling her mission, and also to find her family. But on her way she will make new friends, both AI and Saia people, who will change the way she understand the world.

The search for the truth is about to start. The year 2346 will change everything.

■ GAMEPLAY

Innovation arrives to the match-3 RPG genre! Welcome to the Chain-Action RPG "Phobos Children"!

Enemy's orbs keep falling through the screen, and if they reach your team they will receive damage! Destroy the orbs just tapping over them anywhere on the screen to blow them up. If you destroy three orbs of the same color in a row, you will attack back the enemy!

Easy to play but fun and rewarding, you won't be able to leave until you get a perfect!

Keep recruiting new characters for your squad, and make them stronger. Help the main characters in their quest!

■ CHARACTERISTICS

– Action stages easy to play, difficult to master
– More than 100 characters to collect
– About 80 story missions on the first episode, and more to come!
– Weekly missions and events
– Score Attack mode, for hardcore players!
– Lots of rewards
– An engaging story that will bring you to a different world!
Download Phobos Children free on the App Store
---
Terminator Genisys: Future War
Terminator Genisys: Future War is a free-to-play mobile strategy game where the human Resistance is locked in a never-ending war with the machine army. Genisys is destroyed and Skynet is offline, but the future war is far from over. Engage in large-scale strategic warfare and rejoin the struggle between machine and man. Build your base, attack your enemies and pave the way to victory for your clan in tactical multiplayer.

Plarium, developer of the hit titles Vikings: War of Clans and Throne: Kingdom at War, has created a deep strategy MMO in the Terminator universe. Set directly after the events of the film, Terminator Genisys: Future War offers players a chance to reset the future with addictive gameplay, constant action, and massive clan warfare.

With two different playable factions, you can choose to take the role of a Resistance Commander or the leader of Skynet's Core, and either save the last of humanity or crush it under your cybernetic heel.

John Connor is MIA, and the Resistance is broken. As a human commander, it is up to you to rebuild humanity's most determined military force, find and recruit survivors to your cause, and stop the machines from reactivating Skynet. Or you can betray humanity and convert yourself to join the machine regiments.

Would you rather play as an unstoppable killing machine? With Skynet's primary core offline, your secondary protocols are clear. Construct factories, find lost battle schematics and terminate the human threat once and for all. If you feel sympathetic to the human cause, you can decide to reprogram yourself and fight alongside the Resistance.

Both sides are fighting for their lives and defeat is not an option. Arm yourself with futuristic tanks, relentless infantry and devastating weapons – and win the future war once and for all!

NOTE: Terminator Genisys: Future War is completely free to play, but some in-game items can be purchased for real money. You can switch off the in-game purchase option in device settings. You need an Internet connection to play this game.

GAME FEATURES

– FREE TO PLAY!
– Two playable factions, each with its own narrative, troops, buildings and upgrades!
– Intense PvP! Go on solo conquests or join a clan to dominate the map!
– Fight against powerful bosses in solo PvE or joint clan attacks!
– Unlock achievements for great rewards and bragging rights!
– Part of the official Terminator Genisys universe!
– Cutting-edge graphics!
Download Terminator Genisys: Future War free on the App Store