This week, we learned about two more Avengers characters who will miraculously return from the dead in the next movie. One revelation involved the first time one of the actors actually confirmed that he is indeed coming back, in spite having died at the end of Infinity War. While these new realizations came out just a few days ago, we've now stumbled on yet another bit of information that was posted online well before Infinity War premiered, but it might actually prove how all those deaths will be undone.
On December 20th last year, Zoe Saldana posted the following clip on Instagram. It was recorded during a makeup session for one of the Infinity War movies. Watch it, ignoring what Saldana says, and look at her appearance instead.
She's dressed up in clothes that she used in the first Guardians of the Galaxy, not Infinity War, as ComicBook (via Reddit) points out. Gamora wears similar gear in that Infinity War deleted scene that depicts an extended dialogue between her and Thanos. But her hair is different, so the Gamora look we see in the Instagram post is likely meant for Avengers 4 scenes and seems to indicate that the Avengers will travel back in time. Here's one more image posted on Reddit: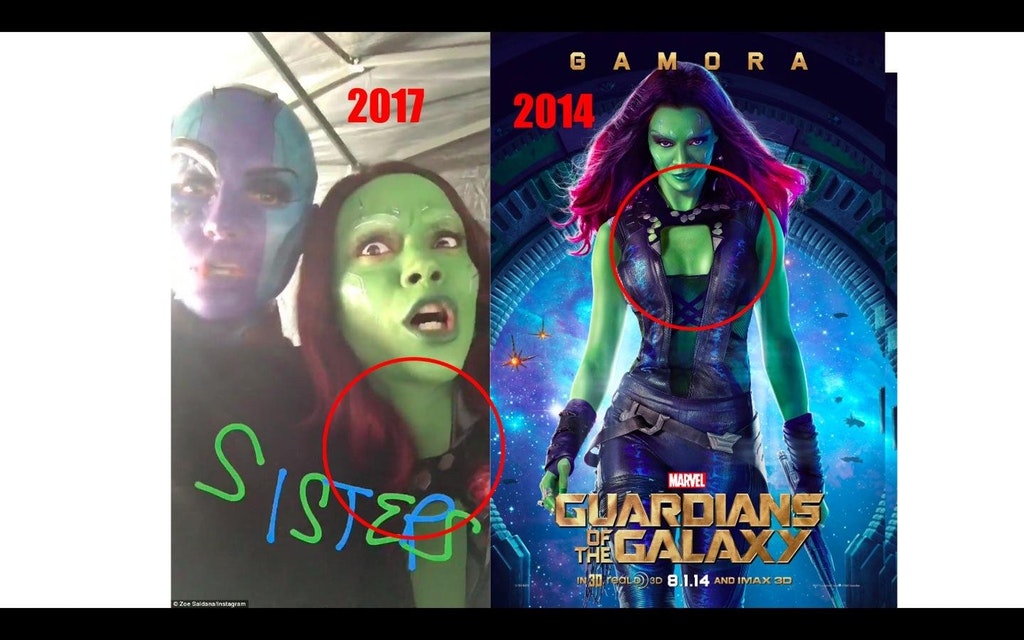 We already have plenty of evidence of time travel in the upcoming movie, as well as a fan theory that says Tony Stark & Co. are going to retrieve the Infinity Stones from alternate timelines to create an Infinity Stone-wielding device of their own. Gamora's costume above proves that they might visit the Guardians too, since they're aware that Thanos' favorite daughter knows where the Mind Stone is located.
And yes, there are other plausible explanations for Gamora's outfit above. She may appear in flashback scenes or dreams, so there's no guarantee anyone from the post-Thanos massacre will be visiting her in the past. But we also know there will be time travel in the movie, regardless of whether or not it involves the Guardians. Also, the costume above might not prove that Gamora will be resurrected by the time Avengers 4 delivers its credits scenes, but we'll remind you that we already have plenty of evidence saying that most of the Infinity War deaths aren't final. And the Guardians aren't likely to be dead either — why else would they do this?