The sixth season of Charlie Brooker's trippy sci-fi drama Black Mirror is not only dominating Netflix at the moment as the #1 series on the streamer in the US, just days after its release. The new season is also easily the most meta of the series, now that Netflix has launched a fake Streamberry website based on Joan of Arc. That's the title of the first episode of Black Mirror Season 6, in which an ordinary woman discovers that her life is being turned into a TV show on a Netflix-like streaming service called Streamberry, one that even features the familiar tu-dum sound.
You can check it out yourself, at streamberry.tv. The site includes an interface that's extremely reminiscent of Netflix's, complete with all sorts of fake show titles on its homepage that allude to other Brooker projects and Black Mirror episodes. The official Netflix UK and Ireland Twitter account on Tuesday even changed its name to "Streamberry UK and Ireland," replacing the Netflix logo's "N" with an "S."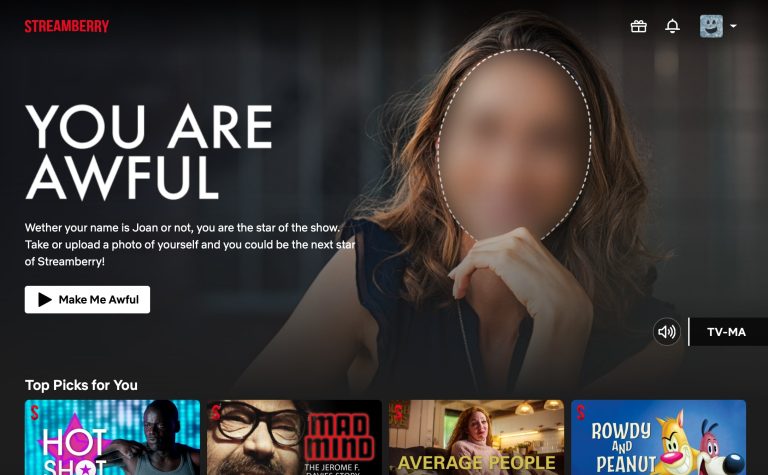 The Joan of Arc episode, especially, set the Internet abuzz in recent days, leading so many viewers to wonder — wait, hold on, can Netflix do that? It's also just another example, if you ask me, of how the show has become a cult classic for the way it teases dark and dystopian narratives out of what might otherwise seem like the forgettable and the ordinary.
"Only black mirror could have me on the edge of my seat, absolutely s******g myself, when it's just an old lady making a shepherds pie," one Twitter user quipped this week about the show. No wonder the new season immediately rocketed to #1.
Meanwhile, if Black Mirror is the kind of Netflix show you can't get enough of — trippy, mind-bending, and ominous as hell — keep reading for our picks of five more Netflix series along these same lines to add to your watch list if you haven't already.
Mind-bending Netflix shows for Black Mirror fans
We'll start with two shows that come from the same creators: