Amazon's big Prime Early Access Sale was a huge success. It gave Prime members a special opportunity to shop the hottest deals of the holiday season. We saw so many best-selling products on sale at the lowest prices in 2022.
Now, however, the first-ever Prime Early Access Sale is over. Or is it?
🎅🎄 Don't miss BGR's big Christmas 2022 gift guide with 100+ gift ideas! 🎄🎅
---
Featured deals in this roundup:
---
October's Prime Day event was a 48-hour sale that took place on October 11 and October 12. But now, even though Amazon's Prime Early Access Sale is over, some of the best deals of the event are somehow still available.
In other words, someone forgot to end these fantastic Fall Prime Day deals. What's more, these deals are now available to everyone instead of only Prime members!
The good news is you have another opportunity to shop these popular sales before they disappear. But the bad news is these bargains could disappear at any moment.
The shopping experts at BGR have rounded up all the best Prime Early Access Sale deals that are still available now. We'll also continue to update this roundup with additional October Prime Day deals as we find them.
Prime Early Access Sale 2022: Best deals you can still shop now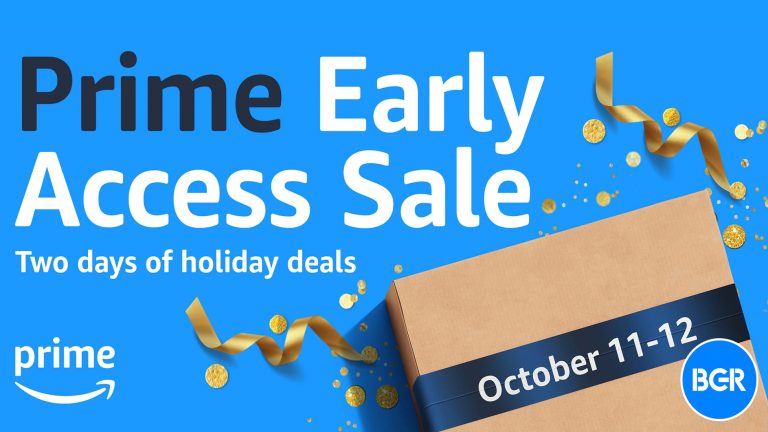 To start things off, there are a few best-selling Prime Early Access Sale deals that are still going strong.
One best-seller that's still discounted is silky-smooth Danjor Linens 1800 thread count bed sheets, which are still down to Amazon's Prime Early Access Sale Price.
They retail for $50, but right now, you can get a set for $15.99. That's a massive 68% discount and it's the lowest price of 2022!
Better yet, the #1 best-selling pillows on Amazon also still have their Prime Early Access Sale discount!
Beckham Hotel Collection bed pillows have a whopping 142,000 5-star reviews between the Queen and King size pillows. They typically retail for $50 per pair, but right now you can get a pair for as little as $22.99, or $11.50 each.
Next up, we have Amysen Wi-Fi Smart Plugs, which were very popular during Amazon's big sales event.
These popular smart plugs work great with Alexa and Google Assistant. Of course, you can also control them with your smartphone or tie them into your smart home system.
A 4-pack typically retails for $30, but there's a huge Prime Early Access Sale discount that still hasn't disappeared. Thanks to a lower retail price and an extra coupon you can clip, these great smart plugs are just $4.25 each.
Home DNA test kits are always among the most popular products ahead of the holidays. People love giving them as gifts, which makes sense because people love receiving them as gifts, too.
Right now, two of the most popular DNA tests out there are on sale with deep discounts from the Prime Early Access Sale.
First, the 23andMe Health + Ancestry Service DNA test kit is on sale for $99 instead of $199. This is 23andMe's best-selling kit. Or, you can upgrade to the $229 23andMe+ Premium Membership Bundle for just $129.
Or, if you just want the basics, you can get the 23andMe Ancestry + Traits Service for just $79 in this great Prime Early Access Sale deal that's still available now.
Another best-seller available with a rare discount right now is everyone's favorite electric shaver and trimmer. That's right, we're talking about the Philips OneBlade!
It's already a bargain at $35, and no one would argue with that. Pick up one while it's discounted at Amazon, however, and you'll only pay $29.96.
Believe it or not, Amazon's incredible GE Profile Opal 2.0 nugget ice maker is also still down to its Prime Early Access Sale price.
That means you can save a whopping $100 on this best-seller. It's one of the hottest items every single year during Black Friday and it's already down to Black Friday's price!
Apple deals from Prime Early Access Sale 2022
First up, we have Apple AirPods 2.
Everyone knows AirPods and, remarkably, pretty much everyone loves them. You don't often hear AirPods owners with any complaints. They integrate with Apple devices so well, and they also obviously work with Android phones or anything else with Bluetooth.
Apple had two different AirPods models on sale during the Prime Early Access Sale. AirPods Pro 2 were down to $223.24, but that deal is done. If you missed it, though, Amazon is still offering a $15 discount. That means they're currently less than $2 more than they were on Prime Day!
The more popular AirPods deal is still going, however. AirPods 2 are on sale for just $89.99, which is the lowest price ever!
The only problem is that this deal keeps selling out at Amazon. If it sells out again, there's an alternative sale you can take advantage of. Over at Best Buy, Geek Squad Certified Refurbished AirPods 2 are also on sale for $89.99.
And now, on top of all that, Apple's 1st-generation AirPods Pro are back in stock at just $169.99. That matches the lowest price ever for the 1st-generation model!
Again, if Amazon sells out, Best Buy has 1st-gen AirPods Pro in stock for $169.99 as well.
Tons of Apple products were top-sellers during Amazon's big sale. That includes AirPods, AirPods Pro 2, and iPad tablets.
The list also includes a few more Apple devices that are still on sale at Prime Day prices!
Apple's hot new Apple Watch Series 8 is on sale at the lowest prices ever, with discounts of up to $50 off. You can also get a rare discount on AirTag 4-packs.
When it comes to iPad deals, all of Amazon's October Prime Day sales vanished when the Prime Early Access Sale ended. Incredibly, however, they're all back this week!
Prices start at just $299 for the 10.2-inch iPad. And yes, that's the lowest price of all time!
You can also pick up the iPad Air starting at $519 or the 12.9-inch iPad Pro starting at $999 instead of $1,199. That means you can save up to $200 if you hurry.
Note that every single colorway and storage size is on sale right now. Also, all the cellular models have deep discounts. Whichever configuration you want, you'll save big if you buy one now on Amazon.
Apple laptops are on sale at the lowest prices of the season, too.
The newest model Apple makes is the MacBook Air with Apple's M2 chip. Right now, it's $150 off. Or, you can pick up a blazing-fast MacBook Pro 14-Inch laptop with a massive $400 discount!
On top of that, Apple's M1 MacBook Air is on sale for $899, which is an all-time low price!
Also, let's not forget that Apple owns Beats by Dr. Dre, and there are a bunch of great Beats deals that are still available from the Prime Early Access Sale.
Last but certainly not least, Apple's beloved set-top box is on sale at the best prices of the year.
Prices start at just $99.99 for the Apple TV 4K (32GB), which normally retails for $179. That's a huge discount, but there's an even better deal available. The Apple TV 4K (64GB) is down to $114 instead of $199, so you can double your storage for only $10 more than the entry-level model!
Prime Early Access Sale laptop deals
We have a huge guide that's packed full of the best laptop deals you can get right now. But if you just want to see a few stand-out discounts that are left over from the Prime Early Access Sale, we've got you covered right here.
Prices start at just $146 for an awesome ASUS Chromebook that typically sells for $250!
Amazon device deals
Nearly all of Amazon's deals are over for its own devices. There are still a few stragglers though, and we've listed the best ones here.
Among them, you'll find the #1 best-selling Fire TV Stick 4K on sale for only $24.99. Plus, Amazon's 3rd-generation Echo Dot is on sale for just $17.99!
Prime Day deals from Roomba, Google, Sony, & JBL
Two wildly popular brands during Amazon's fall Prime Day sale were Roomba and Sony. Believe it or not, all of their best deals are still available now.
Then, on top of that, all of Google's best deals from the Prime Early Access Sale are also still available. That includes best-selling items like the Pixel 6a and Google Nest Wifi at all-time low prices!
You'll also find a number of Roomba deals that are still available from the Prime Early Access Sale. That includes the Roomba 694 for just $179 and the flagship Roomba s9+ & Braava Jet m6 bundle for an all-time low of $949.
Roomba robot vacuum deals
Google deals on Pixel, Nest, and more
Sony deals for Prime Early Access Sale 2022
JBL earbuds on sale
More deals you can still shop now
Below, you'll find even more deals from Amazon's Prime Early Access Sale that are still available now. As we mentioned earlier, however, you should definitely hurry if you want to take advantage of any of these sales.
Amazon's big October blowout ended on October 12, as intended. All these deals should have disappeared at that point, but they didn't. There's no telling when they'll be gone for good though, so get in on the action while you still can.
---
Go here to see this month's best deals online!