If you purchase an independently reviewed product or service through a link on our website, we may receive an affiliate commission.
Owning a Nespresso machine is all fun and games — until the capsules begin to pile up and you start to get overwhelmed by the influx of aluminum pods that are now essentially tied to you at the hip. This is, of course, the trade-off you get when it comes to the convenience factor of the espresso device. On one hand, you don't have to go through the arduous process of making your own espresso from scratch. But, on the other side of the spectrum, caffeine enthusiasts will have to deal with the fallout of having to buy dozens, if not more, of these small one-use capsules. If you're someone who likes to buy in bulk — which is sort of a must with a machine like this — you're probably going to need a way to organize your pods. Having to sort through a number of boxes certainly isn't ideal but, luckily, there are plenty of storage options that are available to condense your soon-to-be disposed "collection." You don't have to be a total neat-freak to hate having to sort through what is seemingly a million loose Nespresso capsules, so let's go through some of the best ways to store your precious little pods from here on out.
Best Storage for OriginalLine Nespresso Pods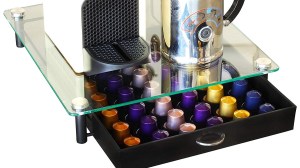 If you're a fan of Nespresso products, you probably already know that there are two different lines of products — OriginalLine and VertuoLine. Sadly, these two types of pods are not interchangeable, and their difference of size even trickles down to storage options. If you're an OriginalLine loyalist, you should opt for the DecoBros Crystal Tempered Glass Nespresso OriginalLine Storage Drawer Holder for Capsules. This drawer can hold a robust 42 capsules, so you'll have more than enough room to store a sizable collection. Of course, if you buy in bulk like, say, 50 capsules at a time, you'll have a few stragglers, but overall, it's pretty roomy. It's made with a unique, space-saving design, so you won't have to pile up boxes or loose capsules — they'll all be in one, easily sliding drawer. The tempered glass design is both aesthetically pleasing and durable, allowing you to actually rest your machine on top. It's basically like another countertop and/or table of sorts. Plus, it won't take up too much, or really any space on your countertop already, as it's made with dimensions of 14.3″ H x 13.4″ W x 2.7″ H.
DecoBros Crystal Tempered Glass Nespresso OriginalLine Storage Drawer Holder for Capsules
Price:
$28.97
Available from Amazon, BGR may receive a commission
Best Storage for VertuoLine Nespresso Pods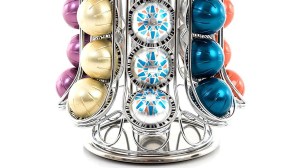 On the other hand, VertuoLine owners should opt for the Peak Coffee Nespresso Vertuo Capsules Pod Storage Holder for VertuoLine Pods, which can effectively house any sized VertuoLine coffee pod, ranging from espresso to alto. Unlike the OriginalLine option, this is made in a revolving tower design, which actually allows you to store more capsules. It's designed to comfortably hold around 40, however, it can fit up to a maximum of 70 capsules, thanks to the midsection that can hold one large box of pods along with two smaller packages. It's made with a unique, almost vending machine-like design, where you can remove the capsules from either the top or the bottom and another pod will slide down to replace the last one you took. And from a design standpoint, it will look great on any countertop, as it's made with an eye-popping chrome finish. It can rotate a full 360 degrees, and it even features a felt anti-scratch pad at the base, so you don't have to worry about potentially scuffing up your expensive countertop or table.
Peak Coffee Capsule Holder for 70 Nespresso Vertuo Vertuoline Pods - 40 Displayed on Outer with…
Price:
$39.95
Available from Amazon, BGR may receive a commission
Best Bargain Option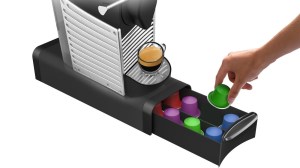 If you're not looking for anything fancy and you'd rather prioritize both price and overall convenience, then the Mind Reader TRY03-BLK Slim Drawer is a great choice. This one is obviously a little smaller than the aforementioned products — it's capable of holding around 12-14 single cup capsules — but it's certainly a bit less expensive and clearly takes up less space. It's essentially portable, so if you want to take it with you when you're out on business or on vacation, it's only around 5″ H x 2.8″ W x 13.2″ H in dimensions. The Mind Reader is also made with a durable plastic material, allowing you to to safely rest your Nespresso device on top. The bottom of it even contains strong rubber grips, keeping the device in place at all times. It's also pretty versatile in a number of ways. Due to the storage container's smaller size, you can opt to put it on a traditional countertop, or even keep it in a kitchen cabinet or drawer without taking up too much space. You can also mix and match what exactly you want to store in it, whether that's sugar packets, straws, or any other ancillary products. All things considered, this is a great way to store your pods and/or anything else Nespresso-related.
Mind Reader TRY03-BLK Coffee pod Drawer, 6.02 X 14.21 X 3.74, Black
Price:
$14.95 ($14.95 / Count)
Available from Amazon, BGR may receive a commission