If you purchase an independently reviewed product or service through a link on our website, we may receive an affiliate commission. Learn more.
If you have any interest in gaming, there's a good chance you've heard people talk about PlayerUnknown's Battlegrounds over the past few weeks. It's one of the most popular competitive games of the year, but if you don't have a computer that can handle it, the 2D Mini DAYZ that just arrived on the App Store might be your best alternative. It's just one of seven intriguing games that launched this week.
DOFUS Pets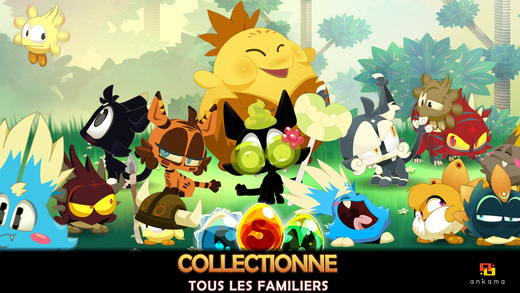 Adopt a baby Bow Meow, Tofu or Boon, care for it every day, take charge of its training, its food, and its cleaning, guide its progress… and meet up with it in your Ankama games!

– CHOOSE A PET TO ADOPT
Become Otomai's assistant, choose the pet you want to take care of — be it a Tofu, a Bow Meow, or a Boon — and start your pet ownership adventure.

– TAKE CARE OF YOUR NEW COMPANION
It's just been born, and it will need your constant help as it grows: bring it food, care for it when it's sick, clean its habitat, put it to bed when it's tired, and train it however you like by responding to its desires or refusing to indulge its whims.

– HELP IT GROW INTO A ONE-OF-A-KIND PET
Customize your pet with different gear: hats, crowns, glasses, masks, accessories, and more… and its environment too, by changing the decor and arranging its habitat.

– EVOLVE IT HOWEVER YOU LIKE
Through each of your actions, you'll guide your companion towards one of 6 possible evolutions: through the child, adult and mature stages, it will evolve into a Measured, Paunchy, Icky, Charming, Bontarian or Brakmarian form, and its appearance will change accordingly.

– PLAY FUN MINIGAMES
Show your pet a good time by playing with it in the mini-games, including Bulb'Adventure, C-C-C-Combo, Tap'Tiche and more. A fun way to win some kamas!

– CONNECT WITH THE COMMUNITY AND MAKE NEW FRIENDS
Add your Ankama and Facebook friends, challenge them in the minigames, visit them, send them "likes", and collect kamas by eliminating the larvae that come to invade their space.
Use your camera and microphone to share fun moments on social media!

– FIND YOUR COMPANION IN ANKAMA GAMES
Once you've finished playing DOFUS Pets, keep the adventure going by unlocking your pet in DOFUS, DOFUS Touch, WAKFU, and soon in KROSMAGA as well!

+ EVEN MORE GREAT FEATURES
– Unlock rewards as you progress in the game.
– Try Ecaflip's Luck by spinning the Wheel of Fortune to win as many gifts as you can.
– Send your past pets on missions to collect food, healing or kamas.
– Log on every day to unlock daily rewards!
Download DOFUS Pets free on the App Store
---
Drop Wizard Tower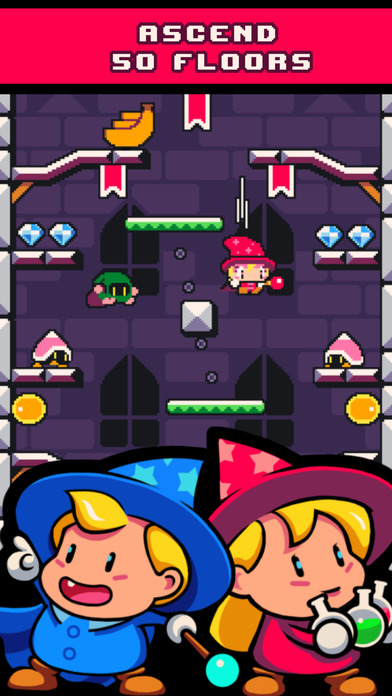 The Shadow Order have captured all the Wizards in the land and they have the ancient egg too. What is a lone Wizard to do? Break free, defeat the evil Shadow Order and find that egg of course …Hmmm I wonder what's inside?

Bring back the joy of arcades and join Teo and his wizard friends in this action packed, fun fueled platformer.

Features:
• Ascend over 50 floors jam packed with traps and enemies!
• Unlock new wizards with unique stats, magic and abilities.
• 8 Epic Boss fights! full of nasty surprises.
• Experience hazard filled environments – Water temple, Frozen larder, Wizards Lab and many more!
• Easy one handed controls. Perfect for on the go play!
• Randomised levels for replay! No two playthroughs are ever the same.
• Collect the missing pages from your almanac and gain insight into monsters and lore. Can you find them all?
• Catchy head bopping chip tunes. You will be humming these for hours!
• Uncover the mystery of the 'ancient egg'… I wonder what's inside?
• Leader boards and Achievements for replayability
Download Drop Wizard Tower free on the App Store
---
Global Outbreak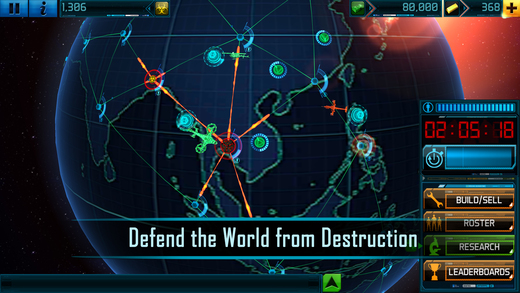 Defend mankind from a killer virus spreading across the globe in this strategic and explosive top down 3D shooter!
Use the fully 3D tactical view of the globe to plan your strategy then control your soldiers in epic missions throughout the world.

Welcome to Global Outbreak. You are the head of Blackhorne Industries, the world's best and most trusted mercenary outfit.

The world has been hit by a lethal virus, turning people into enraged zombie mutants.

The authorities of each city are working hard to prevent the virus from spreading, but you have been assigned to act quickly and decisively before the bombs drop!

– Location Aware: The game is truly global, and will tailor your gaming experience around your location.

– Soldiers: In the fight against global annihilation people are key. Build up a roster of elite mercenaries by leveling up their abilities. Take them from campaign to campaign and build an army of ultimate warriors to fight the infection.

– Weapons: Increase your firepower by unlocking new weapons and researching an immense range of upgrades.

– Unique Controls: Direct your squads with a control system designed from the ground up for touchscreens, allowing you to play the game with just one finger.
Download Global Outbreak free on the App Store
---
Grand Prix Story2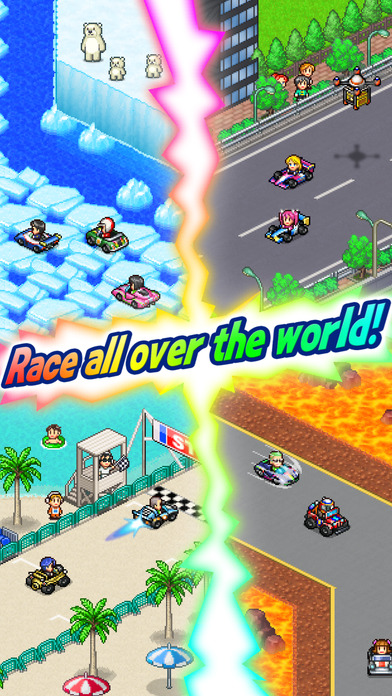 Sit back and watch your cars break speed records as they race to the checkered flag in this racing team management simulator.

Pick any type of car you like and get busy designing your perfect machine. Train mechanics to bring out their full potential, and have them build you the fastest cars ever. Don't forget to coach your drivers as well. They need to be as good as the machines they drive.

Each course has its own peculiarities — you can't win all the races in the same car! Customize your vehicles with parts suited to each track and you'll breeze through any race. Plus, you can upgrade both your cars and parts.

There is also a special type of fuel you can use for a super speed boost. Pick the right moment and enjoy seeing your rivals get smaller and smaller in the rear-view mirror as you bolt ahead.

Create the best crew in the business and make a name for yourself in the racing world.
Download Grand Prix Story2 free on the App Store
---
Hoggy 2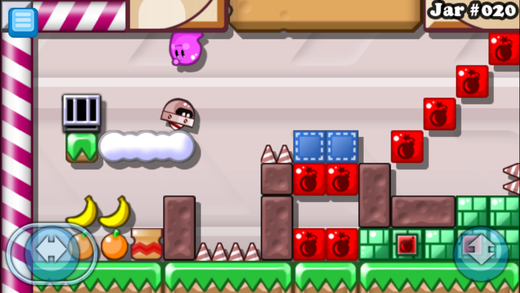 Hoggy 2 is the long awaited sequel to the 2010 hit, Hoggy! Take control of Hoggy and Hogatha, two painfully adorable slime-molds, on a quest to rescue their children from the Moon Men! Slime molds are sticky… so whenever you jump, you stick to the ceiling! Use this gravity-swapping ability to conquer over two hundred unique levels as you seek enough keys to reach the moon! Get Hoggy 2 because you deserve a classic platformer with a twist!

Each level is completely unique and hand-crafted. Many contain alternate solutions to unlock secrets and stars! Make your way across the world and to the moon where you will face boss-battles that are unlike anything you've ever played before!

And after you've won, join the Hoggy 2 online community where you can play an infinite number of levels uploaded by other players! Create your own levels, upload them, and earn Karma from admirers to unlock new features. With an incredible array of editing tools, and quick access to new or daily levels, you will be enjoying Hoggy 2 for years to come!
Download Hoggy 2 free on the App Store
---
Mini DAYZ
How long can you survive in a post-apocalyptic world? Find out in Mini DAYZ now – an official pixel art rendition of the massively successful PC survival game – played by over 3 million fans. 100% free, without in-app purchases.

It is you against the world in Mini DAYZ: explore a randomly generated map and scavenge for food, ammo and supplies. Use anything you find to craft advanced items. Protect yourself against aggressive infected and ferocious wolves. But most important of all: make sure to stay dry, warm and well fed at all times. The weather out there can quickly get under your skin and your wounds will not heal without you treating them…

There are no rules, except one – to survive.

In Mini DAYZ:

● Explore a beautifully handcrafted, pixel-art-style open world map with signature buildings
● Gear up your character and try to survive for as long as possible using tons of loot
● Watch your health, hunger and thirst levels, prevent blood loss
● Keep on surviving to improve your character stats, receive perks and collect achievements for your efforts
● Grow plants, craft new items and build a makeshift base with campfire and fences
● Meet AI survivors, both friendly and hostile, and fight (or avoid) various kinds of dangerous, ever-lurking infected
● Make the wilderness your friend, not your enemy – use natural resources to stay alive
● Find your way during the day/night cycle and do your best to stay warm while it is raining or snowing
● No in-app purchases
Download Mini DAYZ free on the App Store
---
SIEGE: Titan Wars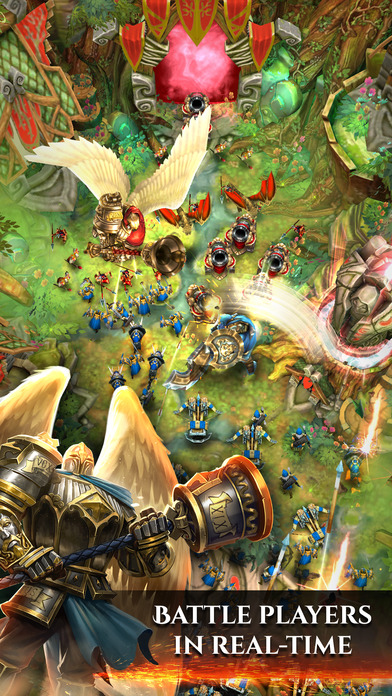 Join the army vs. army wars of SIEGE: Titan Wars that take place on an epic scale! Conquer players from around the world in live PVP battles.

Collect and upgrade remarkable cards, including legendary warriors, devastating spells, and enormous Titans. Destroy your opponent's Towers and siege their Castle in spectacular battles. Call upon Titans of legend and watch your enemies fall.

Master your strategy and climb the ranks! With nine Tiers to conquer, you will battle legends and rise to the top in SIEGE: Titan Wars.

FEATURES
• Battle players across the globe in online multiplayer battles to claim Victory Points
• Open chests to unlock new cards, upgrade your warriors and strengthen your Titans
• Collect and level up your collection with dozens of cards
• Build the perfect deck to defeat anyone who dares meet you on the battleground
• Form a Clan to share cards and build your own SIEGE: Titan Wars community
• Watch your own replays or those from top players to analyze their tactics
Download SIEGE: Titan Wars free on the App Store
---
Our deals and product reviews are picked by BGR's expert editors and team.

Follow @BGRDeals on Twitter to keep up with the latest and greatest deals we find around the web. Prices subject to change without notice and any coupons mentioned above may be available in limited supply.