If you purchase an independently reviewed product or service through a link on our website, we may receive an affiliate commission. Learn more.
It's the calm before the storm for video games. Once October arrives, multiple massive games are going to start dropping every week. But if you can't wait that long to start trying out some new games, we have another group of killer free games from the App Store that should help tide you over until next week.
Art of War: Red Tides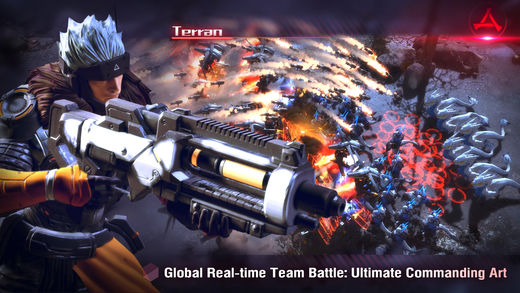 Team up and battle against commanders from all around the world. In Art of War: Red Tides, victory cannot be guaranteed by money, but strategy and teamwork.

Game mechanics:
It is as simple as follows
– Set troop: select a race, choose ten units under this race to set up your troop and then join the battle.
– Send troop: you have 12 seconds to prepare during each wave, and you need to observe the battle, speculate enemy's intention and then send appropriate types and number of units to the battlefield.
– Destroy enemy turrets and base: continually overwhelm each enemy, use Commander Skills, cooperate with your teammates, pull down their three turrets one by one, and destroy their base.

Simple as the battle is, you will still experience various strategies and tactics in each battle.

Game features:
– Team up and battle against commanders from all corners of the world
– Support over 200 units that can fight smart in the fiery battle at the same time
– Command concisely, play smart, and operate conveniently on different devices
– With over 120 kinds of units in three races, the game emphasizes Strategic Thinking, the core element reflected in the classic strategy games. It is easy to learn but hard to master.

Monetization:
– Art of War: Red Tides adopts "free download + in-game purchase" pattern.

Let us start our journey, commanders!
Download Art of War: Red Tides
---
BloksOut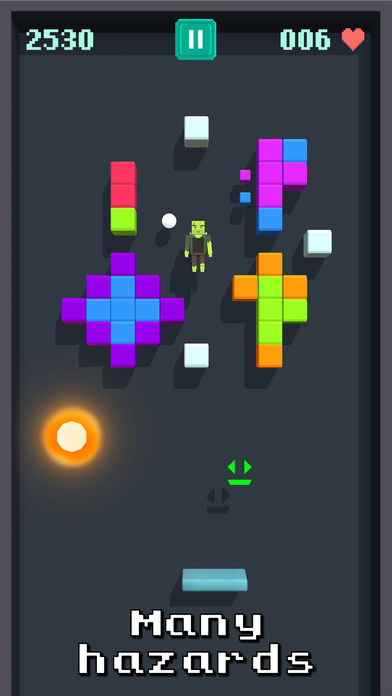 Welcome to absurdly addictive game.
The absolute challenge to nerves and reflexes.
Keep an eye on the ball, your thumb finger bellow the paddle and crush the blocks.

Features that make BloksOut great:
– 102 colourful levels
– Lethal power-ups
– Dozen of different blocks
– Crazy characters
– One hand gameplay
– Cool retro feeling
– Great sound, music and effects
– Global leaderboard

Take a deep breath and give yourself blast from the past!!!
---
Find The Balance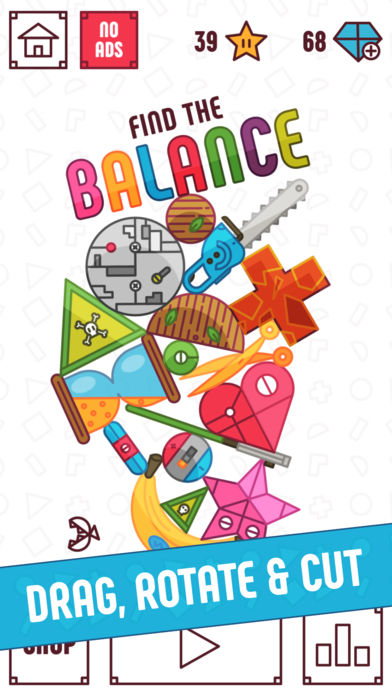 Stones, boxes, bananas – whatever you can imagine. Place all the stuff to make a steady tower and have fun finding the balance. Think over, drag and rotate elements, cut the rope with double tap and drop objects gently.
Find the Balance is a puzzle like game joining an art of stone stacking with easy but challenging, one-finger mobile gameplay.

Features:
– 60+ levels
– 10+ cutting items to unlock
– 5+ different soundracks to listen to
– Game Center leaderboards and achievements
– unlimited fun placing physical objects
---
Fly Fishing 3D II
The sequel of 'Fly Fishing 3D'! The fly fishing game that exceeded 4 million DL!

Experience our new fly fishing game with overwhelmingly evolved 3D graphics!!
Also, it became more exciting by adding new elements: Underwater camera, new actions, fight scene, and competing with NPCs!

*Extremely beautiful 3D fishing fields
The beautiful 3D fields has evolved overwhelmingly from the previous title!
It has 3 areas and 24 fishing points such as mountain streams and lakes.

*Camera works that can feel the flowing fly!
Thanks to underwater camera, you will be able to see the state of flowing fly
and able to appeal the fish that you're aiming.

*Fly action upgraded!
Now, fly actions can be easily performed by just pressing action buttons!
Let's appeal to big fish with several actions set in each fly!

*Reborned fight systems
We've combined the intuitive opereation using button during the fight!
Operate the rod intuitively according to the big fish's movement and reel the line in best timing!

*Exciting showdown with rivals
You can enjoy the showdown with rivals!
Find and catch the big fish before them!

*Fulfilling game modes
Tournaments: Compete and compare your fishing results against worldwide players!
Missions: Challenge all 144 levels within the time limits!
Free Fishing: You can enjoy fishing in your field and conditions (you can set rain and water temperature too)!
---
Flyff Legacy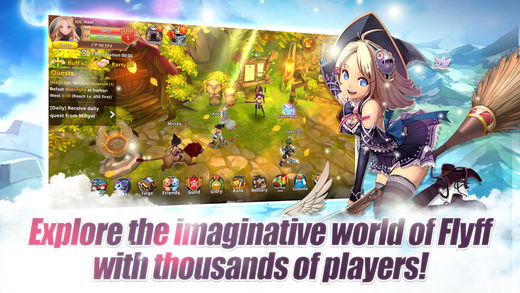 Flyff Legacy combines the charming anime style and social aspects of the original PC MMORPG Flyff Online (Fly For Fun) with new graphics and gameplay that will appeal to longtime fans and new players alike.

Prepare to get immersed in a stunning MMO world of magic!

DISCOVER A NEW 3D MMORPG RELEASED IN SEPTEMBER
– Enjoy a true real-time massively multiplayer (MMORPG) experience with open maps, dungeons, pvp, pets, crafting and more!
– Savor a MMORPG gameplay injected with action-packed combat and stunning skills as you hack and slash your enemies.

EXPLORE THE MANGA WORLD OF FLYFF IN THIS EPIC FREE MMORPG
– Adventure in the anime style and colorful world of Flyff with thousands of players.
– Embark on an epic quest to learn to fly on a broom, party up with other adventurers, and make your way through countless dungeons.
– Millions have already played Flyff PC MMORPG, rediscover the world of Madrigal more beautiful than ever on your mobile device!

CHOOSE AND CUSTOMIZE YOUR HERO
– Select your preferred character class: Mercenary (melee fighter), Acrobat (ranged damage dealer), Magician (spell caster)
– Level up your combat & magic skills to strengthen your hero.
– Acquire new weapons & gear sets, or use fantasy costumes such as Pirate or Caveman to customize your champion!

COLLECT GUARDIAN PETS AND FLY ON YOUR BROOM!
– Collect unique and cute Pets: Rabbit, Lion, Tiger, Unicorn, Dragons, and more!
– Use your Guardian Pets as mounts or just companions to help in your adventure.
– Ride your Broom and soar through the skies!

BE PART OF AN ONLINE RPG COMMUNITY
– Join dedicated servers for your region (North America West & East Coast at launch).
– Create or join a Guild and lead it to the top!
– Chat with other online players, friends, guild mates in the MMO World.
– Meet & Party up with friends, or make enemies.
– Trade with players in the Auction House.

RAID DUNGEONS AND FIGHT EPIC BOSSES (PVE)
– Go solo or group with up to 3 other players in countless PvE Dungeons and collect epic loots.
– Challenge the 7 fearsome World Bosses!
– Raid with your guild mates to defeat the Bosses in the Guild Dungeon.

PREPARE FOR WAR WITH PLAYER VS PLAYER (PVP) COMBAT
– Fight or Flee: free open PVP and PK in the MMO world!
– Challenge other players to 1v1 PvP Duels and gain honor and titles!
– Combat with your 4 Guildmates in the 40 players Guild Battlefield, or enter the 20vs20 Team Battlefield.
– Become the Champion of the 40 players free-for-all PVP Arena.

NEVER GET BORED WITH THE DAILY EVENTS
– Launch Event: enjoy multiple events and rewards to celebrate the launch!
– Participate in the daily and seasonal events in Flyff Legacy!
– Receive many daily gifts just by playing the game!

AND SO MUCH MORE!
– Complete achievements and get Glory Titles and rewards.
– Upgrade and craft gear and items in the Forge.
– Collect Monster Orbs and finish your Bestiary.
– And so many other MMORPG game systems!

Flyff Legacy is a new free Anime MMORPG that all fans of PVE & PVP MMO games, Fantasy MMORPG, Anime & Manga, and Roleplaying (RPG) should try!
---
Middle-earth: Shadow of War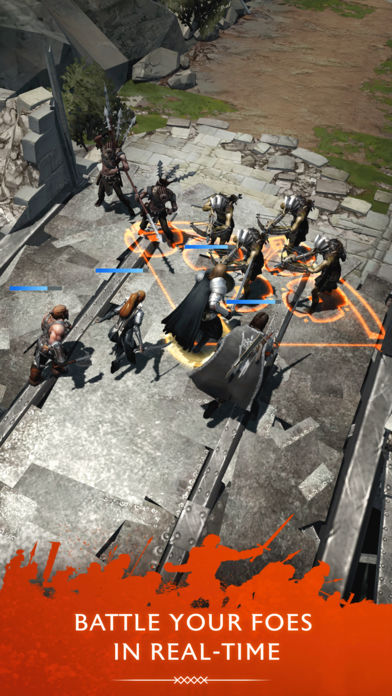 Certain that it will help overthrow Sauron and raise himself as a force for good in his place, Celebrimbor has forged a new ring of power. Alongside this ring of power, he has forged a series of minor rings that are bound to its fate and call to Champions across Middle-earth; wage the Shadow War and overthrow Sauron's armies.

Continue Talion's journey through Mordor and wage real-time battles to turn Sauron's army against him with the Champions of Middle-earth and your own personal Orc army.

COMMAND ICONIC MIDDLE-EARTH CHAMPIONS
-Collect, equip, and upgrade iconic characters from Shadow of War and The Lord of the Rings such as Talion, Celebrimbor, Gimli, and Galadriel, all controlled by the new rings of power.

FIGHT REAL-TIME BATTLES
-Battle your way across hostile regions of Mordor.
-Direct your team's combat tactics in real-time and launch powered-up special attacks when it matters most.

AMASS AN ARMY OF ORCS AND NEMESES
-Dominate your Orc nemeses or accumulate a trail of dead. Each Orc you face remembers your decisions, creating a unique experience for every player with the award-winning Nemesis System.

JOIN A FELLOWSHIP
-Strategize with your friends and request/share upgrades to help your journey
Download Middle-earth: Shadow of War
---
MOBA Duels
MOBA Duels is a real-time PVP card action battle game. All Heroes are based on MOBA style games, there are: TANK, ARCHER, MAGE, ASSASSIN and SUPPORT. Combine different Hero cards (each with his/her unique skill set), plan your strategy, outwit your opponents and become the Master Of Battle Arena! Prove yourself! Get your heroes ready and enter this epic brawl!

FEATURES:
– Collect and upgrade dozens of Heroes
– Several Troop and Spell cards
– Full skill set for each Hero, exactly like a MOBA game (3 Skills + 1 Ultimate)
– Season ranking and prizes
– Friend challenge, donation or watch your friends battle

PLANNED FEATURES:
– Languages: English, Simplified Chinese, Traditional Chinese, Japanese, Korean, German, French, Portuguese, Spanish and others
– More and more cards
– Save and share your battles
– New arenas featuring 2-lanes maps
– Guilds
– Tournaments
– And many more to come!
---
Modern Combat Versus
Drop into fun, action-packed gameplay that defines a new era of mobile shooter games.

Choose your Agent, master your role, and dominate the battlefield with your team. From skilled attackers to supportive defenders and covert assassins, there's an Agent for every play style.

FEATURES
• Deploy into 4v4 multiplayer battles and fight to control a central zone.

• Play as 12 specialized Agents, each equipped with unique weapons and abilities!

• Battle across 5 distinct maps featuring close-quarters combat and long-range warfare.

• Get promoted to higher competitive leagues and earn prestigious rewards.

• Pick up and play using groundbreaking, intuitive controls.

• Experience console-quality graphics featuring stunning visuals and effects.
---
Our deals and product reviews are picked by BGR's expert editors and team.

Follow @BGRDeals on Twitter to keep up with the latest and greatest deals we find around the web. Prices subject to change without notice and any coupons mentioned above may be available in limited supply.