If you purchase an independently reviewed product or service through a link on our website, we may receive an affiliate commission. Learn more.
This is a stellar week for mobile gamers. Not only can you download Words With Friends 2 (the sequel to one of the most popular online multiplayer games ever released on smartphones), but there's another long-awaited sequel out called Cally's Caves 4. If you haven't played the Cally's Caves games, they're some of the best platforming games on the App Store. Plus, there's a weird cooking game starring Steph Curry and his wife.
Bubblegum Hero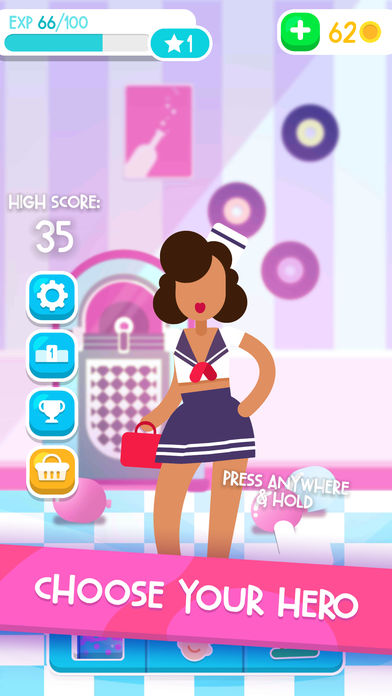 How much gum would a hipster chew if a hipster could chew gum? Who would blow a bigger balloon – a toothless granny or a sumo fighter? Don't you think it's about time to find out?

Your main goal is to make the right bubblegum balloon. Not too small or it will flop and not too large or it will blast in your face. Make it perfect and you'll get a combo multiplier and the leaderboard will be yours. Beware though, the higher combo you score, the more difficult the game will get!

There are over 20 heroes to pick from. Each one of them is a real bubblegum aficionado and playing as a different hero is where the joy comes from. Especially when you pop the balloon and the gum blasts all over your face!

As you may have expected, gums are the most crucial items in this game. On each world, you draw from a different gumball. Each of the gums has a different name, flavor, and skin, as well as properties like points, speed, perfect, range & cash.

In BubbleGum Hero there's also a 'real life mode'! In settings, you can change the mode and literally blow into the microphone. Guess what, you will blow the balloon from within the game! That's something to show off at the next party!

Features:
– Easy to grasp controls
– Simple and addictive gameplay
– 5 different worlds to unlock
– 15 characters and funny animations to unlock
– 30 bubble gums with different characteristics
– Stunning graphics and animations
– Music & sounds seamlessly adapting to the current world
– Online Leaderboards and Achievements
– Realistic mode – play by blowing into the microphone
– Apple Watch mini game
---
Cally's Caves 4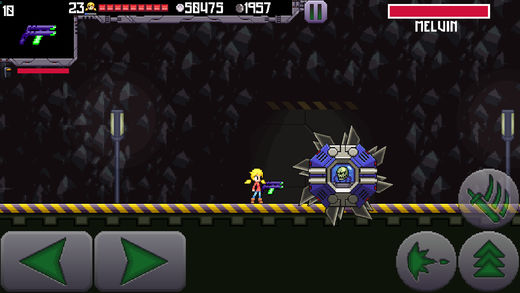 It's time for Cally's biggest adventure ever! On a mission to cure her friend Rupert's curse, Cally must embark on a journey across the globe. Along the way, Cally will make new friends, discover a new arch-nemesis, and fight her way through hordes of enemies on the way to becoming the greatest hero in the world! Do you have what it takes to fight a secret society that holds the only thing that can save Rupert? Take on the challenge in the action platformer, Cally's Caves 4!

Features:
– 9 biomes with over 300 levels packed with enemies, collectibles and secrets.
– 11 weapon classes, with 88 unique weapon forms
– Using your weapons will level them up, eventually changing the weapon's appearance and firing effects. Level each weapon all the way up to unlock its final, super-powerful form!
– 11 huge bosses to fight, reason with, and maybe even become friends with.
– 24 enemy types spanning Regular Game, New Game + and Survival Modes.
– New costume choices for Cally!
– The return of Cally's ninja bear sidekick Bera as a playable character.
– An in-game wiki to collect information about the story, characters, and enemy behaviors and weaknesses.
– Expansive Weapon Mod system that allows you to customize your weapon's effects.
– MFi controller support.
– A massive story with new and returning characters.
– Cally can now strafe and autofire.
– Hubworld area with shops to buy Power-ups, Consumables, and Weapon mods with in-game currency.

Cally's Caves 4 is a run-and-gun action game, with tons of powerups, weapons, and levels. When your friend needs your help, there's only one thing to do: LEVEL UP EVERYTHING!
---
Chef Curry ft. Steph & Ayesha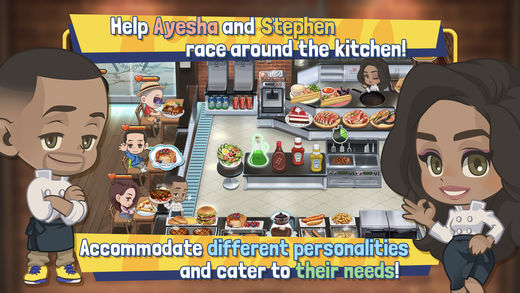 Ever wanted to run a restaurant with basketball star Stephen Curry and his wife Chef Ayesha? Well now you can!

Welcome to the exciting world of Chef Curry.
Help Ayesha and Stephen race around the kitchen to prepare and serve meals for the hungry customers. Accommodate different personalities and cater to their needs.

-Features the real life voices of Ayesha and Stephen Curry!
-Fast paced restaurant action.
-Invite and cook with your friends for in game bonuses.
-Win prizes through the ranking challenge.
-Hundreds of rewards to unlock.
Download Chef Curry ft. Steph & Ayesha
---
Craft Away!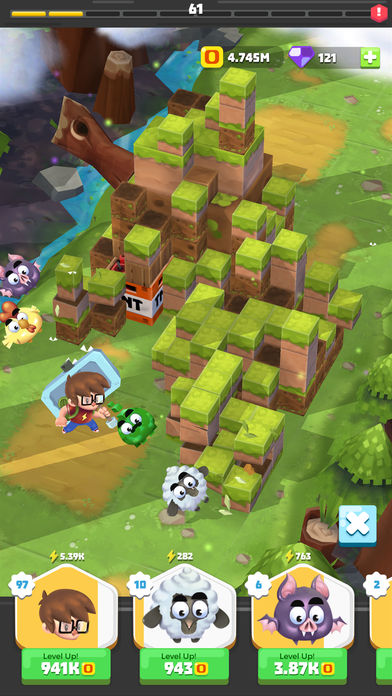 In Craft Away you'll explore a beautiful world and mine thousands of blocks with one swipe of your finger. Befriend mobs and animals to mine by your side and craft awesome gear like potions, enchanted books, furnaces and pickaxes to enhance your journey. This is the world's best incremental idle mining and crafting game!

7 REASONS TO CRAFT AWAY!
~~~~~~~~~~
* SWIPE TO MINE – Tap n' swipe to mine thousands of blocks and resources instantly.
* BEFRIEND MOBS – Save animals and mobs trapped in jelly to mine for you while you're away!
* CRAFT AWESOME GEAR – Use your resources to craft everything from Nether Bricks to Eyes of Ender.
* EXPLORE A WORLD – Explore and discover beautiful scenic biomes as your adventure develops.
* FRENZIED MINING – Tornados, TNT, and a giant golden hammer harvest entire chunks in an instant!
* INVEST WISELY – Prove your RPG strategy with smart decisions on which gear and mobs to befriend, craft and upgrade.
* PLAY ANYWHERE! – The world's best idle mining and crafting game is free to play online or offline!
---
Duke Dashington Remastered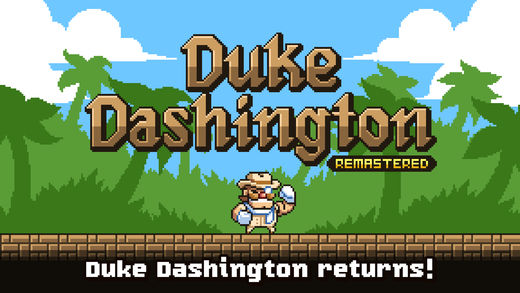 Hop in the shoes of Duke Dashington, bumbling adventurer and explorer and save treasures from collapsing dungeons! You have only 10 seconds to escape each room before the ceiling collapses! Do you have what it takes to be the fastest treasure hunter in the world?

Originally released in 2014, Duke Dashington Remastered is a complete remake with improved controls, polished level design and completely redrawn graphics!

Game features:
– High-speed puzzle platforming!
– Easy to use dashing controls!
– 4 different dungeons to explore!
– 120 rooms of deadly traps and mind-boggling puzzles!
– Game Center achievements and leaderboards for fastest clear times!

– Important information! – This game is funded by adverts, but is completely free to play with no timers or boosters to ruin your experience. There is an option to remove popup ads for a one time in-app purchase.
Download Duke Dashington Remastered
---
ESWAT City Under Siege Classic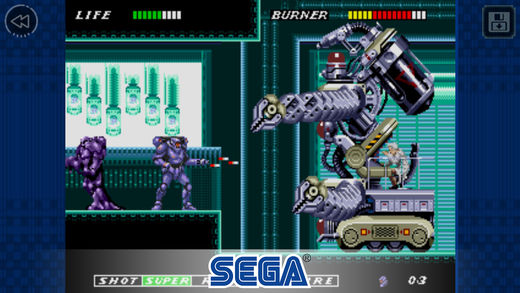 ESWAT: City Under Siege is now available on mobile! Play free and rediscover SEGA's power-armored platformer!

Liberty City is in the grip of an unstoppable crimewave. Gangs rule the streets and only cops in cybernetic power armor can hope to end the violence. Playing as Officer Duke Oda, you must don your cutting-edge ICE Combat Suit, fire up your plasma rifles, jet packs, and rockets to bring about peace once and for all!

ESWAT: City Under Siege joins the ever-increasing line-up of 'SEGA Forever', a treasure trove of free SEGA console classics brought to life on mobile for the first time!

FEATURES
– Arm yourself with plasma rifles, flame throwers, and more!
– Utilize the short-burst jetpack to give you the upper hand in battle!
– Huge mechanized bosses!
– Dozens of power ups to boost your chances in battle!

MOBILE GAME FEATURES
– PLAY FREE with ad-support or ad-free via In-App Purchase
– SAVE YOUR GAMES – save your progress at any point in the game
– LEADERBOARDS – compete with the world for high scores
– HAPTIC SUPPORT: get into the game with responsive button presses
– CONTROLLER SUPPORT: MFi compatible controllers

RETRO REVIEWS
"If you're after a slick and highly playable arcade game, ESWAT is the one to go for." [93%] – Julian Rignall, Computer + Video Games #106 (September 1990)
"ESWAT is a super-slick platform shoot 'em up that simply oozes quality." [92%] – Computer + Video Games' Complete Guide to Consoles #4 (November 1990)
"A blaster of unputdownable playability." [895/1000] – Eugene Lacey, ACE #37 (October 1990)

ESWAT: CITY UNDER SIEGE TRIVIA
– Your spinning flamethrower attack is great but does deplete your fuel so use it wisely!
– Side-scrolling beat-'em-up fans, take note: the ESWAT ending features the same police car as seen in Streets of Rage!
– Cyber Police ESWAT, released in arcades and on the Master System, is a very different game to ESWAT: City Under Siege!

ESWAT: CITY UNDER SIEGE HISTORY
– The game was originally released in 1990
– Developed by: Sega R&D2
– Designer: Hiroaki Chino
– Lead Composer: Takayuki Nakamura
Download ESWAT City Under Siege Classic
---
Flipflop Solitaire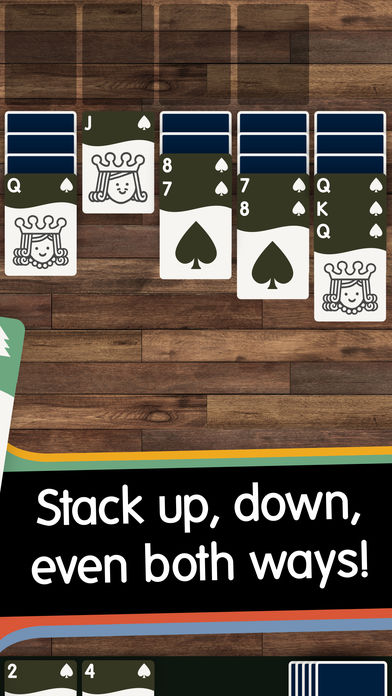 From the creator of Sage Solitaire, comes a new Solitaire variant that breaks all the rules!

Like it's footwear namesake — Flipflop Solitaire is unrestrictive, creating a new game for fans of spider, klondike and other traditional Solitaires.

In Flipflop you can stack down, up, or even both ways on a single stack!
Need to stack an 8 on a 7, or a club on a spade? No problem!

– but –

Be careful, you can only move a stack of a single suit!
It's fun and freeing, but still challenging and captivating.

It's Flipflops for your brain.

——WHATS IN THE "BOX"?

– Play Flipflop Solitaire from 1-4 suits for free!
– Unlock 5 Suit, and 1 Suit Extended with a single in-app-purchase of $2.99
– Track your best times, least moves, least undos, total wins, total plays, and more
– Over a hundred achievements
– Unlockable backgrounds, alternate card and card back color schemes
– Natural ambient binaural background audio
– A strong sense of relaxation

——A WORD FROM THE DEVELOPER

Flipflop Solitaire is sort of a sequel to Sage Solitaire in the sense that it's my second crack at the design problem of making a Solitaire game that feels like it was designed for your phone and not for a table.

To be honest this is how I wish everyone approached sequels. Usually a sequel takes the solution to a problem and duplicates it. This is why our expectations of game sequels are often more-of-the-same-but-better. I'd rather see more sequels that brought a renewed level of surprise and novelty, and I'm hoping that's what you find in Flipflop Solitaire.

While Sage was all about trying to capture the feeling of a tight, easy to play, tough to win, zen solitaire game, Flipflop is about knots.

In a typical Solitaire game, like Klondike, you're taking a knot of cards and untying it into sequences. Then you reverse those sequences into clean ordered stacks.

In Flipflop you take your knot of cards and tie it into other, hopefully better knots. Then you untie those knots into the final ordered stacks. Having so much control over the way your intermediary knots are constructed led to a lot more depth than I expected.

I hope you enjoy this game as much as I've enjoyed discovering it.

-zach
---
WonderWorlds
Welcome to WonderWorlds, a place of limitless imagination, of adventure, discovery, beauty, and maybe just a little peril.

The Bozos have landed and it's time for you to clear up! Grab, jump, tumble and throw your way through hundreds of hand-crafted levels collecting objects, stickers and costumes along the way.

But that's not all. Have you ever wanted to make your own little dreamworld, or even waking nightmare? A medieval zoo, some kind of castle of superhero loneliness, or just a mad photo gallery of your holiday? A race track, a cheese festival, a turbo-powered hedgehog helicopter. It's all there for the building, and the only limit is your imagination.

And hey, don't forget to join the WonderClub. Here you'll discover the full potential of WonderWorlds, share your manifest mindscapes and explore our crazy, inventive community.

WonderWorlds is a place where the make-believe becomes real. We can't wait to see you there.

*Buy the WonderBundle In-App Purchase to unlock*

– The entire single-player campaign – journey to the end of our story.
– A ton of creative content to allow you to build your own adventures (pretty much, everything we used to create the single-player campaign!).
– Loads of individual items and complete outfits for your avatar.
– Unlimited access and sharing to the WonderClub where you can play countless levels made by the WonderWorlds community.
---
Words With Friends 2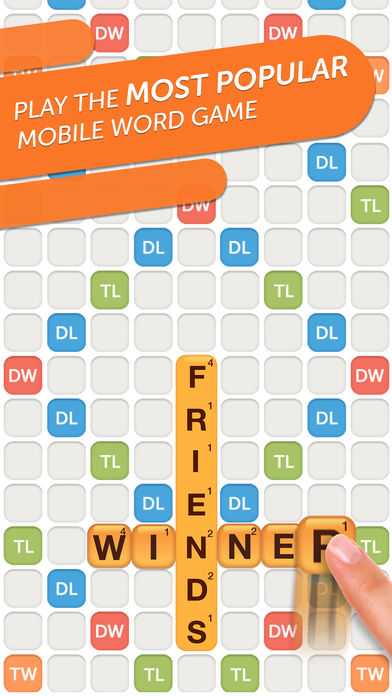 THE WORLD'S MOST POPULAR MOBILE WORD GAME is better and more clever than ever with all new game modes built for the word player in all of us. Beautifully and intelligently redesigned, Words With Friends 2 is teeming with more ways to challenge your friends and your brain than ever before.

Want to boost your word game? Play against fictional characters in NEW Solo Challenge events, updated with new themes and opponents twice a month. Got a competitive streak? Jump in for a fast-paced team match to test your rapid word building skills in the NEW Lightning Round.

The classic one-on-one gameplay you love is here too and now you can earn unique themed badges for completing weekly challenges and scoring big against your friends. Words With Friends 2 backs up your gameplay by pulling in all your past games, friends and progress from previous versions. There's nothing to lose, and more fun to gain!

Sometimes staying in touch is as simple as playing the perfect word. Download and play the NEW Words With Friends 2 today! May the Best Friend Win.™

CREATE A GAME
It all starts here. Challenge your Facebook friends and family members to a game or use Smart Match to find your perfect word puzzle opponent.

TRAIN IN SOLO CHALLENGE
Test and improve your word skills against themed WordMaster characters in NEW Solo Challenges events. Stay sharp, because as you move up the ladder, the WordMasters will get tougher to beat.

COMPETE IN LIGHTNING ROUND
Collaborative meets competitive gameplay in this new, fast team mode. Play on a team of up to 5 players, and face off in a match to score the most points first and win.

COLLECT UNIQUE BADGES
Play the weekly challenge and earn fun, themed badges that are different every week. Build the ultimate collection and display them proudly in your badge case.

ACCESS 50,000 NEW WORDS
Our biggest update to the Dictionary ever includes 50,000 new words, inspired by our players and pop culture.

Play Words With Friends 2 without third party ads between moves if you previously purchased either Words With Friends Pro or no third-party ads in the original Words With Friends on any mobile device. Be sure to login with Facebook or the email account you used to make the previous purchase to continue to play without third party ads between moves.
---
Our deals and product reviews are picked by BGR's expert editors and team.

Follow @BGRDeals on Twitter to keep up with the latest and greatest deals we find around the web. Prices subject to change without notice and any coupons mentioned above may be available in limited supply.