Well, we've done it. Despite how great our list of paid iPhone and iPad apps on sale for free was yesterday, we've managed to put together an even better list today. We've got a killer weather app, several hot sticker packs including separate packs for Trump and Hillary, a very cool app that lets you use your computer's keyboard to type on your iPhone or iPad, and so much more. Check them all out below.
DON'T MISS: Under no circumstances should you buy a Galaxy Note 7
These are paid iPhone and iPad apps that have been made available for free for a limited time by their developers. There is no way to tell how long they will be free. These sales could end an hour from now or a week from now — obviously, the only thing we can guarantee is that they were free at the time this post was written. If you click on a link and see a price listed next to an app instead of the word "get," it is no longer free. The sale has ended. If you download the app, you will be charged.
Forecast Bar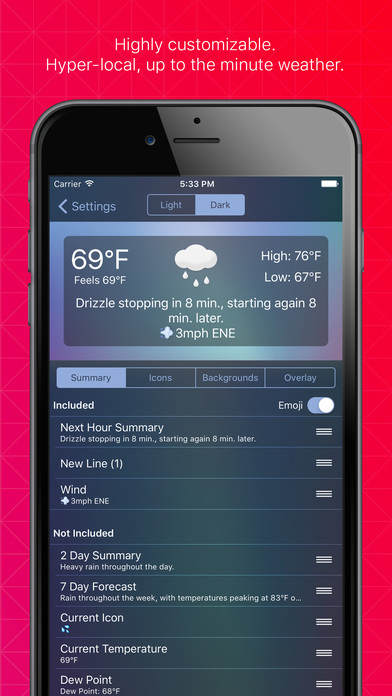 Normally $3.99.
Forecast Bar offers hyper accurate, hyper local live weather and forecasts right at your fingertips and is highly customizable to fit your needs. With full support for the latest features of iOS 10, Forecast Bar is the most powerful and last weather app you will ever need!

== Highly Customizable ==
– Create a customized weather summary to use in the app and widget which can contain any combination of the 20 data points with everything from wind speeds to location of the nearest storm!
– Choose between our dark or light theme, or let Forecast Bar choose for you based on ambient light
– Easily choose between many options for icons and backgrounds.
– Fully customizable Widget, allowing you to create your perfect widget. With iOS 10, you can customize the compact and expanded versions separately.

== Stay Informed with Push Notifications ==
– Personalized daily weather report for any location, at any time you wish
– Push notifications for severe weather alerts in the United States
– If you use Apple Watch or Forecast Bar for Mac, you can forward precipitation notifications complete with a minute-by-minute chart of upcoming rain or snow

== Weather at a glance, or in depth ==
– Quickly check the current conditions or forecast for the week at a glance, including a succinct summary available in over 20 languages
– Tap on any day's forecast to see an hour-by-hour breakdown
– Tap again to see even more details like dew point, pressure, visibility, UV index and more
– Save unlimited favorite locations (and even rename them) across the globe for easy access and we'll figure out the right units to show the weather in for you
– Animated weather radar in the United States
– Check weather conditions up to 70 years in the past or future with Time Machine

== Apple Watch Support ==
– Forecast Bar includes a beautiful and powerful Apple Watch App with 30+ complications
– Displays current conditions, 12 hour forecast, 5 day forecast as well as a beautiful radar view (Radar is US only)
– With watchOS 3, Forecast Bar can stay up to date in your dock and watch face

== First Class iPad Support ==
– Forecast Bar supports iPad multitasking in Slide Over and Split Screen

== Ready for iOS 10 and iPhone 7 ==
– An iMessage app is included so you can quickly check and share weather at all your favorite locations right from within Messages
– 3D touch on our home screen icon to view current weather conditions and shortcuts to recent locations and search
– Taptic engine feedback for iPhone 7

If you have any ideas or problems with Forecast Bar, drop us an email to support@realcasualgames.com or add them to our support site!
KeyWi Keyboard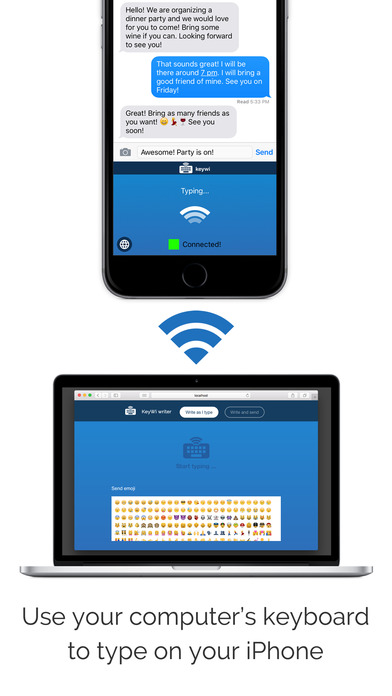 Normally $1.99.
KeyWi is a custom keyboard for your iOS device that allows you to type using your computer's physical keyboard.

+ How does it work?
After you install the KeyWi keyboard you simply switch to it (the same way you would switch to the emoji keyboard for example) and go to the address provided by the keyboard using your computer's web browser. Once the connection between the keyboard and the computer's web browser is established you will be able to type using your computer's keyboard and what you type will appear on the iPhone. Make sure your device and computer are on the SAME wifi network.

Don't worry everything that you type is PRIVATE as it is only sent from computer to device using your LOCAL wifi network. What you type NEVER leaves your local wifi network and never goes over the internet.

+ Installation instructions:
You first need to install the keyboard on your iOS device: Open Settings app > General > Keyboards > Add new keyboard > 'KeyWi'. Then tap on the 'KeyWi' keyboard again and allow 'Full Access'. This allows the app to communicate over your wifi network. Again, what you type is only sent from your computer to the device and it never travels over the internet and never gets stored anywhere

+ What you CAN do with KeyWi
– Type any character in any language
– Send emojis (In-app purchase required)
– Move the cursor forward and backwards
– Delete backwards

+ What you CAN'T do with KeyWi
– Select text. Once you enter text you can delete backwards, move the position of the cursor but you can't select text
– Interact with the application UI.
Remote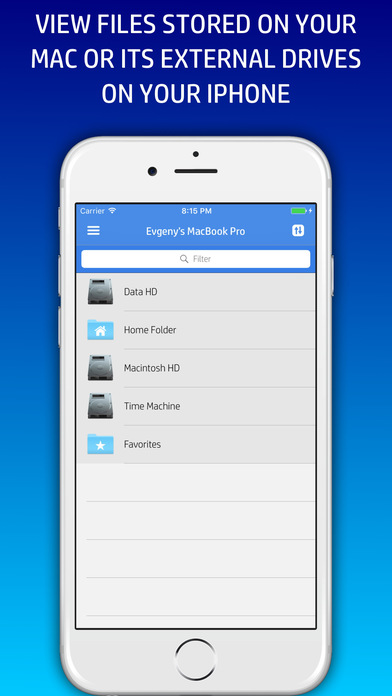 Normally $3.99.
Remote • Drive turns your iPhone or iPad into virtual USB drive, and allows you to easily transfer any file between it and your Mac computer.

Use Remote • Drive to utilize constantly increasing storage space on your iPhone or iPad. Take photos, videos, documents and other files anywhere you go. Using built in document and photo viewers, and video player, you can view files directly from your Mac, or download them to your device for offline usage. Stop loosing and buying new USB drives, and stop worrying about your sensitive information getting to the wrong hand.

FEATUES:
– Photo viewer for all photos stored on your Mac or any of its external drives
– Video player that supports virtually all popular video formats
– File vault with passcode protection for your sensitive files, photos or videos
– Transfer files to and from your Mac using Wi-Fi with no limits
– Document viewer that supports Microsoft Office documents, PDFs and more
– "Open in" feature allows you to open files in other apps on your iPhone or iPad – Super easy setup

TRY BEFORE YOU BUY:
Free version is available that allows you to try it before you buy it.
http://tiny.cc/free-drive

REQUIREMENTS:
– Mac computer with macOS 10.7 or newer (Mac Mini, Macbook Air, Macbook, Macbook Pro or Mac Pro)
– iOS device with iOS 8.0 or newer (iPhone, iPad or iPod touch)
– WiFi connection shared with your computer (Wi-Fi or Personal Hotspot of your iOS device)
– Helper app installed on your Mac (Instructions in the app and here: https://tiny.cc/down-rc)
Sleep talk and snore recorder
Normally $1.99.
+ Find out if (and when) you snore or talk in your sleep.
+ In-app purchases NOT required if you paid to download the app.

Did you know that more than half of the people in the world either talk or snore in the night. Sleep talk and snore recorder helps you identify if you have any of these common sleep problems

– Sleep Apnea and snoring
– Catathrenia (groaning)
– Sleep walking
– Bruxism (teeth grinding)

Sleep talk and snore recorder monitors your sleep, but it's not just an ongoing recording. Our sensing technology triggers the recording only when it detects a sound based on the sensitivity level that you choose.

All your recordings are conveniently grouped and stored by date (the recordings are highly compressed to ensure they don't use significant space on your device.)

Note: We respect your privacy – unlike other apps, your recordings are never sent to our server – all processing happens on your device and only you choose if you can share them with others.
Download Sleep talk and snore recorder
Cinderly SuperEmojis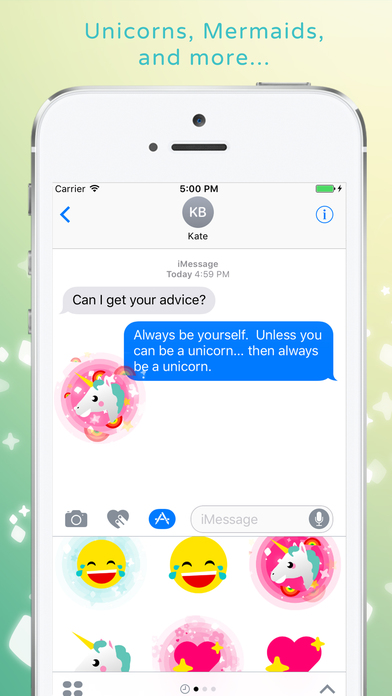 Normally $0.99.
This sticker pack is B-A-N-A-N-A-S! It's practically the most fun you can have on the inter-webs. Don't just like something, SUPERLIKE it! Use our exploding animated sparkle stickers when you need to tell your friends, it's serious. Meet Cinderly's Unicorn, Mermaid, Alien and more!

With over 20 animations to choose from, it's the truest way to communicate your deepest 21st century feelings! Prepare yourself for the power of awesomeness and grab Cinderly's Superlikes for iMessage!

Use Cinderly Superlikes in iMessage to send your friends:
– Make a Splash Mermaids
– Out of this World Aliens
– OMG Sparkle Hearts
– All That and a Bag of Chips!
– Rainbow Unicorn Madness
– Sparkling Sprinkle Donuts
– Rays of Sassy Sunshine
– and many, many, many more!
Trump Sticker Pack
Normally $0.99.
Trump Sticker Pack includes custom-made Donald Trump stickers. These are surprisingly expressive and capture many sides of Trump. Trump Sticker Pack is also the most accessible sticker pack with full VoiceOver support.
Hillary Sticker Pack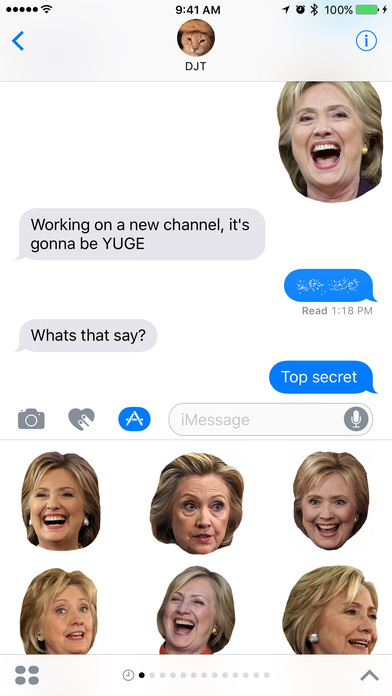 Normally $0.99.
Hillary Sticker Pack includes custom-made Hillary Clinton stickers. These are surprisingly expressive and capture many sides of Hillary.
Weight Tracker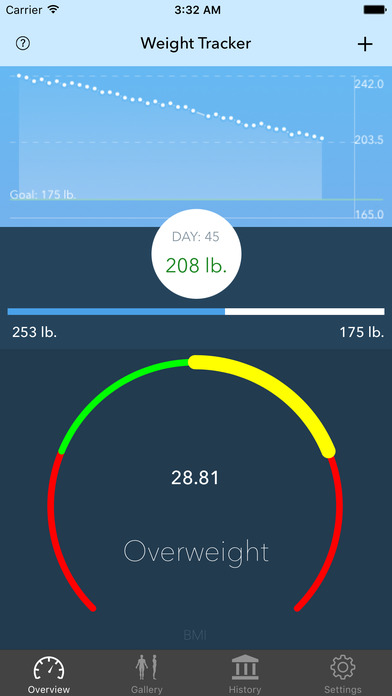 Normally $0.99.
Tracking the weight while losing or getting it is a necessary part of the process. Weight Tracker will help you not only lead the history of changing weight, set the goal, know your BMI, but also in a literal sense "see" your changes.

In Weight Tracker there is a real cool function – you can take pictures in the style "Before and After", which can motivate you for further working about yourself, also your friends and acquaintances who came across with the same problem. You can take pictures face and profile with the help of built-in function and easily join any two photos in one with dates, weight for each photo and period of the past time. Just choose 2 photos and click "Save to Photos" and a ready picture will appear in your photo album.

Weight Tracker has a built-in indicator BMI, so just showing your new weight , you can see your new state in a real time according to scale from "Underweight and Overweight".

Key functions:
– Chart of weight changing
– Indicator of movement to the goal
– Making images in the style "Before and After"
– Function of making photos in "Face and Profile"
– Indicator BMI
– Setting goal
– Built-in information
My Beat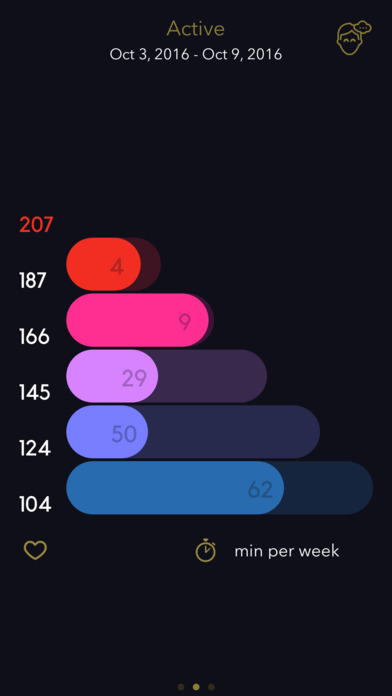 Normally $0.99.
Get the most out of your 30min of daily activity with a new weekly heart beat challenge!

How does it work?

We access your heart rate data from the Health App, to compose a simple 5-bar chart that tells you how hard your heart has been working every week. To stay healthy, try to fill each bar to full each week. It works out to 30min of activity each day.

What are the benefits?

It simply means that you will be able to better deal with whatever stress may come your way, including symptoms such as high blood pressure (hypertension), low energy, and anxiety.

Picture that important moment when its your turn to perform. The meeting. The interview. Your heart is beating hard in your chest. But you know what your heart is now capable of. You're comfortable and confident, so you have a better chance to win.

Apple Watch App Features

Chart & Dock
The chart now displays both your weekly progress, and your daily contribution.

Place My Beat next to the Activity App in the Dock for a complete picture of your daily and weekly activity.

Workout Types
More workout types than the Workout App.

Complications
Track your performance from your favorite watch face. You can display the weekly progress chart, and a breakdown of your daily highest, lowest and average heart rates.

Modes
Modes are different ways of looking at what's happening with you heart during your activity. We have 4 modes for you to work out with:

1. Beat
Just your heart rate 'beating'. Gets bigger and changes color the faster your heart beats, so its easier to read the faster and harder you go.

2. Zone
Get in the zone. Use the digital crown to set the desired zone to aim for, and the needle will show you when you are working out in your desired zone.

3. Progress
Check how much time you spent in each zone during your workout. Designed to be easy to glance at, while you're on the move.

4. Detail
All the important details in one place. Heart beat. Time elapsed. Calories burnt. Kilometers covered. Just the numbers.
iOS App Features

Yup, there's more. We have taken care of keeping track of how you are doing on a weekly basis using the Apple Watch Glance, and via the iPhone/iPod app.

6. PROFILE
If you want more detail, open up the iPhone app to display your beat chart. Then tap on it to reveal your heart rate zones, and time spent in minutes active in each zone.

7. CALENDAR
Want to see how you have been progressing over time. Swipe right to show the calendar view summarising your heart rate zones week to week, and month to month.
Recorder Pro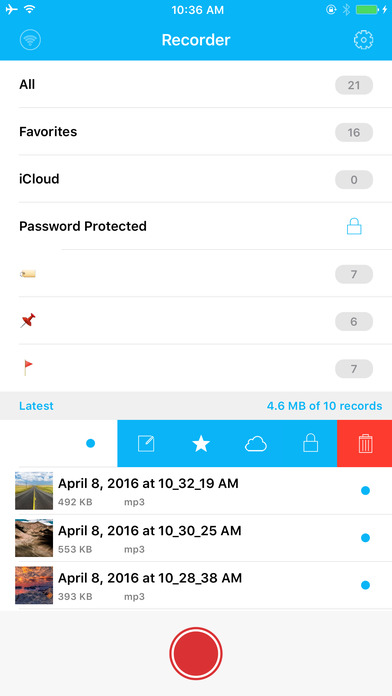 Normally $4.99.
It's an easy to use but powerful recording App.
FEATURES:

● Password Protected

● Tags

● Notes

● Photos

● Markers

● Favorites

● iCloud

● Archive

● Video

● PDF

● Sharing
App Skins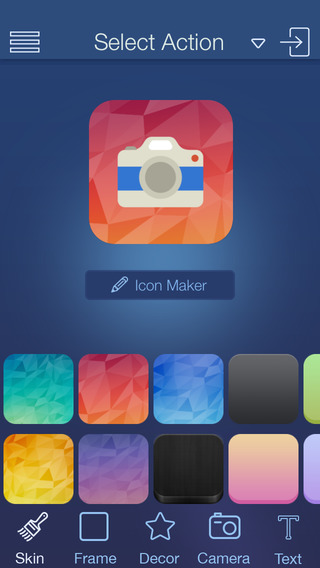 Normally $0.99.
Customize your Home Screen with App Skins.

No more boring icons with App Skins. Forget about that standard Home Screen everyone has.
Use App Skins to stand up from the crowd and give a fresh new look to your phone.
– Ready to use Icons
Choose from our big collection of icons with different themes like: Fireworks, Rainbow, Mozaic, Metal and many more.
It's simple, choose the icons and save it on your Home Screen.

– Icon Maker
Customize your icons and create your own beautiful icons. You can create even round icons.
Combine lots of design elements from our collection of Skins, Frames and Decor.
Use photos from your library and add editable text on the icons.

– Custom Shortcuts
Simplify your life and design custom shortcuts for your daily tasks like Calls, sending SMS/MMS, Email and even open Web URLs.

– Themes
Combine design elements of different themes to create really unique icons that no one has.

– Photos and Text
Use own photos from gallery or instantly make and apply a new one.
Add inspiring text or title on your icons. You can edit the font, size and color of the text.

– Apps
Our collections includes a list of more than 260 apps, ready to be customized. More apps and design elements will come with the next updates.

Note:
App Skins is not replacing the original app icons. It creates a custom designed shortcut. You always can put the original icons into a folder, in this way you will have only the custom icons on your home screen.