If you purchase an independently reviewed product or service through a link on our website, we may receive an affiliate commission. Learn more.
Looking for some fresh apps to fill up those new iPhone 8 and iPhone 8 Plus handsets you picked up over the weekend? We've got just what the doctor ordered. You'll find eight different paid iPhone and iPad apps on sale for free in today's list, but as always they're only free downloads for a limited time so grab them while you still can.
This post covers paid iPhone and iPad apps that have been made available for free for a limited time by their developers. BGR is not affiliated with any developers. There is no way to tell how long they will be free. These sales could end an hour from now or a week from now — obviously, the only thing we can guarantee is that they were free at the time this post was written. If you click on a link and see a price listed next to an app instead of the word "get," it is no longer free. The sale has ended. If you download the app anyway, you will be charged by Apple.
Textify
Normally $0.99.
Turn voice messages you receive into text, with Textify.
Works with WhatsApp, Telegram, iMessage, Threema and LINE Messenger

"Surprisingly powerful. You will not be disappointed."
– idownloadblog.com

Everyone has experienced receiving a voice message during in a meeting, at school or university at one time or another.
These are times when discretion is needed and you still want to know the contents of the voice message.
This all now belongs to the past.

You can even scan your voice messages for phone numbers, calendar events and more.

Try it out! Start textifying ;-)

Textify supports English, German, French, Spanish, Italian, Russian, Dutch, Portuguese, Turkish, Slovak, Ukrainian, Greek, Swedish, Finnish, Norwegian, Croatian, Indonesian, Danish, Thai, Romanian, Czech, Japanese, Korean, Malay, Chinese (Simplified), Chinese (Traditional), Catalan, Hindi, Arabic, Hebrew, Polish, Hungarian and Vietnamese

This is a Third Party Application which is in no way endorsed or affiliated by WhatsApp Inc., Threema GmbH, Telegram Messenger LLP, Apple or the Line Corporation.
WhatsApp, Threema, Telegram, iMessage, LINE and the used screenshots are trademarks of WhatsApp Inc., Threema GmbH, Telegram Messenger LLP, Apple and the Line Corporation.
The use of this app is at your own risk and I am in no way responsible for any consequential, incidental, indirect, special or punitive damages whatsoever.
I further take no responsibility for damages caused by misunderstandings due to incorrect voice recognition.
Reach
Normally $0.99.
Reach is a widget that quickly gets you directions to common destinations of your choice with just one tap. No more fumbling around with your maps app trying to type in your address to get home!

What makes Reach unique?
1. Reach is the only widget of its kind that includes transit directions
2. Setup is quick, and the app is easy to use
3. Reach uses way less battery than similar apps

If you have any suggestions or just want to tell the developer you like the app, find me at https://www.yoreach.com
Backgammon HD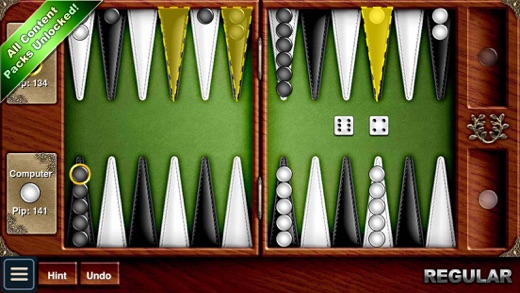 Normally $3.99.
Play the #1 Backgammon on the App Store! Now with the best online Backgammon experience with background match-making and two ways to play online: Turn-based gameplay or live games via Game Center. Challenge your friends, play against random opponents, compete for leaderboard glory, and earn achievements.

– – – – – –

** Recommended by MacWorld as a Top Download for your iPhone, iPod Touch, or iPad in their November 2010 issue.

** "Backgammon Premium is the crème-de-la-crème 'gammon'" 9 out of 10 stars Appaddicts.com!

** Nominated for "best dice game of 2009 in the 2009 Best App Ever Awards hosted by bestappever.com!

– – – – – –

Backgammon is believed to have started in Persia, eventually finding its way to Britain with the Roman conquest in the 1st century and was played by Emperor Claudius who even had his carriage equipped with a playing board! It became such a gambling mania that it was declared illegal under the Republic.

Playing on the history of the game, there are 6 visually pleasing, rich board designs; Egyptian, Roman, Medieval, Victorian, Modern and Classic.

We also offer, out of the box, two classic game variations: "Old English" and Nackgammon. "Old English" is the most popular game variation in England. Nackgammon is a more challenging variation designed to add more creativity and skill to the game.

With integrated Bluetooth Peer-to-Peer support you can play with your friends over Bluetooth with no network required! You can also play against the computer in either Easy, Medium or Hard difficulties, or play with a friend on a single device.

Features:
– Two ways to play online: Turn-based or live with Game Center
– Background match-making: search for opponents while you play!
– Universal. Play on your iPhone, iPod Touch, or iPad
– Single Player Games (with Easy, Medium, Hard or, soon, with our brand-new Expert player)
– Match support! Play to 3, 5, 9 or 15 points with Doubling. Matches use the Crawford Rule
– On the phone Multiplayer and Bluetooth peer to peer games
– Move-Assist, highlights available moves
– Unlimited "Undo" in single-player games
– Extensive game statistics
Jump Ninja Hero Pro
Normally $1.99.
You Ninja Hero! Run and Jump! Beware of flying blades!
Since I
Normally $0.99.
This application allows you not to forget about life events, important to you. You can keep track on the time, lapsed from your first date, how long has it been since you started working out, adopted a kitten or started growing a beard. Did you give up smoking, started a diet? Motivate yourself, remembering how long has it been since you changed your life!
Are you procrastinating a lot and can't keep yourself organized? Set up a goal and keep track on how long it took you to achieve it.
You can use this app for such events, as:
Dating
Marriage
Birth of a child
Vacation
Relocation to a different city
Change of your looks
Giving up smoking
Opening of a new business
Starting working out
Setting up a goal
Burgerworld stickers
Normally $0.99.
40 funny, colourful and cute character stickers from award winning doodle artist Jon Burgerman.

Liven up your iMessage conversations with a host of erratic Burgerworld personalities including:

A manic pizza slice
A grumpy cup of coffee
A wub heart
A confusedicorn (a confused unicorn)
A wizard pizza
A flatulent gorilla

No need to write messages to friends anymore, just send them a cool, goofy sticker!

Enjoy and share and remember to have fun!
Perri
Normally $4.99.
Perri is a simple and powerful money tracking app for iPhone and iPad.

Simply enter when money is paid to you and when you spend anything and Perri will calculate how much you have left to spend. Your total amount will be displayed clearly at the top so you can check your balance quickly and easily. You can add a short description to remind you where your money went and where it came from.

You can choose from £, $, € or ¥ in the currency settings or when you first open the app. You can also set up notifications to remind you how much money yo have to spend.

All information is stored locally on your device and using iCloud if you are signed in on your device allowing you to access this information across your iOS devices.
Mindful Shopper 3-in-1
Normally $1.99.
Pro Shopper is a powerful and feature-rich, yet intuitive and easy-to-use shopping assistant. It allows you to create and organize shopping lists, calculate receipts while you are shopping to avoid any surprises at the cash register and it also features five different calculators to help you while shopping and eating-out.

Create shopping lists quickly and easily. Old items can be added with a swipe of a finger. Provide additional details and location information for easier shopping. Save time and headache by using Pro Shopper in preparation.

Calculate receipts while you are shopping! Pro Shopper can also calculate prices for weight and amount as well as discounts. No more surprises at the register! You can sort items by price and archive items to see the effect on the final price. Become a smart and efficient shopper.

Features:
* Shopping lists:
* Add items and helpful information about them like details, place and color-coded priority
* Organize your list
* Archive frequently used items for later use
* Email your shopping list to friends and family
* Shopping receipts:
* Add items with amount, price and possible discount. Total price will be calculated automatically
* See the cost of your shopping basket
* Organize your receipt by total price, unit price and amount
* Easily archive and un-archive items to see how your receipt will change
* 5 calculators: amount, weight, discount, tax and tip calculator

Pro Shopper will save you time and make you a smart shopper! It's an ideal shopping assistant.
Download Mindful Shopper 3-in-1
---
Our deals and product reviews are picked by BGR's expert editors and team.

Follow @BGRDeals on Twitter to keep up with the latest and greatest deals we find around the web. Prices subject to change without notice and any coupons mentioned above may be available in limited supply.