Did you pick up a new iPhone X over the weekend? Congrats, you have the hottest smartphone on the planet right now! You're also probably broke since it's so expensive. We've got just the thing — a whole bunch of paid iPhone and iPad apps that you can download without paying a penny, because they're all on sale for free for a limited time.
This post covers paid iPhone and iPad apps that have been made available for free for a limited time by their developers. BGR is not affiliated with any developers. There is no way to tell how long they will be free. These sales could end an hour from now or a week from now — obviously, the only thing we can guarantee is that they were free at the time this post was written. If you click on a link and see a price listed next to an app instead of the word "get," it is no longer free. The sale has ended. If you download the app anyway, you will be charged by Apple.
System Activity Monitor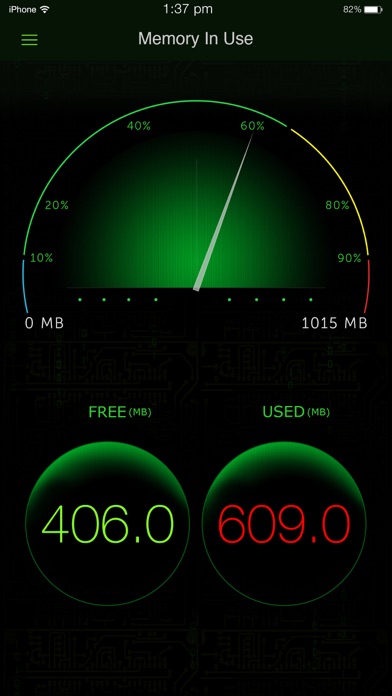 Normally $0.99.
Take a deep dive into your iPhone/iPad to see whats going on inside. System Activity Monitor App, is an iOS activity monitor that provides a unique Dashboard view for for all of iOS devices. It is the best activity monitor of its kind for iOS devices.

The app monitors iOS activity like MEMORY USAGE, BATTERY LIFE, Used Space, and device information. GREAT visuals like Dashboard view, LED indicator, 3D BAR charts, battery charging animation, LED flashing charger, battery health check, provides you a rich visual views of your iOS device internals, like you have never seen before.

$$ Over a million satisfied users of our apps $$

## Few of our user TESTIMONIALS ##
$ Way cool
This is a terrific system tracker.
– Macquest

$ Definitely get this App.!
Love the cool dashboard. Tells you what's going on in the Apple brain in your iPad or iPhone. This App rules.
– Battyguy

$ Simple App !
Great tool! Helps to keep your standby time ridiculously long and device running smoothly.
– Spader1969.

$ I have tried many products like this one and so far I keep coming back to this one.
– Markeith3000

$ System Max
The best and easiest app out there for really knowing what's happening in this little box.
– by Dkievit

The System Activity Monitor, is the most comprehensive all in one health check app. on the App store, that monitors memory usage, battery performance, device information like IP address and hardware address, and used space on the iOS device.

You can use this app to accurately monitor your battery life, monitor memory in use, and used and free space. By appropriately charging the battery using this app to full charge, you can get a good battery life.

KEY FEATURES:

1. Battery tips are shown to help save battery life while using the iPhone.

2. Tap battery to see the battery capacity for your favorite apps.

3. Shows the used and free space on your iPhone/iPod.

4. Shows the IP address acquired, and hardware address of your device.

5. Displays a long list of device information, like physical specs, hardware info, and many more.

These are the different views on the App.

Memory view:

Shows the used and free iPhone memory available as used by other apps. This is shown in an excellent speedometer animation view. Double tap home button, and see other apps in use. Close out the other apps, and see the memory being reclaimed in this app, when the speedometer shows the free memory available increase.

This has an LED indicator with BLUE, GREEN, YELLOW and RED colors indicating the severity of memory being used.

Double tap the speedometer, to see a 3D bar view of the different break up of the memory used. Like, Free, Wired, Active and Inactive memory of your iOS device.

Battery view:

This view shows the battery available for discharge, how much time to recharge to make it full, and when it is charged to FULL, displays an indication, as "FULLY CHARGED", as opposed to quick charge. It has glow panels on the top to let you know, how much battery is available. LIGHT GREEN, GREEN, and RED indicators on battery available.

Tap the battery on the fill, to show the detailed break up of battery availability for 3G talk time, browsing, videos, games etc.

Animated battery charging with current flashes inside the battery.

Space used view:

This is shown as a pie-chart that presents the used and free space available on your iOS device.

Info view:

Now it shows a lot more device information, like system information, camera information, display, hardware and physical characteristics. It shows whether you device is connected to Wi-Fi or cellular and its IP address.
Download System Activity Monitor
mTip
Normally $0.99.
mTip is a nice and easy but fully-featured tip calculator and smart bill splitter.

Splitting evenly the bill between several persons is sometimes just not enough. When someone takes an expensive drink and another skips a delicious but expensive dessert, you need more than just an even split. mTip provides a simple and attractive answer to make everybody happy without the need to ask for separate checks.

Features:
– Smart splitting between guests.
– Gets the job done with a minimum of interaction.
– Three predefined and configurable levels of tips.
– Change the grand total, and the tip is recalculated.
– Change the guests' total, and the tip is recalculated.
– One touch to round up or down any value, including guests' total.
– One touch to quickly increment or decrement on any value.
– Smart keyboard changing on the fly the keys visibility to show only keys you need.
– The tip is calculated before tax,
– International currency support.
Big Truck -Mine Express Racing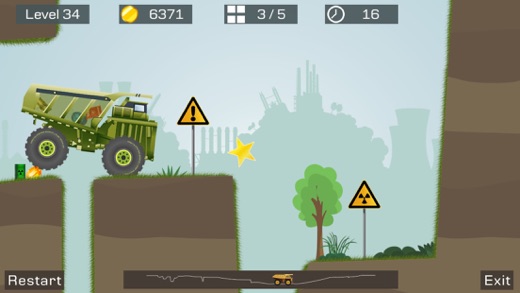 Normally $1.99.
******Top 10 games in some countries******
******Support tilt and touch control modes******

Big Truck is a simple, but very fun to play game. You just have to drive a truck across rough terrain and make sure that your goods get to the destination safely. You will get a precise number of goods you carry and a precise number of goods that is required. The more you bring, the more score and coins you get.

This game is all about being careful. At the beginning of each round, a precise number of goods will be dropped into your container. You have to touch the right of the screen for accelerating, the left of the screen for slowing down and tilt the device for balancing the truck. On the top side of the screen, you will find a timer and the goods count in your container and level required. You have to find the perfect balance between reaching the end of the level rapidly and doing so without dropping too many goods. The only way you can lose is if you don't transport enough goods or if you manage to turn the truck upside down. In this case, you will have to retry.

Game instruction:
– Drive by pressing on the right or left of the screen.
– Tilt the device to control the truck carefully not to drop too much.
– Also support joystick control mode.
– Get more trucks, wheels and vip cards in garage.
– Get more coins in garage.
Download Big Truck -Mine Express Racing
Audio Notebook
Normally $4.99.
All-Day Audio Recorder, 2x Playback, and Wide-Screen Text Editor.

Audio Notebook is perfect for:
– Students: To record all your lectures, and take notes on all your classes,
– Professionals: For every meeting and interview,
– Everyone else: To capture your thoughts and ideas for all of life's projects.

PRISTINE ALL-DAY RECORDING

Stop struggling to take notes while keeping up with discussions. Audio Notebook captures everything that is said, so you don't have to worry about missing a thing.

Record through your whole day and take notes at the same time. Edit and add to your notes while recording or reviewing later. When you're done, easily email your notes and recordings with a tap.

Leave your laptop behind. Stay on top of all your classes and meetings with just your iPad.

FAST 2x PLAYBACK

Reviews are a snap: Audio Notebook lets you breeze through recordings with up to 2x playback speed. Rewind by 5 seconds with just a tap, and capture every point with perfect recall.

EASY DATA ACCESS

It's your data: Copy all your notes and audio to your Mac or PC with iTunes File Sharing at any time. This is great for extra backups or sharing with others. It even works wirelessly over WiFi.

COLORFUL ORGANIZATION

Color code your notes with multiple categories to find them easily and stay on top of all your projects.

WIDE-SCREEN EDITING WITH LARGE FONTS

Unlike Apps ported from the iPhone, Audio Notebook makes full use of the iPad's larger screen. Notes take up the full screen width in landscape, and are presented with a large, legible font, so you don't have to squint.

Pick between three beautiful fonts for your notes: Georgia, Helvetica Neue, or Courier.

EVERYTHING YOU NEED TO TAKE GREAT NOTES

Integrated Text Editor:
– Text notes with built-in Audio Recorder
– Works great in both landscape and portrait mode
– Large, legible font
– Copy & Paste
– Automatic spell check

Flexible Note Organizer:
– Multiple color-coded categories to stay organized
– Filter notes by category, to quickly find the one you want
– Sort by name or by date
– Customizable category names
– Share notes and recordings via Email

High Quality Audio Recorder:
– Variable play speed: 1x, 1.5x, or 2x
– Instant seek
– Quick skip by 5 second increments
– Unlimited audio recording time
– High quality MPEG-4 audio: An hour takes approximately 12MB
– Record and take notes simultaneously
– Pause and continue recording as many times as needed
Magnifier Flash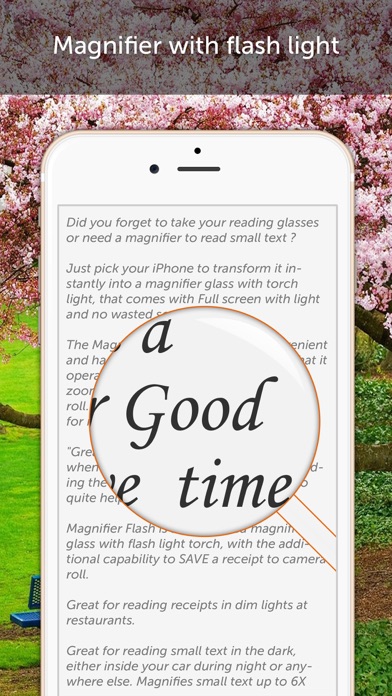 Normally $0.99.
Did you forget to take your reading glasses or need a magnifier to read small text ?

Just pick your iPhone to transform it instantly into a magnifying glass with flash light, that comes in Full screen with light and NO wasted screen space.

The Magnifier Flash App is a very convenient and handy app, with such ease of use, that it operates with just one finger to slide to zoom, turn on flash light and also save to photos. And our users find it extremely useful for reading small prints in many occasions.

"Great app to have! Comes in very handy when shopping if you have a problem reading the fine print. The built-in light is also quite helpful." – cooky sue

"I use the magnifier to examine jewelry for marks that identify the piece. Thank you!" – Beth Evans-Walters

Magnifier Flash is an enhanced magnifying glass with flash light , with the additional capability to SAVE what you see on the zoomed view to camera roll.

Great for reading receipts in dim lights at restaurants.

Great for reading small text in the dark, either inside your car during night or anywhere else. Magnifies small text up to 6X digital zoom, and gives a very clear text without shake.

Single tap to "Snap and Save" the view to camera roll.

Key features:

1. Magnifier with up to 6X zoom provide clear enlarged text of small prints or receipts.

2. Turn ON Flash light to read text in dim light or in the dark.

3. Easy to read nutrition label with small prints, as a high contrast crystal clear zoomed text.

4. Read restaurant menus in dim light very clearly and high contrast zoom.

5. Easy to find misplaced items in the dark or dim light.

6. Useful while searching for items in the car during the night.

7. Snap and SAVE what you see in the zoomed view on to the camera roll by clicking the save to photos button. Using this feature, you can later at any time view the photo or get it emailed to your desktop from your iPhone.
Sunrise Sunset
Normally $0.99.
Sunrise Sunset is a simple, easy-to-use application that displays important times such as:

– Sunrise
– Sunset
– Civil twilight begin (Dawn)
– Sun Transit (Solar Noon)
– Civil twilight end (Dusk)
– Total daylight

Take this app wherever you go, no internet is necessary for the app to work.

Features:
– Use today's date or select any date
– Use GPS location or select a location from a huge list of cities.
– No internet connection needed. Calculations are performed on your device.
– GPS is also optional, you can manually enter a location.
– Set your own background image.
– Create your own list of locations by saving your current GPS location or a location from the database.
ProPlayer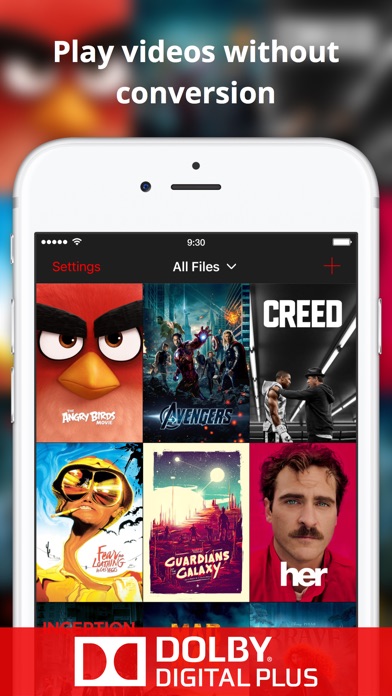 Normally $7.99.
ProPlayer is a beautifully designed, yet powerful video player for your iPhone, iPod Touch and iPad, that supports every video and audio format and brings new and innovative features to your device.

Stop converting videos for your device! Simply transfer any movie or audio file of any file format via WiFi, USB from your computer or download directly from the web to your iOS device and start watching. There is no conversion necessary.

◆◆◆◆◆◆◆◆◆◆◆◆◆◆◆◆◆◆◆◆◆◆◆
Universal! Designed for iPhone and iPad
◆◆◆◆◆◆◆◆◆◆◆◆◆◆◆◆◆◆◆◆◆◆◆

PLAY ALL VIDEO TYPES
ProPlayer supports all major video and audio file formats:

– Video formats: DIVX, AVI, FLV, MKV, MOV, WMV, WEBM, DVR-MS, WTV, MPG, MPEG-1,2 & 4, MP4, M4V, MPV, VOB, TS, M2TS, OGV, OGM, DV, ASF, 3GP, M2P, M2V, GXF, WINDOWS MEDIA

– Web Stream Formats: M3U8, RTP, RTPS, MJP, MJPEG

– Audio formats: M4A, MP3, WMA, OGG, RM

OFFICIAL DOLBYⒸ AC3, E-AC3, DTS, DTS-HD & MLP TrueHD Support

– Subtitle Formats: TXT, SRT, SMI, ASS, SSA

SUBTITLES
On-the-fly subtitle downloads from Opensubtitles.org – or use your own subtitle files for your movies.

AUTOMATIC METADATA
ProPlayer automatically fetches movie posters and details about your movies and tv shows.

ADDING YOUR FILES
Adding videos to your ProPlayer is incredibly easy. Just choose one of the following options:
– WiFi Upload via Browser
– Import from Dropbox, Mail & other apps
– Import via USB with iTunes
– Direct Download from the web

WEB STREAMS
Watch video & live TV streams via m3u8, rtp and several other streaming protocols.

TV-OUT
Play your videos on the big screen with a HDMI or VGA adapter.

BACKGROUND AUDIO
Watching a music video but just want to listen to the audio? ProPlayer can play the audio in the background and continues even when your device is locked.

PASSCODE PROTECTION
Want to protect your files? Just set a passcode for the whole app and they are safe.

GESTURES
Supports many swipe and tap gestures in the video player, so you can perform a quick action, e.g. jumping to the next video, with a swipe to the right.

ORIENTATION LOCK
Lock ProPlayer to your current orientation to make sure that your movie isn't interrupted by over-sensitive orientation changes.

ELEGANT AND INTUITIVE INTERFACE
ProPlayer offers a beautiful, but simple user interface that shines with typical animations and an appealing design.

EXTRA FEATURES
– Supports multiple audio and subtitle tracks
– Change the playback speed
– Open up e-mail attachments and files from other apps

COMING SOON
– Ftp and UPnP Streaming Support
– Trakt.tv & TVShow Time Support
– XMBC Support