You did it! You made it through the week and now Christmas awaits you on the other side of the weekend. Why not celebrate with a bunch of apps that usually cost money, but are temporarily free on the App Store. The selection today is as varied as it's been in weeks, so you're sure to find something worth downloading.
This post covers paid iPhone and iPad apps that have been made available for free for a limited time by their developers. BGR is not affiliated with any developers. There is no way to tell how long they will be free. These sales could end an hour from now or a week from now — obviously, the only thing we can guarantee is that they were free at the time this post was written. If you click on a link and see a price listed next to an app instead of the word "get," it is no longer free. The sale has ended. If you download the app anyway, you will be charged by Apple.
Color Query Pro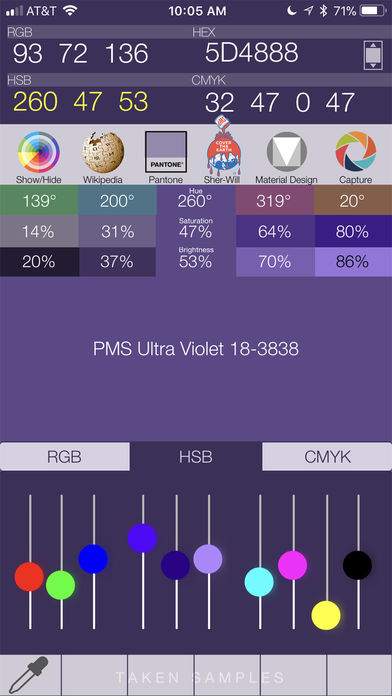 Normally $1.99.
Mix and match color in RGB, HSB or CMYK colorspaces.

Use sliders to adjust color.

Color component bars for each colorspace. Shows variations of color for each component (red, green, blue etc) every 17% . Touch a color to put it in main window.

Get RGB with #hex, HSB and CMYK numbers. Enter #hex code directly to see a color.

Use camera to get color from object.

Compare colors to four standard pallets; Material Design, Sherwin-Williams, Pantone and Color Names as found in Wikipedia.

Hold up to five color samples. These are stored in the app and will be deleted when app reboots.

To delete a sample, touch it and drag up.
Delete all samples by dragging up on the Sample button.

Shake phone for a random color.

View color Full Screen.
---
Compass Easy
Normally $0.99.
Beautiful designs, Easy to use.

Features:
√ Magnetic North
√ True North
√ Multi-Language
√ Supports iPhone and iPad

Notes: In order to let Compass locate the True North direction, please select "Allow" when it requires your location information.

Useful Knowledge: Magnetic North, which differed from True North, changes over time.

Between the True North and Magnetic North, there is the angle which is called Magnetic Declination. It varies from 0 to 20 degrees (up to 60 degrees or even more) in different areas of the world.

Based on your geographic location, Compass Easy will calibrate the True North direction by calculating the Magnetic Declination.

Compass URL scheme is "EWCompass://"
---
Drwer
Normally $0.99.
Drwer is the absolute simplest, most elegant, drawing app for designers.

Made by a product designer, for designers. Because when you need to get sketches out or share an idea or note with your teammates, the last thing you need is a difficult-to-use or intrusive interface.

Drwer makes design drawing easy. Draw quickly right from the start. Shake to clear the screen and start again.

• Built-in templates make wireframing your app or web experience easy
• Line or dot grids help create a clean grid for your sketch
• Draw over photos or screenshots and share with the tap of a button

No excessive features or functions in Drwer. Use three colors and two brush sizes to doodle, draw, or take notes. Templates help you doodle websites, app designs, or sequence sketches. You'll be drawing quickly on your iPhone or iPad guaranteed.

* Sketch designs quickly without distractions *

Two brush sizes, grid and dot grid options, access to free drawing templates, all from the collapsable menu.

* Templates to help you draw *

Whether you're designing websites, apps, or illustrating something more feature-rich: Drwer is here to help with built-in templates.

* Save and import directly from your photo library *

Drwer lets you save and important straight to your photo library, message through Facebook Messenger or iMessages, backup to iCloud, and more.

* Shake to erase *

If you ever make a mistake or want to start a fresh drawing, just shake your phone or iPad and keep drawing!

* One brush, two sizes and three colors, no more *

Add quick details to your sketch with the smaller brush size by touching the circle brush icon in the menu and use red, gray, or white drawing features or highlights in the photos or screenshots you take.

*** PLUS MORE! ***

All from independent app developer and Facebook product designer Tanner Christensen, maker of other popular apps like: Brainbean, Wordid, Prompts, and Oflow.
---
Fold Defy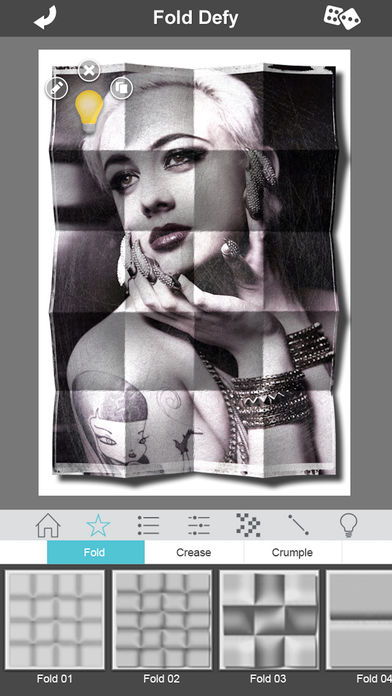 Normally $2.99.
Fold defies the 2D space with a powerful 3D engine

This professional app not only folds your image, using two types of bending options: FOLD and CREASE, but also distresses it with a CRUMPLE effect to give the appearance of crunched paper smoothed flat. Oriented in a 2D space, Fold Defy renders 3D popping folds with their perspective distortions and a realistic shadow for an amazing high-end result!

Gone are the long hours applying gradients and distorting shadows just to create a simple fold! With Fold Defy it is easy to fold a paper in half or into an accordion using controls to add horizontal and vertical lines with shadows to match–automatically. We have also included a manual crease tool that works by drawing a line across the image AND a powerful 3D lighting system to render natural looking surface lights and paper shadows by moving the on-document light around. This lighting system also supports the ability to set up multiple light sources and lets you independently control each one for times when multiple shadows are wanted.

Fold Defy is great on its own, bringing focus to the focal point on your image, but it is even better when used with Grungetastic, Simply HDR and other JixiPix apps! Now put your project time in the creative process and let us do the work for you.

FOLD STYLES

• FOLD – automatically adds horizontal and vertical folds with the ability to change fold direction
• CREASE – allows users to manually add creases and folds to the image by drawing a line where you want them
• CRUMPLE – automatically simulates a crunched paper smoothed flat with control over crumple scale and perspective

FEATURES

A powerful 3D lighting system to render natural looking surface light and paper shadow. It Also supports multiple lights (and shadows) and allows independent control over it's light color, shadow height and spread

INCLUDES

• 3D Fold, Crease and Crumple effect with surface popping shadows to match

• Crease Tool to add creases & folds by drawing across the image

• Powerful 3D Light Source for natural-looking highlights and shadows

• Library of photo paper textures

• Adjustable fold and crease crinkles

• Adjustable fold direction, width and surface height

UNIVERSAL FEATURES

All JixiPix apps come with: Superior customer service, support for high-resolution images & output, quick preview, undo/redo, a randomize button, ready to customize templates, and the ability to create and save custom presets.

Our mobile version can Email and post directly to Facebook, Instagram, Twitter, and Tumblr.
---
Habit List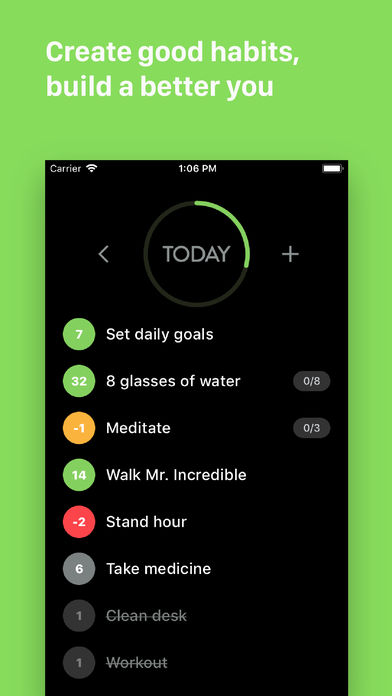 Normally $3.99.
Create good habits. Break bad ones. Build a better you. Habit List includes everything you need to reach your goals, wrapped in a beautiful and intuitive interface. It motivates you, helps you stay focused, and keeps you on track.

Get motivated with streaks — Keeping streaks alive is a powerful motivator. See how high you can go, then try to beat your personal best. Red badges mean you've slacked and need to get back on track. Yellow badges show up after a streak ends, indicating it's time to recommit to building a new one. Gray badges are optional, missing them won't break your streak. Green means go, complete it today!

Focus on what's due — No need to wade through all your habits to figure out what to do, Habit List only shows what's due today. And you can set the default order for your habits, so items that you'll complete first are at the top of your list. Habit List's beautiful, distraction-free design keeps you focused and on task.

Stay on track with reminders and badges — Habits are powerful because they're automatic, but while you're building routines, reminders are indispensable. App badges show the number of remaining habits for the day, great for reminding you to complete your list. You can even set a daily review reminder to get in the habit of using the app.

View trends over time — Step back and see the big picture with weekly and monthly completion percentages. Bar colors range from green to red and give a visual indicator of how you're doing.

Flexible scheduling — Choose from 3 kinds of schedules: Specific Days, Non-specific Days, or Intervals. So you can schedule your workouts M-W-F, bring lunch to work any 4 days per week, or write a blog post every 2-3 days. No matter what kind of habit you're building, Habit List has you covered.

Track your progress — See your history at a glance and gain insight into what's working—or isn't. Always miss your Friday workout? Maybe a different day or early morning routine would work better. Habit List also tracks your personal best (longest streak) and total completions.

No detail too small — Need to track multiple times per day habits, like drinking 8 glasses of water? No problem. Going on vacation? Skip habits without breaking your streak. Miss a habit early in the day? Mark it as missed to keep your list uncluttered. You can also change the week start date, use light or dark mode, and keep things private with a passcode or touch ID. Speaking of privacy, we don't require you to set up an account, don't track your habits, and your data is 100% private.
---
Minecraft: Story Mode – S2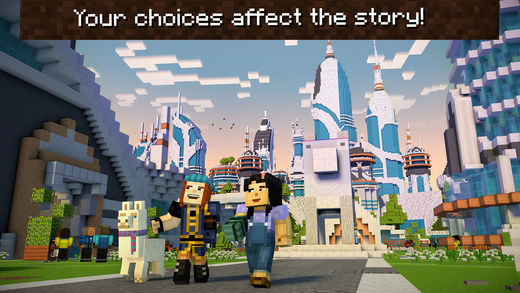 Normally $4.99.
Now that Jesse and the gang have vanquished the Wither Storm, saved the world, and become totally super famous heroes, life has gotten a bit more…complicated. With more responsibilities and less time for adventure, old friendships have started to fade — at least until Jesse's hand gets stuck in a creepy gauntlet that belongs to an ancient underwater temple. Together with old pals and new comrades alike, Jesse embarks on a brand new journey filled with tough choices, good times, and at least one temperamental llama.

Includes Episode 1 of a 5 part series in this brand new season from the award-winning studio, Telltale Games.

***PLEASE NOTE: NOT RECOMMENDED FOR DEVICES BELOW iPhone 5S and iPad Air 2. The full list of recommended minimum devices for the best gameplay experience is as follows – iPhone 5S and up, iPad Mini 4 and up, iPad Air 2 and up, and iPad Pro – also requires iOS 10.0 and up.***
Download Minecraft: Story Mode – S2
---
PaperDesigner 3D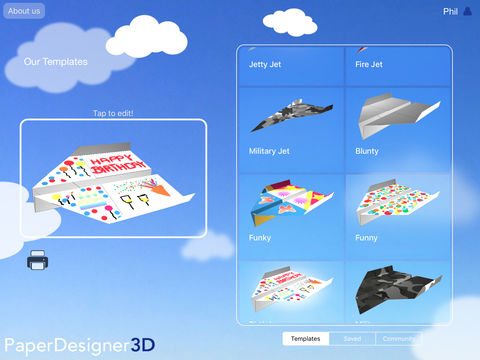 Normally $0.99.
PaperDesigner 3D – Create'n Play

Create real paper models in 3D!

You always want to connect the digital world with something real? With PaperDesigner you are able to see who something virtual goes into a real paper model. Therefore you are able to create and print the paper models – just with AirPrint.

FEATURES
+ Choose a Sticker and place it on the surface of the paper model
+ Just drag with your finger to paint the surface
+ Print your creation easily with AirPrint and play with the real paper model
+ Share your results with the community
+ Send a plane model to friends or your PC via mail

COMMUNITY
+ Download the best plane models from the cloud
+ Edit and print plane models from the community
+ Like nice plane models
---
Pic Collage Playgrounds Pro
Normally $2.99.
Pic Collage Playgrounds satisfies your desire to share multiple photos simultaneously with your friends. It shines with adjustable layouts, powerful photo editor that let you easily create collage artworks!e lower-left frame icon, and swipe to select a frame to make an instant collage!

• Stickers & Collage & FX
Choose from a delightful collection of stickers, overlays & artwork to add onto your photos, Expressing yourself has never been more fun!
Apply one of our 250+ gorgeous photo filters – with more on the way.

Awesome features:
* Group of more than 200+ classic collage layout!
* Add text with lots of fun fonts to choose from!
* An ever-expanding stickers to choose from!
* Select Grids to make grid collage in seconds!
* Freely adjust the ratio of every layout!
* Various Classic Layouts!
Download Pic Collage Playgrounds Pro
---
Sizer
Normally $0.99.
SIZER HAS BEEN NOMINATED FOR BEST LIFESTYLE MOBILE APP IN THE WEBBY AWARDS
APPLE APP OF THE WEEK
TOP1 What's Hot
TOP1 Lifestyle
TOP5 Overall

Sizer application can help you to choose the right size of clothes in the U.S., Europe, the U.K., Japan or Russia. All you need to know is one of the sizes — the application will tell the rest. Making a shopping trip to another country, online purchasing and an unexpected gift to your beloved will be easier when you can convert sizes on the go.

"An application that remembers that last year your jeans were two sizes smaller."
GQ Russia

"You could've just said "We have Beautiful Pixels!". Seriously, loved the app."
— BeautifulPixels.com

What's Hot at 4rd week, TOP Lifestyle at 6th week and APP OF THE WEEK at 11th week.
---
SnapFun Pro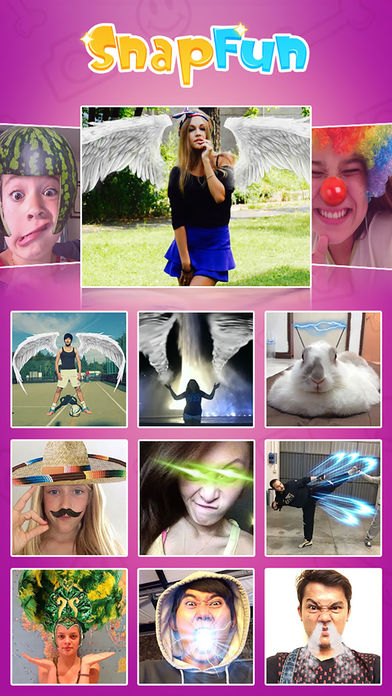 Normally $0.99.
The most funny app in the world! Show the world your magic via amazing looking collages you have never seen in any other apps!
Looking cooler than any of your friends, making your whole family laugh out loudly just need one thing: grab your camera and take photos with SnapFun Pro!

To be the Hero, the Villain, the Monster, everything you have ever wanted before!

SnapFun Pro contains:
– NO advertising, NO watermark, and include 6 FREE pose packs.
– Various fancy collages like Monster, Fantasy, Fun, Holiday, Magic, Beard, Animal, Travel, Wings, Demon, Headdress…
– New portfolios will be added soon.
– More filter functions make your photos cooler.
– Quick and easy selfie.
– Provide poses for instruction,challenging your imagination.
– Let your friends see your creation on Facebook, Instagram, Twitter, Dropbox, Flickr, Tumblr…

You won't believe how great this camera app is until you use it!
Truly worth every cent!