If you purchase an independently reviewed product or service through a link on our website, we may receive an affiliate commission. Learn more.
We're in the home stretch of 2016. In less than two weeks, this year will (finally) be over, but in the meantime, we've got another collection of paid iPhone and iPad apps gone free for you to peruse.
These are paid iPhone and iPad apps that have been made available for free for a limited time by their developers. There is no way to tell how long they will be free. These sales could end an hour from now or a week from now — obviously, the only thing we can guarantee is that they were free at the time this post was written. If you click on a link and see a price listed next to an app instead of the word "get," it is no longer free. The sale has ended. If you download the app, you will be charged.
Cosmic Crown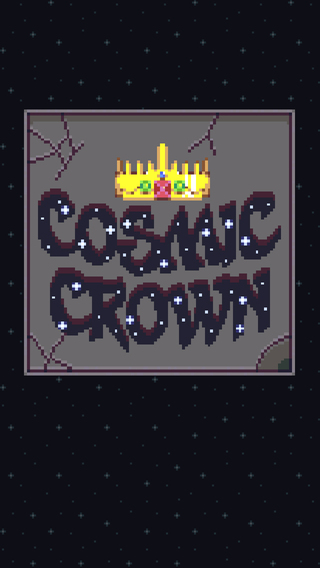 Normally $1.99.
You find yourself in a narrow corridor, dozens of traps between you and the object of your every desire — the Cosmic Crown.

A turn-based strategy game with randomly generated levels. You can only move up or down, but the tools at your disposal let you overcome any number of obstacles. As you progress, you and the cosmos changes, introducing new powers to wield and new traps to overcome. And at the end — the COSMIC CROWN
---
Rockabilly Beatdown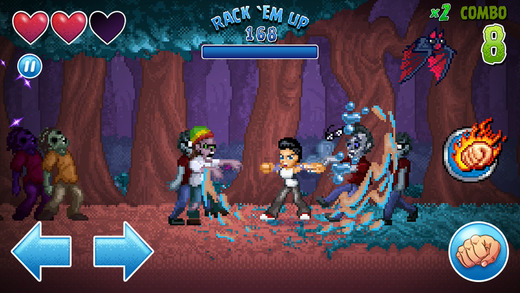 Normally $0.99.
Get ready to hop on the pain train to pound town, and don't forget to pack your fists!

Rockabilly Beatdown is an "endless puncher." See how long you can survive a constant, ever growing stream of enemies by punching like your life depends on it – because it does! You've got to think fast and hit faster to last as long as you can. Every connected punch is the one that keeps you on your feet and only the best brawlers can brag about bringin' the boom… Will you go down in history as the one punch who pummeled them all?

FEATURES:

– Three heroes ready to throw down! Choose from Kimber Killjoy, Ace Knuckles, or Bruiser McFist!
– Loads of endless enemies are out to get you, with bosses tossed in for double trouble!
– Six crazy cool levels to punch your way through!
– Every punch builds towards your ultimate super move: PUNCHTASTIC!
– Run up your combo count to reach Punchtastic even faster!
– Keep an eye out for lifesaving pick-ups and enemies that endow special bonuses!
– Tally up your totals and collect Fist Rewards after every game!
– Super sweet pixel art to channel that classic arcade action feel!
– Unlock costume colors and more special levels through gameplay!

Load up, lock in, and get ready to work those guns – yer' gonna need 'em to be the best!
---
Boardgame Scorer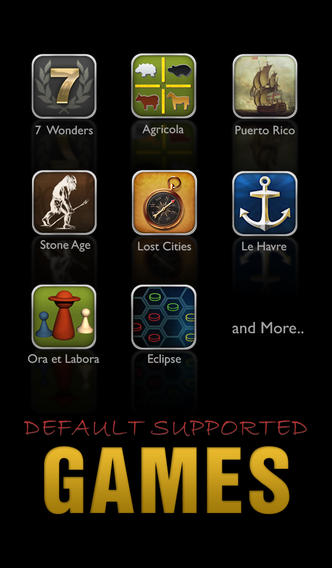 Normally $2.99.
"Boardgame Scorer" is designed for endgame scoring (replacing the score sheet). If you are the fan of board games, this scorer will be your favorite companion.
————————————————
1: "Unlimited Games Support"
– default scorers includes: "7 Wonders", Agricola, "Le Havre", "Lost Cities", Eclipse, "Stone Age", "Puerto Rico", "Agricola: ACBaS", "Ora et Labora";
– support creating new game scorers;
– customizable components: game name, score categories list, … …
————————————————
2: "Less Time Scoring"
– support "score by player" and "score by category";
– input score by Picker or Numpad, easy and friendly;
————————————————
3: "Keep Score History"
– keep score history of different Games;
– support multiple Rounds in one Game;
– show the summary of games, including total scores and rank awards;
————————————————
4: "Statistics"
– highest scores across all games;
– highest score for each score category;
– winning ratio, average score for each player;
————————————————
5: "Sharing"
– email score and summary;
– upload score to BoardGameGeek;
– tweet score and summary;
– Facebook sharing;
---

Moku Hanga HD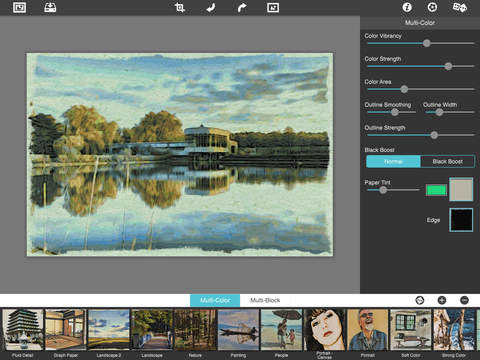 Normally $2.99.
You've discovered the fascinating art of Moku Hanga, the Japanese method of wood-block printing. Breathtaking landscapes, beautiful women, and busy cityscapes can be transformed into this exotic art known for flowing hand-chiseled outlines and brushed on color.

The Moku Hanga app, Moku the Japanese word for "wood" while hanga is known as "print", allows you to create an artistic wood-block print from any picture or snapshot — no need for time consuming carving — the artists from JixiPix do all the work for you! With the power to fully customize your Moku Hanga, you can create a masterpiece artistic enough be part of printmaking history!

The outlines in Moku Hanga are extremely eye catching, replicating a hand chiseled relief-art. Using sliders found on the adjust tab you can control the smoothness, width and strength of the chiseled outline to fit your composition.

Presets are also available to give your project a quick start. Choose from a range of bold chisled outlines, and bright to subtle color combinations. If the preset colors chosen for your work are not to your liking, there is the option to alter your palette colors. Once the desired color is achieved complete your artwork with an artistic edge or paper. In printmaking the final image does rely on the choice of paper; whether it is kozo fibers or rice paper — this will add an artistic quaility to your print and complete your Moku Hanga.
---
Iron Sea Defenders TD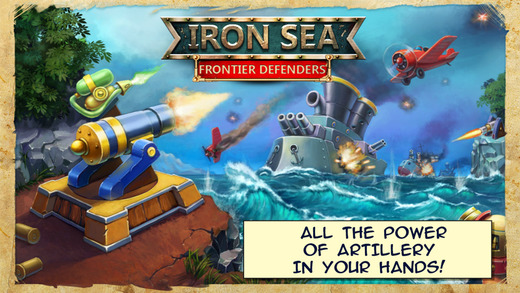 Normally $2.99.
Man the guns! The enemy fleet is on the horizon!
Take a part in the real sea battle!
Defend your fort from attacks – show your tactical skill.
Build cannons, save money, destroy the enemy with the help of secret weaponry and keep your wits about you, because your enemy never sleeps.

This unique historical setting will allow you to immerse yourself in an atmosphere of real and uncompromising battle. Varied enemies, powerful cannons and secret weaponry which will drive your enemy to despair – all of this in a new tactical defense game!
Download Iron Sea Defenders TD
---
Marvel Pinball
Normally $0.99.
Marvel Pinball combines the greatest Super Heroes of all time with the definitive videogame pinball experience of all time. Use your pinball wizardry to help the legendary Marvel Universe heroes rid the pinball landscape of notorious Super Villains in an epic combination of superhuman might, immersive gameplay, and unprecedented table visuals!

The inital Marvel Pinball download comes with Marvel's The Avengers table. Other Marvel Pinball tables can be purchased as in-app purchases.

**For players already enjoying Marvel Pinball tables in Zen Pinball, we want to give you a heads up that there is no way for us to transfer purchases or make tables available in both apps. Thanks for your support!**

Tables include Spider-Man, Wolverine, Iron Man, Blade, Ghost Rider, Moon Knight, Thor, X-Men, Fantastic Four, Captain America, World War Hulk, The Infinity Gauntlet, Fear Itself and Civil War.

Marvel Pinball continues to be one of the highest rated Metacritic rated games of all time!
---
Vectrex
Normally $2.99.
Vectrex Regeneration is a faithful recreation of the original Vectrex retro games console from the 1980s. Bringing a totally authentic experience, this extensive catalog of retro games will provide hours of classic gaming entertainment.

***Optimised for retina devices***

FEATURES:

• Access to many original titles including:
Armor Attack
Bedlam
Bezerk
Blitz
Cosmic Chasm
Fortress of Narzod
Heads Up
Hyperchase
Minestorm
Polar Rescue
Pole Position
Rip Off
Scramble
Solar Quest
Space Wars
Spike
Star Castle
Starhawk
Star Ship
WebWars

• Play indie titles such as:
Thrust
Continuum
Veccy Bird
Vector 21
War of the Robots

• Original Vectrex unit, authentic sounds, game box art and history of the Vectrex

• iCade, MFi compatible

• Game Center support, with leaderboards, achievements and challenges!

• Use additional iPhone/iPad as a controller over WiFi and Bluetooth
---
ControlMyWeight
Normally $4.99.
Take control of your weight today!

ControlMyWeight won't tell you what to eat. It helps you become aware of your eating habits so you can make the smarter choices that lead to weight control!

CalorieKing's tools have been recommended by health professionals for over 40 years.

FEATURES:

– Know exactly how much you should eat to reach your weight goal.

– Powered by America's most accurate food database.

– See yourself progress with motivating charts.

– Quick and easy to use. Works offline.

– Record how you're feeling, medication and more.

– See how many calories are in your favorite recipes!

– When you've reached your goal weight, your calorie target changes to maintenance level.

– Track more than calories and carbs: Fat, sodium, cholesterol, fiber, calcium and much more.

Start a new life today with ControlMyWeight!

We understand that managing your weight isn't easy. If you lose weight on a diet, you often gain it right back when you stop! The problem lies with how much you should eat compared with how much you do eat. Make sure you don't overeat by using CalorieKing's ControlMyWeight, the easiest-to-use and most accurate calorie counter available.
---
PhotoTangler
Normally $2.99.
PhotoTangler Collage Maker is a powerful image app that instantly turns your favorite photos into beautiful collages. It allows you to blend them together in unique and creative ways. It's easy, fun, and the results look like magic! Just drop photos on the canvas, and watch PhotoTangler seamlessly blend them together with any other photos nearby. Anyone can get gorgeous, professional looking results, even with no graphics experience!

Unlike many collage makers out there, PhotoTangler does the hard work behind instantly blending and merging photos together for you. Instead of getting caught up learning grueling technical details, you can focus your time and energy on making gorgeous photo projects! Whether you're using it for stunning social media pictures, general artwork, digital scrapbooking, to make a quick gift for a friend of family member, or even as a marketing tool for your business, the quick, high-quality results from this app will surely impress. PhotoTangler is a unique, easy and exciting solution to instantly merge photos into impressive collages.
---
Bonus Pick: CityMaps2Go Pro
Normally $9.99.
Design your trip with CityMaps2Go, the ultimate app for travelers who want to be prepared wherever they go. Discover amazing places, save and organize them in lists & share them with your friends.

Travelling without internet access? No problem! CityMaps2Go also includes detailed downloadable offline maps and guides.

Join the 20 million travelers worldwide who trust CityMaps2Go for their trips, and be prepared wherever you go!

▶ PLAN TRIPS: Remember and save all the places you would like to visit. Create lists and have your travel ideas ready when you need them.

▶ SHARE WITH FRIENDS: Share your travel plans with your friends. Planning your trips with others made easy with CityMaps2Go.

▶ WORKS OFFLINE: CityMaps2Go works online and offline. Saving you from data roaming charges in foreign cities or connectivity problems in national parks.

▶ WORLDWIDE COVERAGE: CityMaps2Go covers the whole world. More than 150 countries, 60000 destinations, and 50 million places!!

▶ IN-DEPTH CONTENT: CityMaps2Go features photos as well as comprehensive and up-to-date information.

▶ DETAILED MAPS: Explore your saves on a detailed worldwide map. Navigate streets, foot paths, and bikeways wherever you are.

▶ SEARCH AND DISCOVER: Search a specific place by name or browse by categories like restaurants, architecture, hotels, shops, bars, etc.

▶ BACKUP AND SYNC: Create an user account and login from any of your iOS devices.
---
Our deals and product reviews are picked by BGR's expert editors and team.

Follow @BGRDeals on Twitter to keep up with the latest and greatest deals we find around the web. Prices subject to change without notice and any coupons mentioned above may be available in limited supply.