If you purchase an independently reviewed product or service through a link on our website, we may receive an affiliate commission.
You don't have to be a professional prizefighter to be able to reap the benefits of one of the world's oldest combat sports — boxing. Increasingly, athletes across the world are utilizing traditional boxing methods to get in tip-top shape for their respective sports. And of course, so are regular folk like me and you. You'll be hard-pressed to find such an intense full-body workout outside of the ring — unless you decide to bring the ring to your home. Metaphorically speaking, of course — we're not saying to physically purchase a boxing ring. However, there is plenty of boxing equipment that isn't necessarily confined to your local YMCA gym. Here, we'll go through some of the best boxing equipment for at-home training, so you can see how quickly you can transform your own body through some no-nonsense training techniques. You might not ever be the next Muhammad Ali, but you can at least feel like you can float like a butterfly and sting like a bee…from the comfort of your own home.
Best Heavy Bag Stand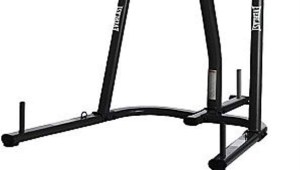 Probably the most vital component to boxing — other than your hands — is the punching bag itself. But before you get a heavy bag, you're going to need the stand itself. In this regard, your best bet is the Everlast – 2 Station Heavy Bag Stand, which allows you to hang both a standard punching bag and a speed bag, another vital piece of boxing equipment. It's made with high-quality, powder-coated steel tubing construction, making it both scratch-resistant and highly durable. It features three pegs that you can add additional weight to in order to increase stability and keep your heavy bag in place. The speed bag platform is adjustable in size, so you don't have to worry about finding the right "size." One thing to keep in mind, however — it can hold heavy bags up to 100 lbs, so if yours happens to be any larger, you might want to opt for another method of hanging. It's also not recommended for outdoor use, so use it with your best discretion.
Everlast - 2 Station Heavy Bag Stand
Price:
$138.00
Available from Amazon, BGR may receive a commission
Best Reflex Training Ball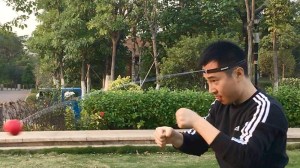 As many combat sports fans know, it's not all about raw power. Speed and reflexes play a key role in any training regimen, and they also happen to make for an intense workout, too. For something cheap and efficient, the TEKXYZ Boxing Reflex Ball is an excellent choice. This is a great piece of solo training equipment, as it's super inexpensive and doesn't take up much space, like, at all. You simply attach the headband to your own head and start punching the attached ball to increase reaction, agility, punching speed, and overall hand-eye coordination. The balls themselves are lighter and softer than a tennis ball. Beginners are recommended to start with the black ball before eventually moving on to the red ball, which is designed for advanced technicians.
TEKXYZ Boxing Reflex Ball, 2 Difficulty Levels Boxing Ball with Headband, Perfect for Reaction,…
List Price:
$19.99
Price:
$10.99
You Save:
$9.00 (45%)
Available from Amazon, BGR may receive a commission
Best Heavy Bag Gloves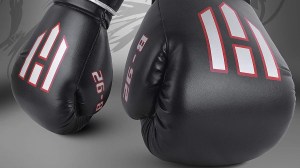 Of course, when hitting a heavy bag, one must have the proper hand protection. From a protective standpoint, these Hawk Boxing Gloves for Men & Women Training Pro Punching Heavy Bag Mitts are a no-brainer. These leather training gloves differ from traditional bag gloves, as they're injected with gel and multi-layered, V-Impact foam for advanced fist protection. The Hawk gloves also contain a completely separate padded block over the wrist-joint for added support. Plus, they, thankfully, feature a breathable, anti-perspiration Pinhole Palm that offers increased hygiene efficiency and reduces odors, bacteria, and unwanted sweat and moisture through your hands.
Hawk Boxing Gloves for Men & Women Training Pro Punching Heavy Bag Mitts MMA Muay Thai Sparring…
Price:
$19.99
Available from Amazon, BGR may receive a commission
Best Hand Wraps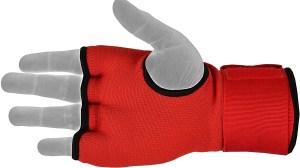 For an extra layer of protection — particularly for your wrists, hands, and knuckles — you should opt for a pair of professional-grade hand wraps. The EMRAH PRO Training Boxing Inner Gloves Hand Wraps provide users with additional support for any form of boxing training. These wrist wraps are 90 cm long, which gives you additional protection for your wrists, which in turn, allows you to strike harder, faster, and without fear. Unlike traditional hand wraps, these are Gel-Integrated and feature an Elite-Tech knuckle shield for advanced shock protection for your knuckles and hands. Basically, you're not going to find wrist wraps with this much protection, period.
EMRAH Pro Boxing Hand Wraps Inner Gloves for Punching Padded Bandages Under Mitts, Quick Wraps,…
Price:
$11.49
Available from Amazon, BGR may receive a commission
Best Punching Mitts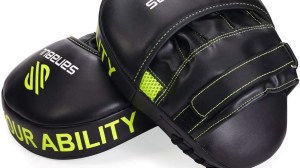 When it comes to more "hands-on" (pun intended) striking exercises, you should opt for Sanabul Essential Curved Boxing MMA Punching Mitts, which allow you to land a flurry of punches you otherwise can't land on a traditional heavy bag. Of course, this also requires a training partner, so you might want to refrain from making this purchase if you don't have one. But if you do, it's a totally integral component of your training. These hand mitts are molded to fit over the natural curvature of your hands, and they're infused with Santec Ultra Light Foam to help absorb the blows of even the heaviest punches. In short not only is this a fantastic purchase for yourself, but your trainer/training partner will certainly thank you for them, too.
Sanabul Essential Boxing MMA Punching Mitts (Black/Green)
List Price:
$39.99
Price:
$25.99
You Save:
$14.00 (35%)
Available from Amazon, BGR may receive a commission