The ACEMAGICIAN AMR5 Mini Gaming PC is like nothing you've ever seen before. It's a gaming PC with very respectable specs, capable of feeding multiple monitors and running some of the most hardcore PC games on the market. And yet it's shockingly compact. As a matter of fact, it may very well be the smallest desktop computer you've ever seen.
Now, for the most surprising part: it retails for only $499 despite offering impressive performance in such a tiny little enclosure. And right now, this Ryzen-powered mini gaming PC is on sale for just $399 thanks to a coupon you can clip on Amazon, plus an extra discount with the promo code 5CQYBAYE.
When most people think of a gaming PC, they think of a huge desktop enclosure with monster fans and glowing LED lights all over it. Or, in the case of gaming laptops, they think of gigantic notebook computers that weigh a ton.
The ACEMAGICIAN AMR5 will completely change the way you think about gaming PCs.
As far as specs go, the first thing I'll note is that this mini Ryzen gaming PC obviously can't compete with a gigantic $3,000 gaming rig. It's obviously not meant to compete with a machine like that, which is only for hardcore gamers. Instead, this tiny gaming PC is meant for casual gamers and anyone else who wants a powerful desktop computer in a tiny little package.
ACEMAGICIAN AMR5 specs
When it comes to specs, the ACEMAGICIAN AMR5 Mini Gaming PC isn't going to knock your socks off. But it does pack a surprising amount of power for such a small machine, and it can definitely run plenty of resource-intensive games without issue.
I know it can because I've been testing it myself. And I'm very impressed with how well the ACEMAGICIAN AMR5 performs for such a small machine.
The ACEMAGICIAN AMR5 runs Windows 11 Pro and uses an AMD Ryzen 5 5600U Zen3 processor with a clock speed of up to 4.2GHz. You also get Radeon RX Vega7 graphics capable of powering multiple gaming monitors with ease.
The model I tested came with 16GB of DDR4 RAM, and the AMR5 is expandable with support for up to 32GB of RAM.
Likewise, this model has a 512GB SSD drive, but it supports up to 4TB of internal storage. And if you want to upgrade the RAM or SSD, it's as simple as popping off the magnetic side cover and swapping the chips.
Of note, you can harness the full power of the CPU and GPU by twisting the power button on the PC to the right. Or, if you're not gaming and you just want to stream a movie or browse the web, you can twist the power button to the left for "Silent Eco Mode."
If you're interested in more nitty gritty details, the ACEMAGICIAN AMR5 uses between 20W to 25W of power, and the fan speeds go up to 4200 RPM.
Finally, let's run through all the ports you get on the ACEMAGICIAN AMR5 Mini Gaming PC. On the front, you get a 3.5mm audio port along with one USB-C ports and two USB-A 3.0 ports. Around back, you have two more USB-A 3.0 ports along with an HDMI port, a DP display port, an Ethernet port, and the power jack.
How small is the ACEMAGICIAN AMR5 Mini Gaming PC?
Below, you'll find a photo I took of this compact desktop computer with a MacBook Pro. This way, you can get a good idea of how small the ACEMAGICIAN AMR5 Mini Gaming PC truly is.
Here's another photo… look at how small this thing is!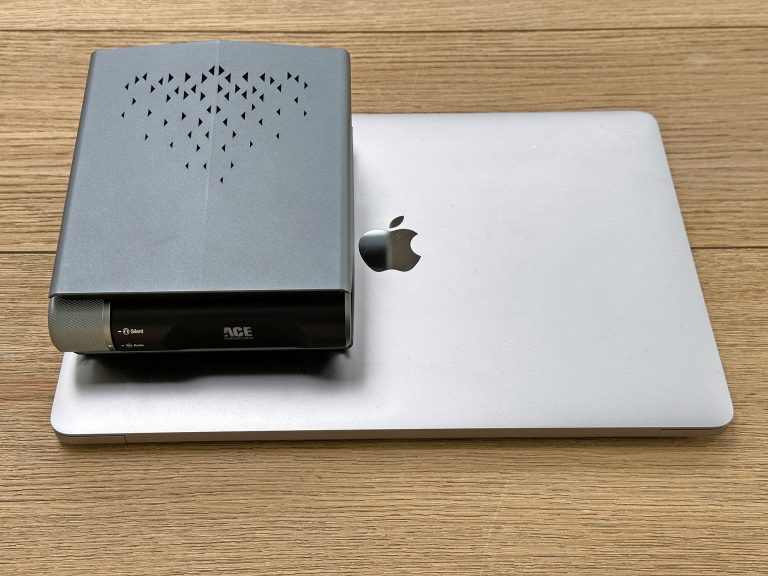 As you can see, this gaming PC is shockingly small. In fact, it's even smaller than Apple's Mac mini, which wouldn't be considered by anyone to be a gaming PC. I'm beyond impressed with how much power ACEMAGICIAN managed to pack inside this tiny little PC case.
ACEMAGICIAN AMR5 price
Another area where the ACEMAGICIAN AMR5 Mini Gaming PC really shines is the price.
The ACEMAGICIAN AMR5 has a retail price that starts at just $459 if you opt for the version with a Ryzen 5 4500U processor. That model also comes with 16GB of RAM and a 512GB SSD, just like the model I've been testing.
If you want the upgraded version with the Ryzen 5 5600U chipset, the retail price is only $40 higher at $499. And you can upgrade from 16GB of RAM to 32GB for $579.
Those prices are already impressive, but there's a deal running right now that saves you even more money. Thanks to a clippable Amazon coupon and an extra promo code (5CQYBAYE), You can get the ACEMAGICIAN AMR5 with a Ryzen 5 5600U CPU, 16GB of RAM, and a 512GB SSD for only $399.
Of note, this sale only lasts until April 5, so you have one week to get the ACEMAGICIAN AMR5 Mini Gaming PC on sale for $399.