If you purchase an independently reviewed product or service through a link on our website, we may receive an affiliate commission. Learn more.
Gaming laptops are more expensive than gaming consoles. This major discouraging factor stops gamers from purchasing gaming laptops over consoles. But, gaming laptops have the advantages of portability and the ability to play several former Xbox and PlayStation exclusives. They also have the added advantage of being multipurpose for work, gaming, and media purposes.
Some of the top deals now:
It goes without saying that everyone would want the best cheap gaming laptop deals. These gaming laptop deals will help you get gaming laptops at a significantly lower price than they usually cost.
Here are the best gaming laptop deals available now.
Best for a budget: Lenovo Legion 5i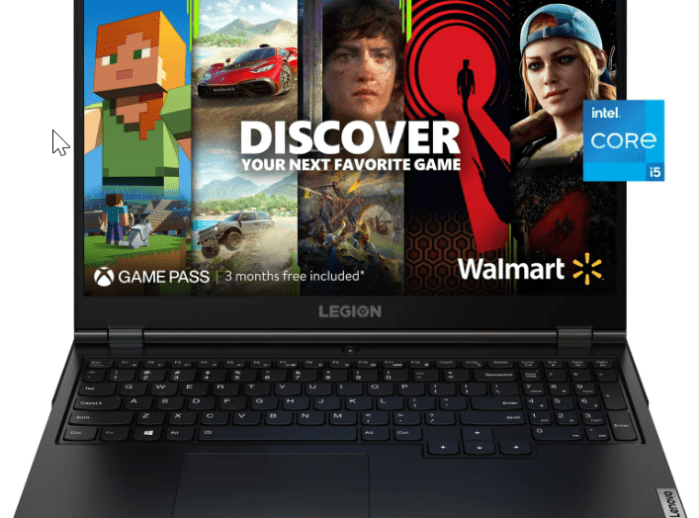 BGR may receive a commission
Why we like it
240 Hz display
Great keyboard
Good cooling technology
Good quality speakers
Good pricing
Previously sold for $1029.99 and now for $749, the Lenovo Legion 5i is one of the best cheap gaming laptops you can purchase now.
When you purchase the Lenovo Legion 5i, you get three months of free access to Xbox Game Pass. This budget-range laptop also comes with a Harman Kardon speaker system. If you decide to use headphones instead, you get 3D audio support with Dolby Atmos. The laptop comes with the Legion TrueStrike keyboard for fast keystrokes. The keyboard has a proper travel distance and sizeable arrow keys with a complete backlight.
The 4 GB Nvidia Geforce RTX 3050 is manageable. But, it will struggle to play some demanding games like Cyberpunk 2077 at 60 fps in high settings. The Lenovo Legion 5i uses Lenovo Coldfront 2.0 technology to ensure that its temperature remains controlled. So, say goodbye to extremely high temperatures when gaming. Also, you can only upgrade the 8 GB of RAM to 16 GB. But regardless, this laptop is a nice budget pick for casual gamers.
What to note about it
The Lenovo Legion 5i has a 6-core Intel® Core™ i5-10500H processor at a 2.5 GHz clock speed. You get 256 GB NVME SSD and 8 GB DDR4 RAM. 256 GB is definitely small for a gaming laptop. So you might want to consider getting more storage.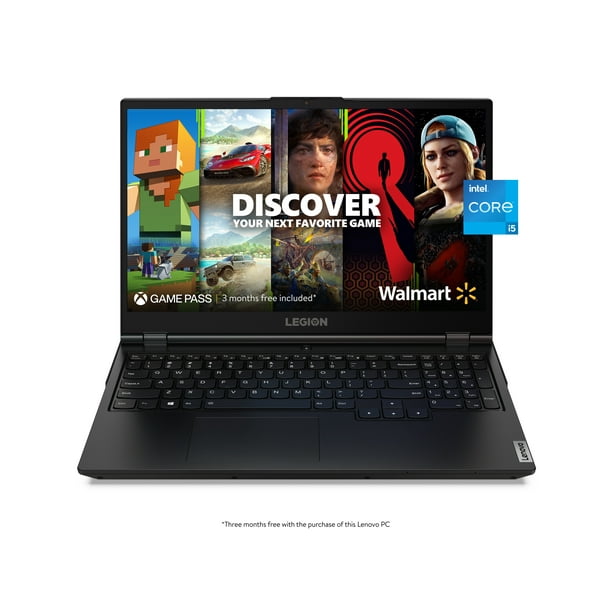 Lenovo Legion 5i
$749.00
Alternative budget pick: Acer Nitro 5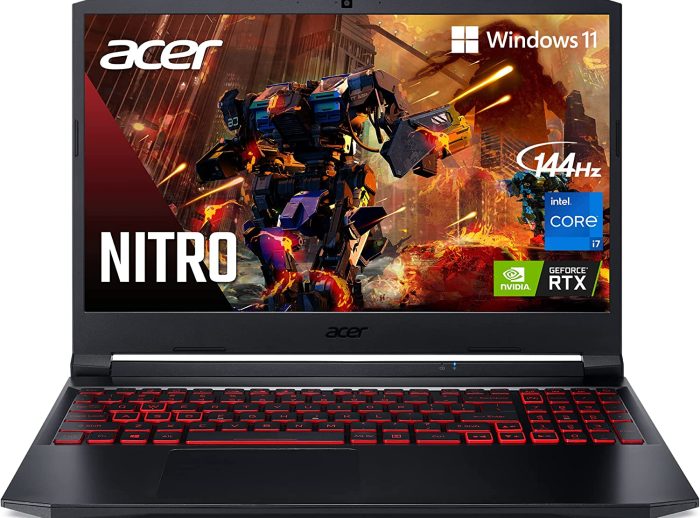 BGR may receive a commission
Why we like it
High-end 8-core Intel® Core™ i7-11800H processor
Impressive battery life
Killer Wi-Fi 6E
Great port selection
Enough hard drive and SSD bays
The Acer Nitro 5 offers the best combination of pricing and performance among budget gaming laptops for PC gaming.
The Acer Nitro 5's gaming performance is fantastic, and it will run all modern games with gorgeous graphics and impressive framerates. The 8-core Intel® Core™ i7-11800H processor is strong enough to handle any workload you throw at it, be it gaming or video editing.
If the 8 GB RAM is not enough for you, there is an additional RAM slot. Both RAM slots can accommodate up to 32 GB DDR4 RAM. There is an additional PCIe M.2 slot for another SSD and a 2.5″ hard drive bay.
The killer Wi-Fi 6 1650 and Ethernet E2600 combo lets you combine both Ethernet and Wi-Fi at the same time. This provides increased speeds for blistering fast downloads. The backlit keyboard ensures you can keep typing and playing the latest games even in the dark.
The 144Hz IPS display is nice and fast for competitive gameplay. You get up to 8 hours of battery life when working on low-performance tasks. The Acer Nitro 5 comes with Windows 11 installed like most gaming laptops available now.
The Acer Nitro 5 has the right combination of ports, with three USB 3.2 Type-A ports and a USB 3.2 Type-C Gen 2 port. One of the USB 3.2 ports offers power-off charging. You also get an ethernet port, a 3.5mm headphone/speaker jack, and an HDMI 2.0 port.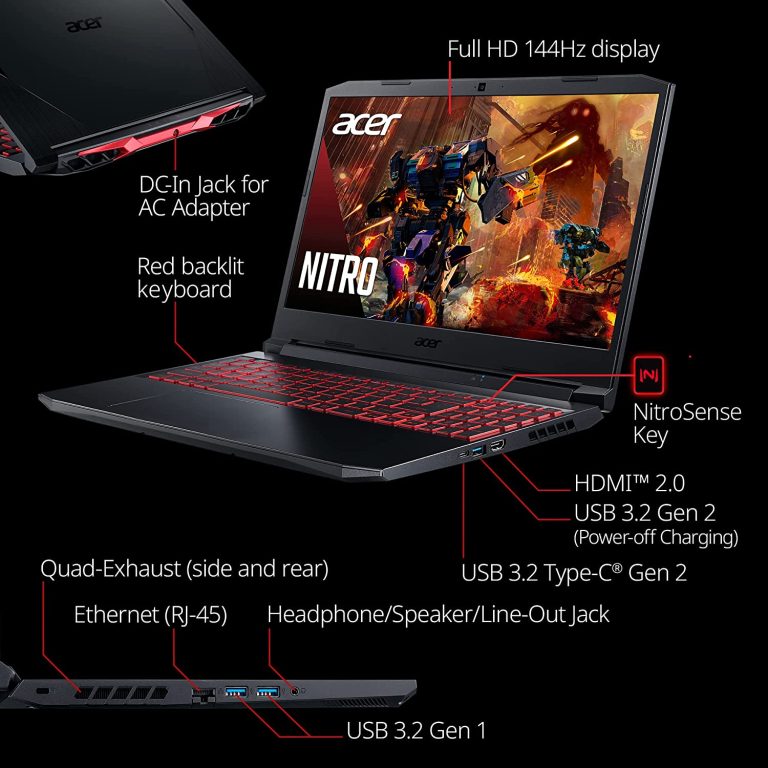 The Acer Nitro 5, at $923.98, is a fantastic gaming laptop deal. Get this laptop now while it is still available at this great price.
What to note about it
The Acer Nitro 5 comes with 8 GB RAM and a 512GB SSD. 8 GB is definitely not small, but it's not good enough for the top-of-the-line AAA games.
Acer Nitro 5 AN515-57-79TD Gaming Laptop | Intel Core i7-11800H | NVIDIA GeForce RTX 3050 Ti La…
$929.99
$770.00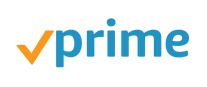 Save up to 17%
Best premium gaming laptop deal: Razer Blade 14
BGR may receive a commission
Why we like it
Powerful gaming laptop
Slim, sleek form factor
High-end graphics card
Gorgeous display
Great battery life
Previously costing $2,799.99, the Razer Blade 14 is now on sale for $2,303.49 on Amazon. Purchasing the Razer Blade 14 now will save you a whopping $450. The $450 price savings is the cost of some budget laptops!
The ultra-thin Razer Blade 14 laptop has a thickness of 0.66 inches when closed. The green Razer logo characterizes the Razer Blade 14's anodized finish at the center of the back. Despite how thin it is, the Razer Blade 14 is durable thanks to the quality aluminum used for the casing.
Play games in ultra at 1440p resolution thanks to the super-packed 8 GB Nvidia RTX 3080 graphics card. The powerful 8-core AMD Ryzen 9 5900HX processor can be turbo-boosted up to 4.6 GHz for more CPU power.
You don't need an external monitor to enjoy mouthwatering, raytracing gaming graphics with the Razer Blade 14. This laptop comes with a Quad HD 165Hz display. The IPS display comes with AMD FreeSync Premium and offers 100% DCI-P3 color.
Enjoy quiet gaming performance on the Razer Blade 14 thanks to the vapor chamber cooling technology. This technology utilizes a cooling fluid that runs through the laptop to cool its internals.
You might think the Razer Blade 14 will run too hot due to its slim form. But no, its temperature when gaming is quite the same as other bulky gaming laptops.
You get two obligatory USB 3.2 Type-A ports, two USB-C ports, an HDMI 2.1 port, and an audio jack. One of the Type-C ports supports charging with regular 20V USB-C chargers.
The laptop also comes with killer Wi-Fi 6E and a Windows Hello camera. The backlit keyboard illuminates nicely with the customizable RGB key lighting. You get over 10 hours of battery life when working on low-performance tasks. Gaming battery life is much less than that.
The Razer Blade 14 is one of our favorite gaming laptops. You won't find many gaming laptops as loaded as this laptop. It is designed for PC gamers who don't mind splurging on a gaming laptop that will offer them the best gaming performance.
What to note about it
The Razer Blade 14 offers monstrous gaming performance in a sleek, portable gaming laptop. Unfortunately, you can't upgrade the Razer Blade 14's 16 GB RAM. The RAM is soldered to the motherboard to maintain its slim factor. And as the name suggests, it has a small 14-inch screen.
Razer Blade 14 Gaming Laptop: AMD Ryzen 9 5900HX 8 Core, NVIDIA GeForce RTX 3080, 14" QHD 165Hz…
$2,799.99
$2,099.99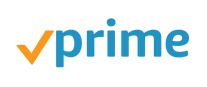 Save up to 25%
Great entry-level gaming laptop deal: HP Pavilion Gaming
BGR may receive a commission
Why we like it
Inexpensive gaming laptop
Turbo-boost processor
Good ports selection
Decent speakers
This 15.6″ HP Pavilion gaming laptop is a cheap gaming laptop that will cost you $775. It was previously $879 before the price dropped to $775. Thus, you get to save $104 on a laptop that was already cheap.
The core i5-9300H processor has a clock speed of 2.4 GHz, which you can turbo boost to 4.1 GHz. You get 8 GB of RAM, which you can upgrade using any of the two available RAM slots.
The 256 GB storage space is barely enough for the operating system, your files, and your games. But you can upgrade the storage with the extra SSD and HDD slots.
The HP Pavilion comes with a good selection of ports. It has three USB 3.1 Type-A ports and a Type-C port. You also get the regular RJ45 ethernet port, an HDMI port, and a microphone/headphone jack. The laptop comes factory fitted with Bang & Olufsen speakers. It also has a green backlit keyboard.
The HP Pavilion gaming laptop performs just fine for its price point. This is a solid buy if you need an entry-level laptop for gaming and other tasks.
What to note about it
The HP Pavilion comes with an entry-level GTX 1650 graphics card. Of course, we won't demand much from an entry-level graphics card. But the GTX 1650 graphics card is decent enough to handle most games in medium to high settings. Don't expect them to all run at 60fps, though.
HP Pavilion Gaming 15.6-Inch Micro-EDGE Laptop, Intel Core i5-9300H Processor, NVIDIA GeForce G…
$763.70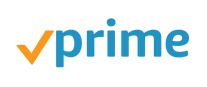 More gaming laptop deals to enjoy
There are plenty more gaming laptop deals to look at. They change daily, weekly, and monthly. We will be on top of the best gaming laptop deals as best we can.
Whether you need a 8GB or 16GB option, there are choices to be made for you. You can check Best Buy, Target, Walmart, and Amazon for some of the most frequent places to find the best gaming laptop deals.
Best Buy
Walmart
Amazon
FAQ
Who has the best gaming laptop deals?
BGR has the best gaming laptop deals from retailers like Amazon, Best Buy, and Walmart. BGR will keep you informed of the best deals from these retailers. We'll also provide helpful tips, in-depth reviews, and the best tech tutorials to help you choose the best laptops. Check out more deals here.
What are the top 3 best gaming laptops?
There is no strict ranking for gaming laptops. Most gaming laptops are fine as long as you read a detailed review on them to know their pros and cons. You will find quality gaming laptops from manufacturers like Razer, Acer, Asus, Alienware, Lenovo, HP, and others.
Is an RTX 3050 laptop worth it?
Yes, RTX 3050 laptops are worth it. They come with mobile versions of the Nvidia RTX 3050 graphics cards. Most RTX 3050 laptops are affordable and capable of playing games adequately.
How much RAM do I need for gaming?
We recommend 16 GB of RAM for playing games and multitasking. 8 GB is the minimum, but 16 GB is ideal.
Is 8GB RAM enough for gaming?
8 GB RAM is okay for budget and instant access to gaming laptops. But you might want to upgrade to 16 GB RAM for better performance.
Is there a big difference between 3050 and 3060?
Yes, there is a significant difference between the RTX 3050 and 3060 graphic cards. There is approximately a 30% difference between both graphics cards. The RTX 3060 provides much more improved gaming performance than the RTX 3050.
Is RTX 3050 Ti enough for gaming?
Yes, the RTX 3050 Ti is enough for gaming. It will run most laptop games smoothly at high settings.
Is RTX 3050 overkill?
No, it isn't. RTX 3050 is the lowest and cheapest graphics card in the Nvidia RTX 3000 lineup. RTX 3050 provides a good combination of budget and gaming performance. Rather than opt for something lower, go for the RTX 3050 to future-proof your gaming laptop. That way, you can still play newer games that will be released in the future instead of buying a new laptop.
Is RTX better than GTX?
Yes, RTX graphics cards are better than GTX graphics cards. RTX graphics cards have ray tracing capabilities for better gaming graphics, reflections, and lighting. Nvidia announced the RTX name brand with the Nvidia RTX 2000 series. Other future brands of Nvidia graphics cards will bear the RTX tag, and the GTX tag has been discarded.
More coverage: See the best laptop deals for this month!
---
Our deals and product reviews are picked by BGR's expert editors and team.

Follow @BGRDeals on Twitter to keep up with the latest and greatest deals we find around the web. Prices subject to change without notice and any coupons mentioned above may be available in limited supply.