Xiaomi has always had a somewhat unpredictable strategy when it comes to their mobile devices. Wild designs like the Mi Mix stand out the most, but the company's smartphone lineup is packed with products that regularly overlap each other. The Mi Note 3 is one of those devices, filling what Xiaomi saw as a need for a Mi 6 with a slightly larger screen. But the Mi 6 is, by most accounts, an incredibly solid device, so the Note 3 must be too, right? Actually, yeah.
More than any other Android phone I've ever used the Mi Note 3 feels like it was designed for people who want an iPhone that runs Android. The Note name might make you think Samsung is the target here — especially since the Mi Note 2 was clearly inspired by Samsung's Note 7 design — but it doesn't take long to realize what is going on with the Note 3. Virtually everything about the design, from the touch-sensitive, fingerprint-reading home button, to the perfectly rounded edges, and even the placement of the front and rear cameras, is a spot-on match for the iPhone "Plus" models.
A 5.5-inch, 1080 x 1920 display rules the front of the device, which stands just a hair over six inches tall, making the phone both thinner and shorter than the iPhone 8 Plus, but with the same size screen and resolution. The rear-facing 12-megapixel dual camera setup boasts a dual LED flash, optical image stabilization, and 4K video recording (at 30 fps). OIS is absolutely noticeable in photos, and while your snapshots might not come out looking like slightly oversaturated Hollywood stills (like on the Note 8), this phone has some impressive photography chops.
Are you a selfie addict? You probably will be with one of these in your pocket. The front-facing camera is a beefy 16 megapixels and has a host of fancy features clearly geared at making your self portraits the best they can be. Xiaomi's (sometimes controversial) beautification feature sees a return, adding what the company says is AI-powered real-time processing of your face to enhance your features while also smoothing your skin and giving you a more even tone. In practice, the feature works as advertised, but as is the case with many beauty filters the resulting photo can feel a bit artificial.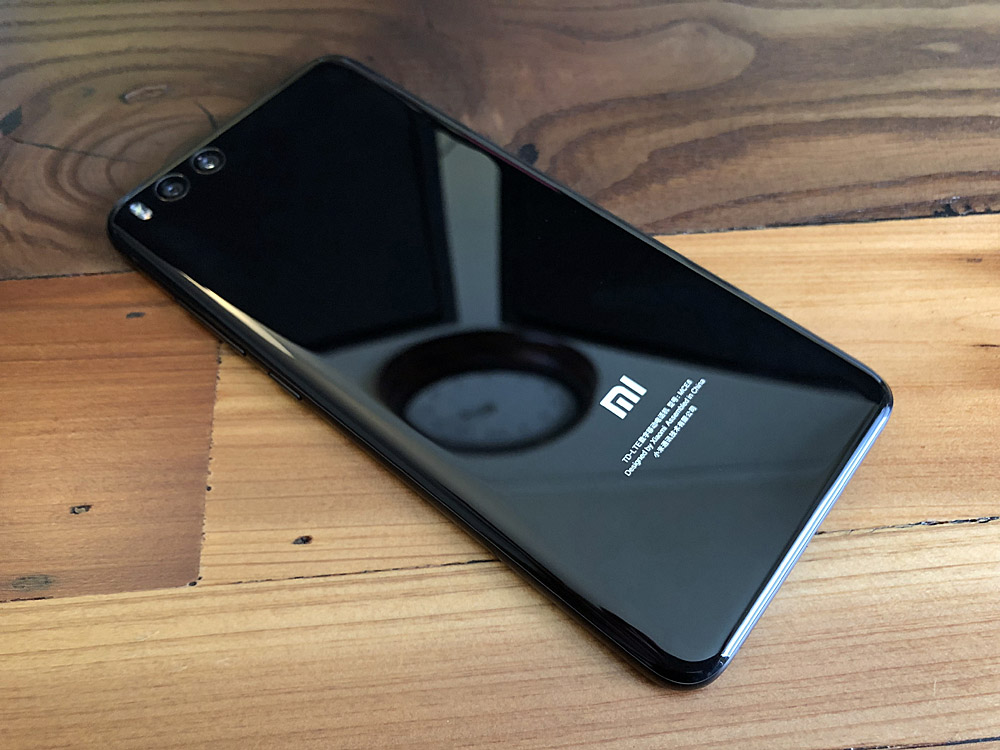 On the inside, Qualcomm's Snapdragon 660 does the heavy lifting, which is on the upper end of adequate, though it won't be blowing the doors off any benchmark tests. The chip is paired with 6 GB of RAM and 128 GB of built-in storage. A 3500 mAh battery rounds out the innards and in my heavy usage has managed to remain neck-and-neck with my Note 8 in terms of power drain.
On the software side, MIUI 8.5 will be familiar to anyone who has used past versions of Xiaomi's special flavor of Android. In this case, the software is built upon Android 7.1, and it's snappy and responsive to navigate. Downloading the Google default apps (they don't come pre-installed) takes about a minute from the Xiaomi app marketplace and after disabling and deleting a few Chinese-only apps it's a perfectly serviceable daily driver for any English speaker.
One of the most pleasant surprises about the Mi Note 3 is the build quality. It's so incredibly comfortable to hold that it's easy to fall in love the second you grab it. Xiaomi has gotten better and better at replicating the premium feel of much more expensive phones over the past few years and the Note 3 really nails it. It's solid, glossy, with virtually no flexibility, and feel like nothing in a pocket. There's not much more you can ask for.
All told, it's hard to find many faults in the Mi Note 3. A great (if familiar) design matched with above-average components and stellar usability has really become Xiaomi's strength, and this is yet another example of that.
Its similarities to the iPhone's Plus models are hardly a knock against Xiaomi, as the company has never been shy about following trends set by the big dogs in mobile, but the real story here is how well they manage to pull it off. It would be much harder to excuse the obvious Apple inspiration if the phone wasn't such a pleasure. Oh, and then there's the little matter of it being incredibly affordable, with prices landing at around $450 depending on where you look. Gearbest (which provided our review unit) currently has the Mi Note 3 at $409.99.