Today, bezel-less displays are the expectation for any flagship phone. If the screen doesn't spill over two or more edges, it's almost laughable to many gadget lovers and early adopters. It was, of course, inevitable, but the first device to really push the envelop and demonstrate how absurdly gorgeous a phone could be when you killed the bezel was Xiaomi's Mi Mix.
It was such an outrageous design — a 6.4 inch display that filled three of the four edges of the device — that Xiaomi had to call it a "concept phone," and only intended to make it in very limited quantities. Now, the Mi Mix 2 is here, and it manages to preserve much of what made the original so eye-catching, while making the whole package a lot more usable.
Let's get the most obvious thing out of the way first: Xiaomi's Mi Mix 2 is a gorgeous device. The all glass front paired with a ceramic back and metal unibody — or full ceramic unibody on the limited edition versions — is just a treat. It feels great in the hand and, while it can get a bit slippery, it feels solid and the build quality is excellent.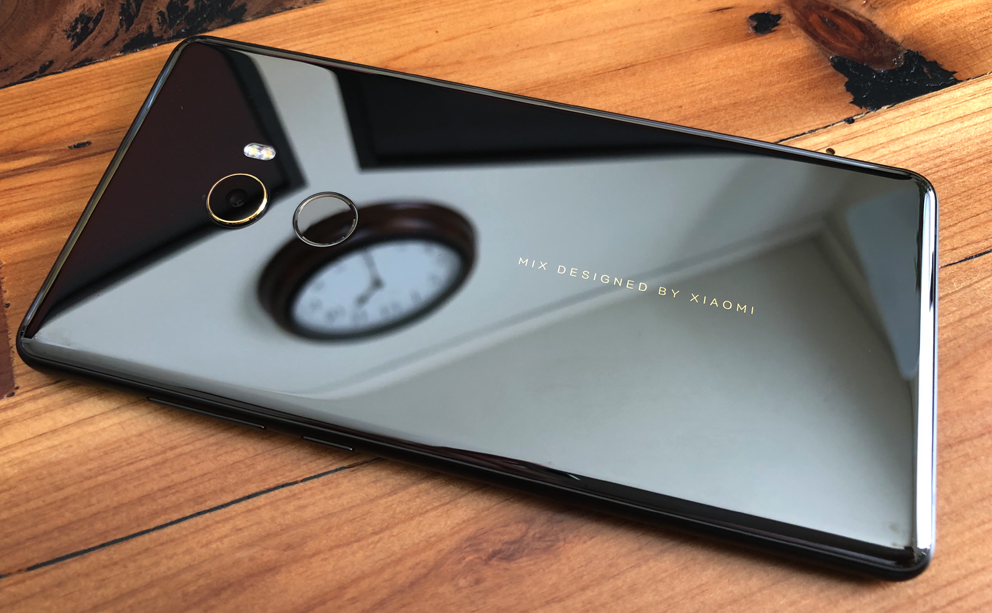 The display is obviously the star of the show, but this sequel doesn't push the boundaries set by its predecessor, and in some ways it actually takes a step back. The 1080 x 2160 resolution is a slight bump up from the 1080 x 2040 display of the first Mi Mix, but that comes with an asterisk. The 6.0-inch screen is smaller than the original's 6.4-inch display, and the pixels don't push as far against the edges and corners as they did the first time around. In short, the Mi Mix 2 has more bezel than its predecessor.
Xiaomi hasn't come out and said it, but I'd wager the reason for this is pure functionality. The first Mi Mix saw no shortage of criticism for its habit of reading phantom touches when held, and when it comes right down to it, a screen that spills over the edge serves no purpose beyond aesthetics, and ultimately hinders the user experience. Instead, having the tiniest of edges all the way around — similar to what Apple has done with the iPhone X — is much more of a happy (and functional) medium.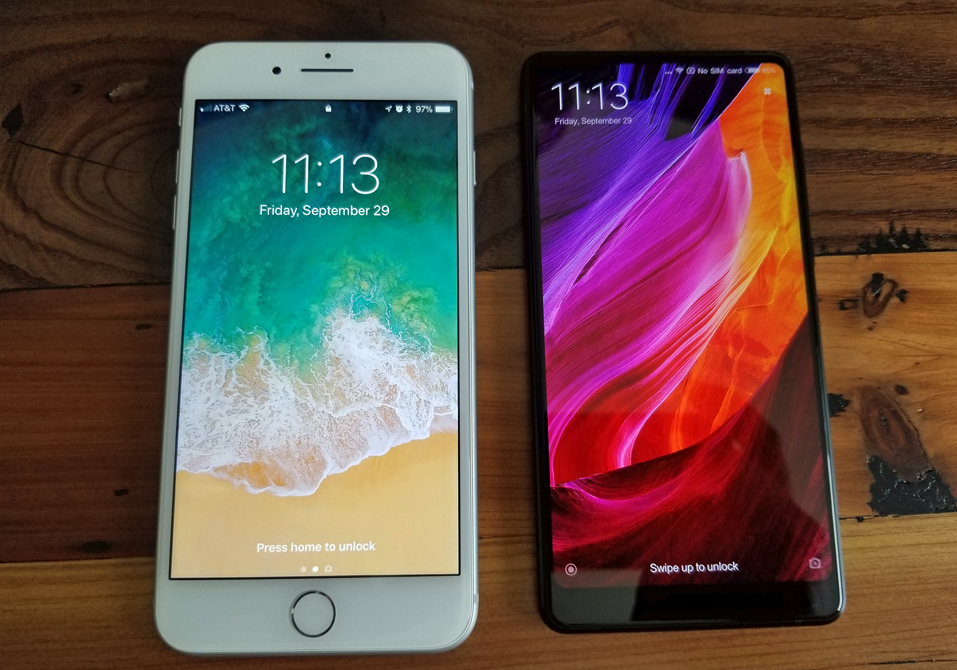 Speaking of the exterior, there's a couple other items of note, including the recessed fingerprint sensor — which, by the way, is incredibly fast and might even give TouchID a run for its money — and the raised camera lens. We've grown to accept camera bumps at this point, but it's still a bit of a disappointment, and the fact that Xiaomi decided to put a bright gold ring around it is nothing short of baffling. It's not deal-breaker material, but it's the only real head-scratcher on an overall stunning device.
In terms of what's missing, you'll notice no headphone jack (an adapter is included) and no expandable storage. The phone can be configured with anywhere from 64 GB to 256 GB of storage, so that last point isn't a huge issue, but as always, it would have been nice. There's also no wireless charging — powering up is handled by a USB-C port — and the phone boasts no water resistance or environmental features of any kind.
That said, the rest of the hardware package is in keeping with the premium feel. Both the 12 MP rear-facing camera and 5 MP front-facing lens are on the higher end of adequate. We get face detection, optical image stabilization, and plenty of shooting options for still photos. Video recording boasts up to 4K resolution, which is nice, but both 4K and even 1080p video is capped at 30 frames per second. 1080p at 60fps should be a standard feature these days, so that's a bummer.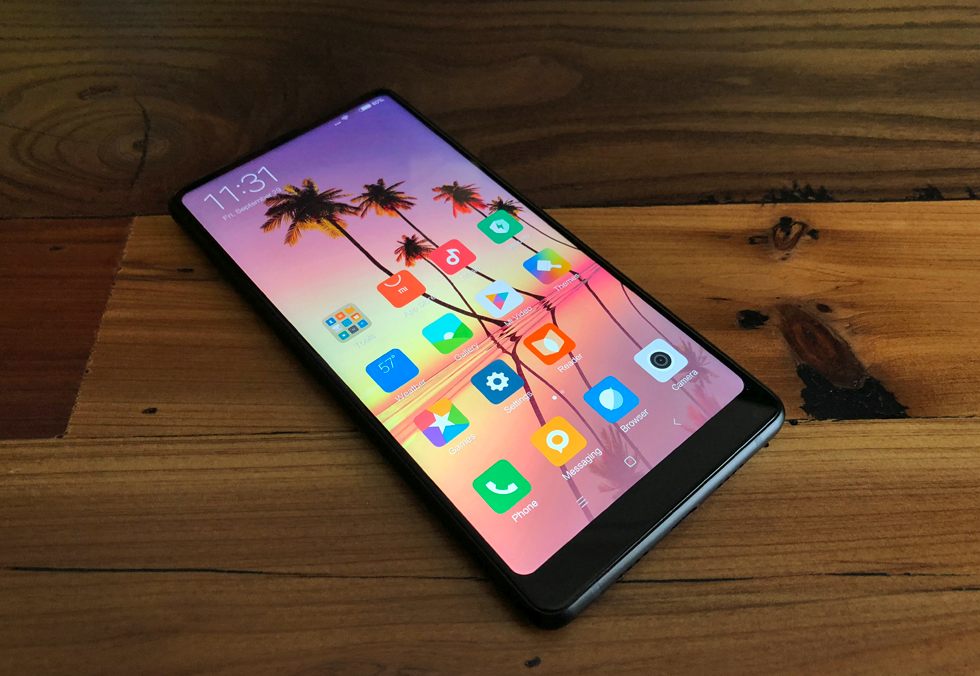 Inside, a Snapdragon 835, Adreno 540, and 6 GB of RAM (or 8 GB on the limited edition model) keep everything feeling very snappy and smooth. Rapidly switching between HD videos, apps, and web browsing didn't give me any issues, and it wasn't until I landed on a few ad-filled web pages that I saw anything remotely resembling lag. It's not a future-proof phone (those don't exist) but you're going to enjoy plenty of power for the foreseeable future.
Okay, so the phone is gorgeous and everything works (mostly) great. Case closed, right? Well, not exactly.
This is a Xiaomi phone, which means you'll need to wave goodbye to your dreams of stock (or even stock-ish) Android. The Mi Mix 2 comes with MIUI 9, which is Xiaomi's OS built on top of Android 7.0. It can be configured in English from the start (though you'll still find some Chinese-only apps pre-installed) but you'll have to do a little extra work to make this a comfortable daily driver in the US. If you buy the global version, you'll find Google's apps pre-installed, but the Chinese launch version comes with none of that, including Google Play. Thankfully, Xiaomi's app store has a single-download Google app suite that gives you everything you need.
The plus side of MIUI is that it's updated more often than any other OS you've ever used, especially on a mobile device. Security and functionality tweaks are constantly being pushed to the device, and updating typically takes less than a minute each time one shows up.
Much like a concept car which has its boldest, but ultimately unconventional aspects toned down before hitting the assembly line, the Mi Mix served as the inspiration for what is ultimately a more usable, but still unique device in the Mi Mix 2. The software is perhaps a bit rough around the edges if you're buying one for use outside of China, but that shouldn't stop you from enjoying the many upsides it has to offer. The Mi Mix 2 starts at around $600, depending on where you find it, but GearBest (which provided our review unit) currently has it for $569.99.