It's already been an impressively busy WWDC, with Apple introducing new iterations of watchOS, iOS and macOS. Not only that, but we also saw the introduction of revamped MacBooks, a brand new iMac Pro, and of course a sleek 10.5-inch iPad model. As is typically the case, though, Apple saved its biggest announcement for last. As previously rumored, Apple just a few moments ago — after a somewhat lengthy iPad demo period — introduced a brand new Siri-based speaker that will perhaps give devices like Google Home a run for their money.
Prefaced with Apple's patented "One more thing!" introduction, Tim Cook and Phil Schiller announced a new speaker designed to reinvent the way we listen to music at home. A product that was years in the making, Apple claims that its speaker is a "breakthrough home speaker" that it's calling HomePod.
It will ship later this year and is available in black and white. Apple's HomePod features an A8 chip with a unique woof designed in-house at Apple. Phil Schiller noted that the HomePod incorporates multi-channel echo cancellation and can handle real-time acoustic modeling. Put differently, the audio you'll hear from HomePod will adjust dynamically to fit the room it happens to be located in.
The design itself is rather compact and looks somewhat similar to Google Home, albeit not as pleasing to the eyes. If anything, the speaker's form factor looks remarkably similar to the design Apple used on the trashcan Mac Pro.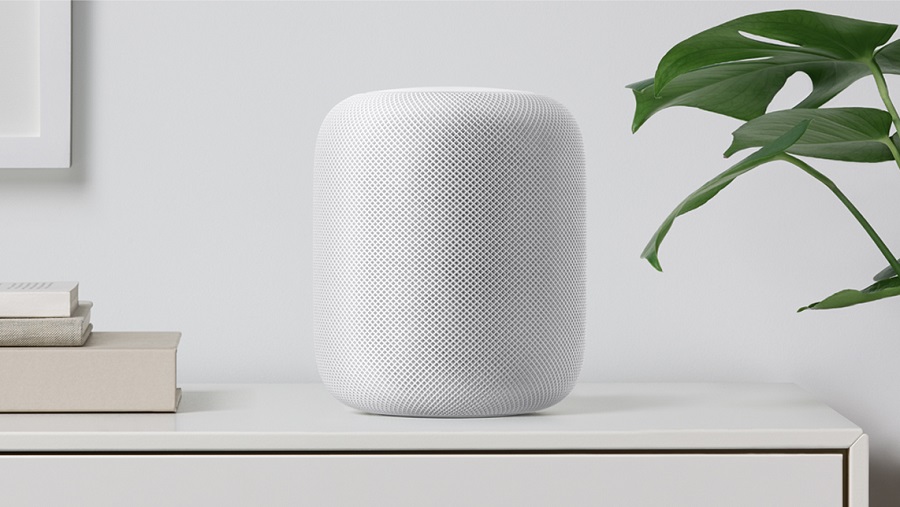 HomePod, as expected, comes with Siri support and features 6 different microphones. In other words, it should be much more responsive than Siri on the iPhone. Phil Schiller
Some of the commands it can handle include: "What is the newest Adele album?", "When was this recorded?" and "What was the top song on May 4, 2014?"
The HomePod will retail for $349 when it launches in December.
Apple's press release reads in part:
HomePod is designed for voice control with an array of six microphones, so users can interact with it from across the room, even while loud music is playing. By saying, "Hey Siri, I like this song," HomePod and Apple Music become the perfect musicologist, learning preferences from hundreds of genres and moods, across tens of thousands of playlists, and these music tastes are shared across devices. Siri can also handle advanced searches within the music library, so users can ask questions like "Hey Siri, who's the drummer in this?" or create a shared Up Next queue with everyone in the home. HomePod, Apple Music and Siri deliver the best music experience in the home that streams ad-free directly to HomePod.

As a home assistant, HomePod is a great way to send messages, get updates on news, sports and weather, or control smart home devices by simply asking Siri to turn on the lights, close the shades or activate a scene. When away from home, HomePod is the perfect home hub, providing remote access and home automations through the Home app on iPhone or iPad.
For anyone curious as to what the HomePod brings acoustically, Apple writes:
Apple-designed upward-facing woofer, paired with the custom A8 chip, enables bass management through real-time software modeling that ensures the speaker delivers the deepest and cleanest bass possible, with low distortion;
Custom array of seven beam-forming tweeters, each with its own amplifier, provides well-balanced smooth timbre as well as precise directional control of a multitude of beam shapes and sizes;
Apple-designed A8 chip provides the brains behind the advanced audio innovations;
Automatic room-sensing technology allows HomePod to quickly learn its position in a room, whether it's in a corner, on a table or in a bookshelf, and within seconds, is perfectly optimized to deliver an immersive music listening experience wherever it is placed;
Six-microphone array with advanced echo cancellation enables Siri to understand people whether they are near the device or standing across the room, even while loud music is playing;
Siri waveform appears on the top to indicate when Siri is engaged, and integrated touch controls also allow easy navigation;
Automatic detection and balance of two speakers using both direct and reflected audio to deliver amazing audio wirelessly for an even more immersive experience; and
Easy setup that is as intuitive as setting up AirPods — simply hold an iPhone next to HomePod and it's ready to start playing music in seconds.
Developing…