Apple's Wonderlust event is now over. The tech company delivered all the new products we anticipated. The iPhone 15 series, the Apple Watch Series 9, Apple Watch Ultra 2, and the USB-C AirPods Pro were all unveiled, and you'll soon be able to get your hands on your desired combination of the fall 2023 lineup of Apple devices.
But while Apple confirmed almost every iPhone 15 and Apple Watch rumor, there were a few surprises. One concerns the iPhone 15's ability to become a power bank you can use to recharge your Apple Watch and AirPods. Will it work with other devices? We aren't sure yet.
The other day, I said that the MagSafe Battery Pack becomes an attractive accessory for this longtime iPhone user if it gets USB-C support. That's because the battery pack could recharge all sorts of devices via USB-C. That's something not available from the Lightning version. I'm assuming, of course, that Apple would enable the functionality.
But I have high hopes for the next-gen MagSafe Battery Pack, considering what Apple just did with the iPhone 15.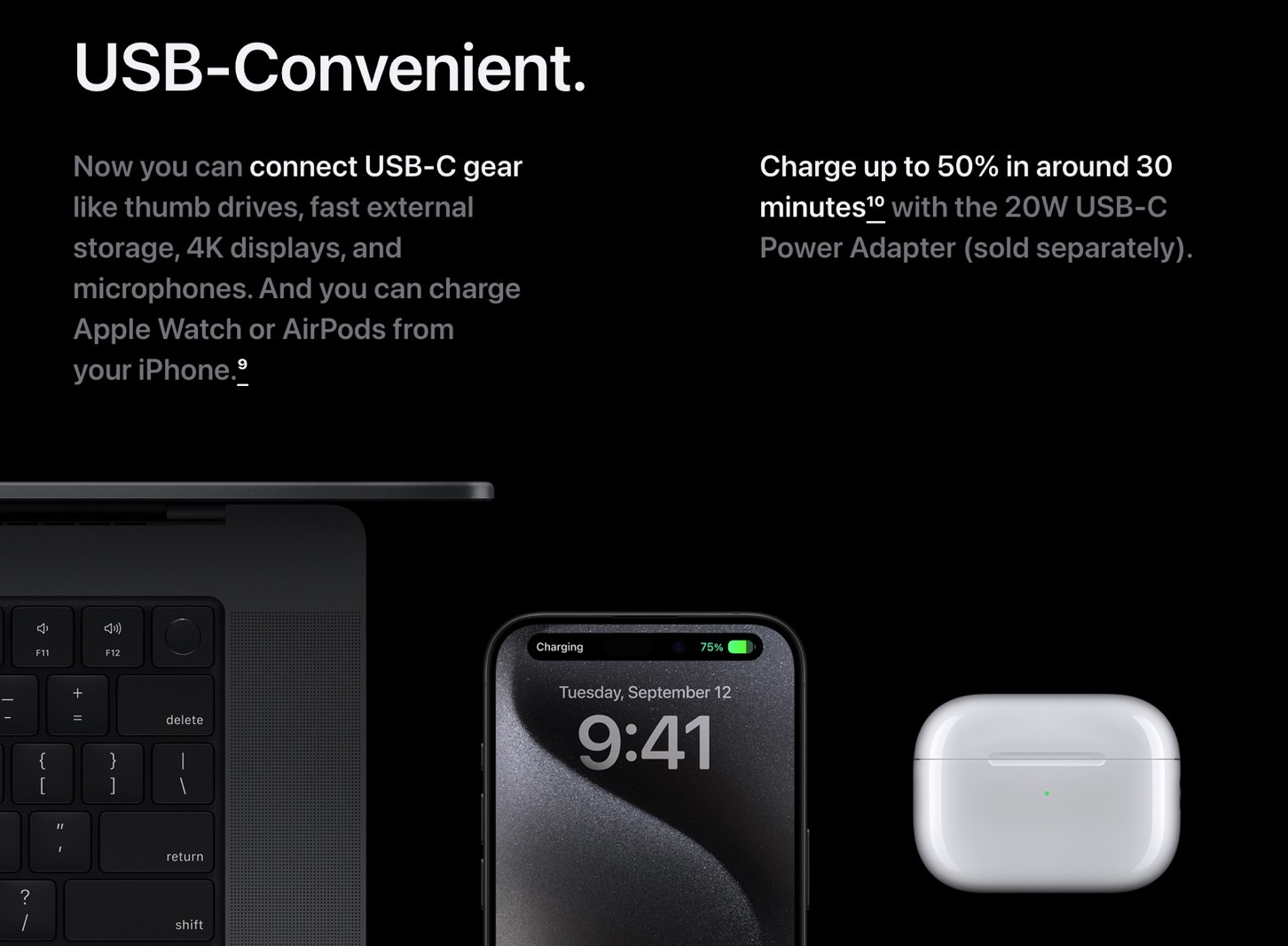 Tucked away in the official press releases for the four iPhone 15 models, you'll find this:
Users can also charge AirPods or Apple Watch directly from iPhone with the USB‑C connector.
Moreover, the iPhone 15 Pro product pages also mention the feature. To clarify, all four iPhone 15 models — the iPhone 15, iPhone 15 Plus, iPhone 15 Pro, and iPhone 15 Pro Max — will be able to recharge your Apple Watch and your AirPods.
That's an exciting iPhone 15 feature to have in case of emergencies. Say you forgot to recharge your Apple Watch and/or AirPods at home, and the iPhone 15 is the only energy source. You should be able to get the Watch and AirPods going until you find an alternative.
Depleting the iPhone 15 battery to recharge the Apple Watch and/or AirPods shouldn't become a habit. But it's still a feature I didn't expect the new iPhones to support.
On that note, it'll be interesting to see if the iPhone 15 models can also power other devices via USB-C. Given Apple's explicit wording above, I suspect that won't happen. But we'll soon learn more about the feature as the iPhone 15 models hit stores on September 22nd.
And yes, the iPhone 15 models ship with braided USB-C cables. They'll be white rather than matching the iPhone colors, but it's the woven part that matters here.