Samsung recently released the ViewFinity S9 monitor, its Apple Studio Display competitor. Since both have a 27-inch 5K display, offer the same maximum brightness level, and cost $1,599, which one should users buy?
YouTuber Jerry Schulze published a comprehensive comparison video between the two products, and it's beneficial to understand which one you should buy depending on your needs. Here are the highlights of his comparison.
Samsung ViewFinity S9 or Apple Studio Display?
One of the things that calls Schulze's attention is the unboxing experience. While Samsung offers its product in a regular box, Apple gives a more premium package, which shows the company's attention to detail.
After that, he compares design and stands. While Samsung's 27-inch display has thinner bezels compared to Apple's Studio Display, the overall design of Cupertino's monitor is completely made of aluminum, while Samsung uses plastic and only offers an aluminum stand, which gives Apple a more premium look and feel at your office's desk.
He points out that Samsung offers a free matte display and adjustable stand, while Apple charges extra for both features. That said, Schulze notes that cable management and adjusting the stand is a bit clumsy as the power cable often falls when adjusting the monitor's height. On the other hand, Apple's optional adjustable stand is smooth and firm.
He then compares display, color, and bleed. Both screens are great and have smaller advantages over each other. Although he mainly praises Apple's calibration for the Mac, he highlights Samsung's tool that lets you recalibrate the display using your smartphone.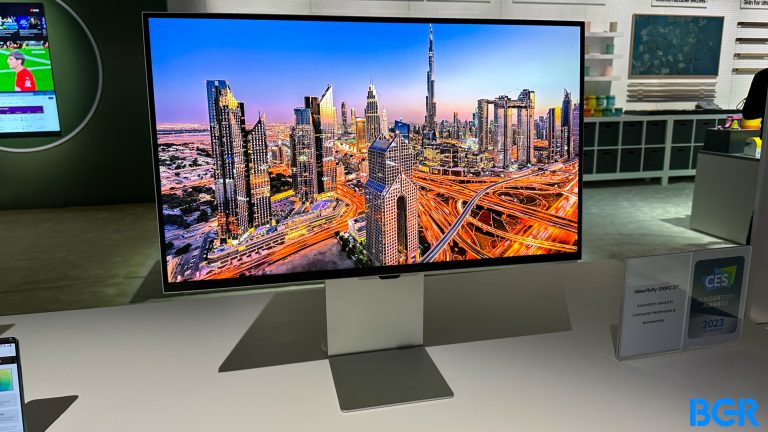 For Schulze, what might be a dealbreaker is the speaker of these monitors. While Apple has already been praised for its incredible sound for the Studio Display, he shows how disappointing Samsung's ViewFinity S9 sound is. More importantly, Samsung calls this monitor "smart," which means it can be used as a TV – but since sound quality is so poor, he does not recommend this display for that purpose.
Lastly, one of the things that surprised me was the webcam comparison. While both webcams are not great, Samsung's 4K resolution option is worse than Apple's Full HD built-in camera. Wow.
Which one should you buy?
For Jerry Schulze, the Apple Studio Display is still the option to buy if you want a 5K monitor. He says the Samsung ViewFinity S9 display is a no-brainer decision if you find it below $1,000. Otherwise, you are spending a lot and not getting everything for the premium price.
Below, you can check Jerry Schulze's in-depth comparison between the two displays.