We've known for a while that Charter is planning on launching its own cell plans, following on the success that Comcast has had with Xfinity Mobile. BGR has learned that Charter recently sent a consumer survey to some of its customers gauging their interest in a new product called Spectrum Mobile. From the looks of the survey, the service will have unlimited and per-GB options, and start at just $12 per month.
Spectrum's service will lean heavily on Verizon's cellular network for connectivity, although the idea is to use Charter's existing network of Wi-Fi hotspots, and fill in the gaps with Verizon service. In practice, that means you might piggyback on Wi-Fi in dense urban areas, but any time you're more than 50 feet from a Charter household, you'll be on Verizon. The advantage of Charter's service will be the price: per-GB options start at $12 per GB, which also include unlimited talk and text. An unlimited plan is $45 from Spectrum Mobile, while the equivalent Verizon plan is $75.
The details come from a survey that Charter sent to some of its existing cable and internet customers, and might not reflect the final pricing. However, previous reports have suggested that the service is going to launch on June 30th, so there's a very good chance the pricing and plans Charter is trying out now are the final versions.
Of course, there are a few caveats. Just like Comcast's Xfinity Mobile service, you'll have to be an existing Charter cable or internet customer, which limits potential customers to anywhere that gets Charter/Spectrum/Time Warner Cable service. It's also unclear whether customers will be able to bring their own device, or if not, what device options Spectrum Mobile will have. The survey only said "the hottest and most popular phones," and judging by what Xfinity Mobile offers, that will mean iPhones and Samsung Galaxy flagships.
Still, those details aside, Spectrum Mobile is likely to be extremely popular for anyone who qualifies. $45 per month for unlimited data is a much better deal than any of the big carriers, and with Verizon handling the cellular data, coverage will be excellent. The option to mix-and-match per-GB and unlimited plans on the same account is also valuable, as lighter data users in a family won't be forced onto a plan that they'll never use.
Xfinity Mobile has been available for just one year, but according to the most recent numbers, the service has already added 577,00 subscribers. Its rate of subscriber addition rivals any of the big four wireless carriers, and with identical pricing, you can expect Spectrum's plans to be equally popular.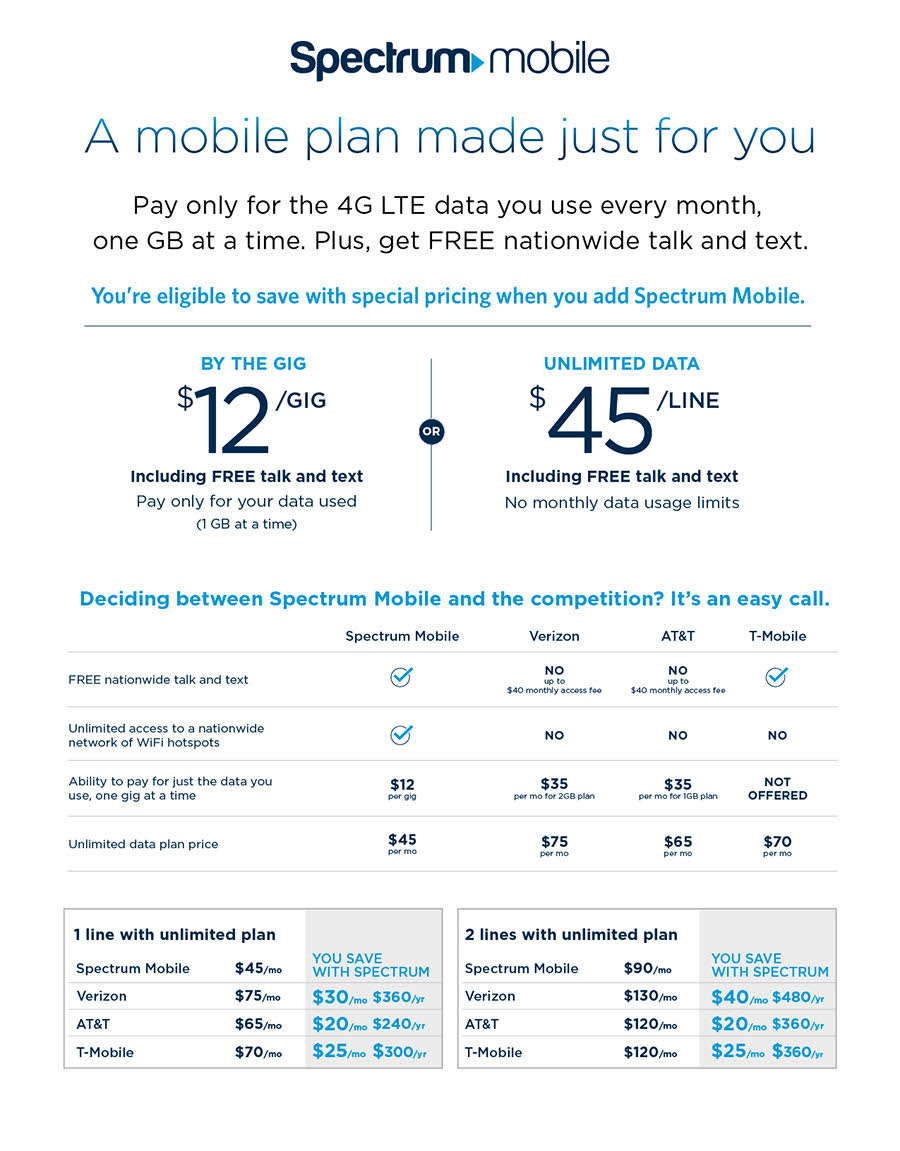 FCC filings also indicate that Charter may have bigger ambitions than just MVNO operations. "The wireless component of Charter's network is transitioning from a nomadic Wi-Fi network to one that supports full mobility by incorporating Wi-Fi with multiple 4G and 5G access technologies to deliver a seamless connectivity experience," Charter said in a recent filing. "In navigating this transition, Charter is emphasizing an 'Inside-Out' strategy, focusing first on wireless solutions inside the home and office, and then eventually expanding outdoors."
The one bad piece of news is that T-Mobile might use Charter's launch of a wireless network to claim that the cellular industry is plenty competitive as is, and that its proposed merger with Sprint wouldn't harm competition. But although Xfinity Mobile and Charter's services might come under a different name, they're no threat.
In fact, during its most recent earnings call just a few months ago,T-Mobile CEO John Legere put some of his so-called competitors on blast."[Xfinity Mobile] is very irrelevant, and I would assume Charter will be irrelevant squared," Legere said. "I would say the furthest thing from my mind is any concern about the impact of cable."