You'll definitely want to enable this feature before your boss gets the IT team to disable it. Get it while you can!
In a blog post, Microsoft announced that it is now integrating some of the most popular filters from Snapchat into Microsoft Teams. According to the announcement, the company is bringing over twenty of the most popular Snapchat Lenses into the app, letting users turn themselves into cats or mongeese or whatever else people use Snapchat for.
Starting this week, a collection of 20+ of the most popular Snapchat Lenses are available to Teams customers globally*, giving you more ways to express yourself, build relationships and let your meetings shine. Ahem, cue the Sunglasses Lens. Or better yet, check out Bear in Love, Cat on Head, or the Sunset Lenses. And did you know video calls make up 78% of positive memories in meetings?** Why not use Lenses to share more of your personality during your next Teams meeting and create connections with your coworkers that are, dare I say, memorable?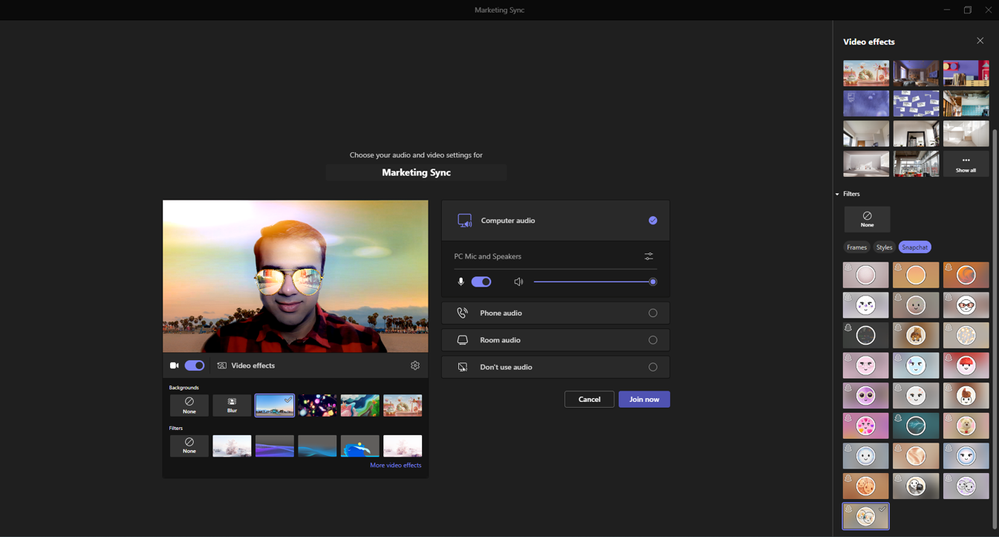 The company says that the integration with Snapchat Lenses is direct, meaning that users will not have to install any additional software or third-party apps in order to get the filters to work. Some of the included lenses are turning yourself into a cartoon character, background sparkles, and turning yourself into fungi….wait, what?
Lenses give you an easy way to show your personality or mood—from silly to sweet—through the power of AR. There are Lenses that make you look like a cartoon character, Lenses that add quirky backgrounds like Airy Sparkles to your video feed, and Lenses that let you show up as a Fungi, or… "fun guy?" With so many options to choose from, it's easy to find a Lens that suits your personality and sense of humor.
If you want to start using Snapchat Lenses on your Teams calls right away, you might have a bit of a wait. While Microsoft says that it will begin rolling out Lenses later this week, the company has noted that, at least for now, it will be "available for Teams for Work customers only" and that it will only work with the Classic version of the app. The company says that it will work with the new version of Teams by the end of the year.
The announcement comes a couple of weeks after the company also brought 3D avatars to Microsoft Teams. With Snapchat also making an entrance, I'd love to see the damage to productivity that is happening in Teams meetings right now. Worth it.