A day after opening its first store in India, Apple announced its New Delhi retail opens on April 20. The Apple Saket Store will be a "welcoming space for customers to shop Apple's incredible lineup of products and services, receive exceptional support from team members, and participate in free Today at Apple sessions to learn how to get the most out of their devices," said a press release.
"We're thrilled to bring the best of Apple to our customers in Delhi with the opening of our second store in India, Apple Saket," said Deirdre O'Brien, Apple's senior vice president of Retail. "Our incredible team members look forward to connecting with the local community and helping them find new ways to pursue their passions and unleash their creativity through our amazing products and services."
Apple Saket Store will have a uniquely designed curved storefront with white oak tables displaying Apple's products and accessories and a wall manufactured in India. The store features a dedicated Apple Pickup station, making it easier for customers to order online and collect their devices in-store conveniently.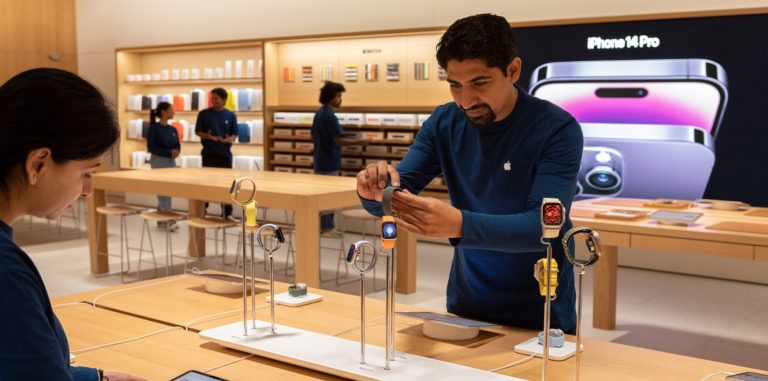 The store has more than 70 skilled retail team members who come from a combined 18 states in India and collectively speak more than 15 languages. For hands-on technical and hardware support, customers can make a reservation at the Genius Bar at Apple Saket for help from an Expert.
According to the press release, Apple Saket Store will be an "exciting hub for inspiration and education, offering customers free, daily in-store sessions through Today at Apple." With the start of the operation, Apple Saket will offer these Today at Apple sessions:
Skills: Getting Started with iPhone
Tips: Edit Your Photos on iPhone
Art Lab for Kids: Make Your Own Emoji
Skills: Personalizing Your Apple Watch
Tips: Capture Ideas on iPad
Apple Saket opens Thursday, April 20, at 10 a.m. IST in New Delhi. To celebrate the grand opening, customers can download exclusive Apple Saket wallpapers, listen to a specially curated Apple Music Saket playlist, and sign up for upcoming Today at Apple sessions.