Last year, Microsoft Edge surpassed Safari as the second most popular desktop browser. Now, new data from Statcounter shows that Apple's browser has finally regained second place. However, it will have to make an effort to retain this position, as Microsoft Edge is literally in its back.
The full ranking shows that Google Chrome remains the most used browser, although some tech evangelists would say to switch to Safari or Microsoft Edge instead. Here's the full list, with data from April 2023:
Google Chrome: 66.13%
Safari: 11.87%
Microsoft Edge: 11%
Firefox: 5.65%
Opera 3.09%
Internet Explorer: 0.55%
While the Windows userbase is larger than Apple's Macs, it's interesting to see that more Mac users are back with Safari, which means they have gotten used to the new look, in addition to the new features macOS Ventura brought, such as Shared Tab group, improved CSS, Passkey, and web push notifications.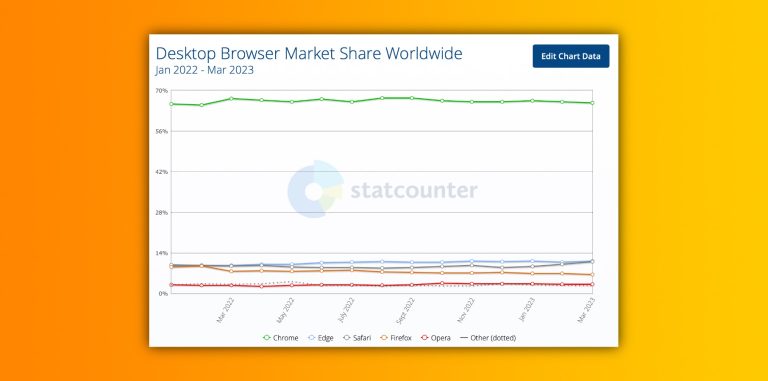 It's also interesting to note that after Firefox almost surpassed Safari in February of 2022, the browser is still losing its base to Microsoft Edge and Safari. That said, this data shows that Edge also grew from one year to another – and that the new Bing could be the reason why. Even the all-mighty Google Chrome has lost a bit of userbase, as it had 66.64% of users last April and now has 66.13%.
With the WWDC 2023 just around the corner, users might get new reasons to stick with Safari, as the competition keeps bringing new features. With Microsoft betting on AI-powered searches and a more optimized browser, Apple has much to keep up to maintain second place.
Not only that, but the company could once again offer its Safari browser to Windows devices, which could also help Apple grows its browser user base.
BGR will keep reporting on the most popular browsers as the data changes.