Of all the hotly anticipated new smartphones still set to be released over the course of 2018, Google's Pixel 3 and Pixel 3 XL are the furthest from becoming a reality. The LG G7 ThinQ and HTC U12+ are both in the process of rolling out now, and Motorola has some launches coming soon as well. Then the next big phone reveal will be Samsung's Galaxy Note 9, which will be followed by the even more eagerly anticipated release of Apple's 2018 iPhone lineup. There, we'll likely see three new iPhone X successors launch, including an "iPhone X 2," a larger "iPhone X Plus" with a 6.5-inch OLED display, and a new mid-range model with the iPhone X's design but a much lower price point. That third new iPhone model, which will reportedly feature a 6.1-inch LCD screen, will likely be Apple's most popular new iPhone in 2018 thanks to the new, lower price tag.
Finally, after all that is said and done, Google is expected to release its new Pixel 3 and Pixel 3 XL sometime in October 2018. They won't be the best-selling Android smartphones of the year — not by a long shot. But Google's new Pixel phones are always the choice of hardcore Android fans who want a pure Android experience and instant access to big Android software updates the moment they're released.
2018 is shaping up to be a somewhat controversial year for Google's Pixel lineup since the larger and more desirable Pixel 3 XL is expected to copy the iPhone X's notch design, and hardcore Android fans inherently hate anything and everything Apple does. Luckily for Android fanboys, however, Google likely has a solution in store to appease them, and we might have just gotten our first look at that solution in action thanks to a recent leak.
Earlier this week, the world may have gotten its first taste at the designs Google plans to use on its upcoming Pixel 3 and Pixel 3 XL flagship smartphones. That taste came courtesy of a photo that purportedly showed two screen protectors, one for the upcoming Pixel 3 and a second for the larger Pixel 3 XL phablet. Now, seeing screen protectors obviously isn't the same as seeing the phones themselves, but if they're genuine they do show us the design Google plans to use on its new Pixel phones. Here's that leaked image, in case you missed it the first time around: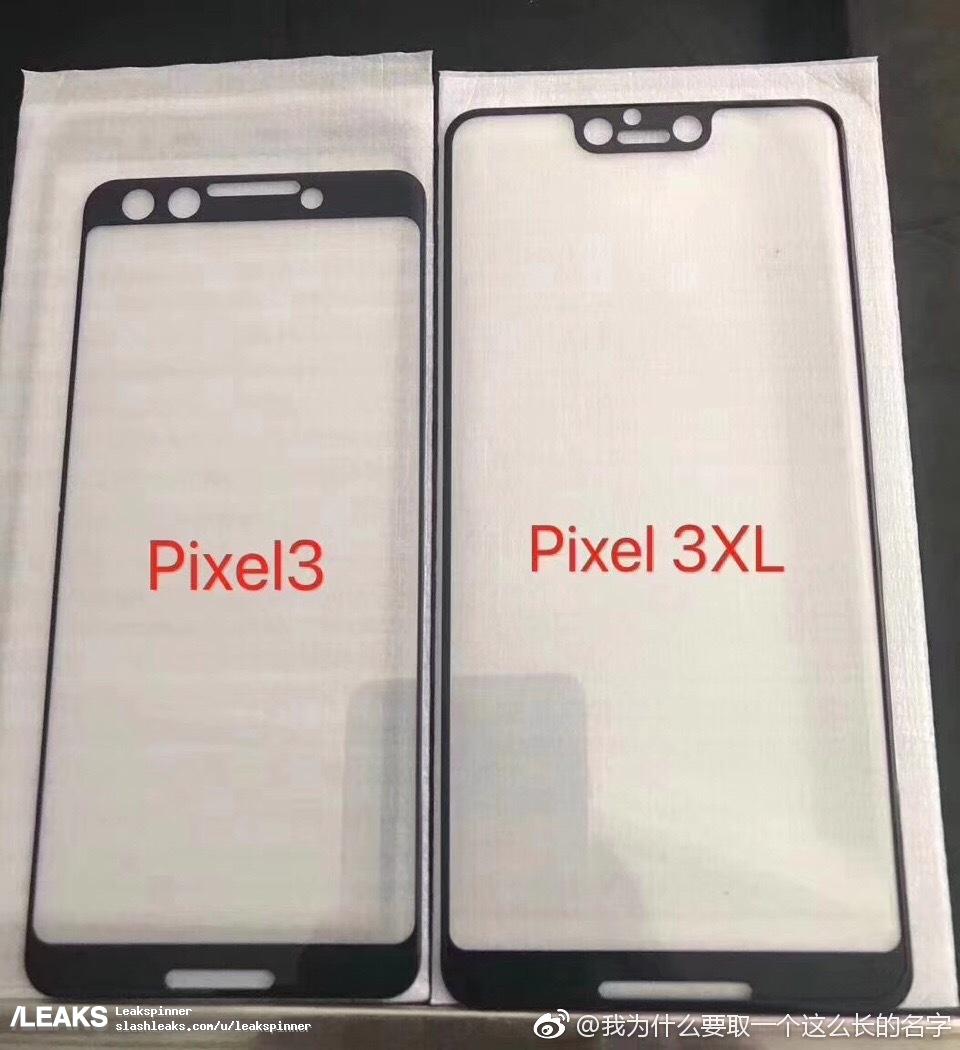 As you can see, the screen protectors indicate that Google plans to decrease the size of the bezels on its new Pixel 3 lineup this year. Both new models will still have a "chin" bezel below the displays, and the smaller Pixel 3 will also apparently have a somewhat large bezel above the screen. But the bigger Pixel 3 XL design shown in this leak uses Apple's iPhone X notch design at the top of the screen in order to maximize display real estate.
Again, there's no way at the moment to confirm that this design is accurate. That said, it wouldn't come as much of a surprise. So many Android phones have copied Apple's notch that Google actually baked notch support right into Android P, the company's big 2018 update set to be released later this year. Pixel phones are always a showcase of the latest and greatest Android features, so it stands to reason that Google would want to showcase the notch on at least one of its 2018 Pixel phones.
Based on the leak above, a cell phone blog cooked up renders of what Google's new Pixel 3 and Pixel 3 XL should look like when they launch. There's a very good chance that those renders will end up being our first look at Google's new Pixel 3 and Pixel 3 XL designs, though we obviously cannot confirm that for the time being. We showed you the renders on Tuesday, but here's another look: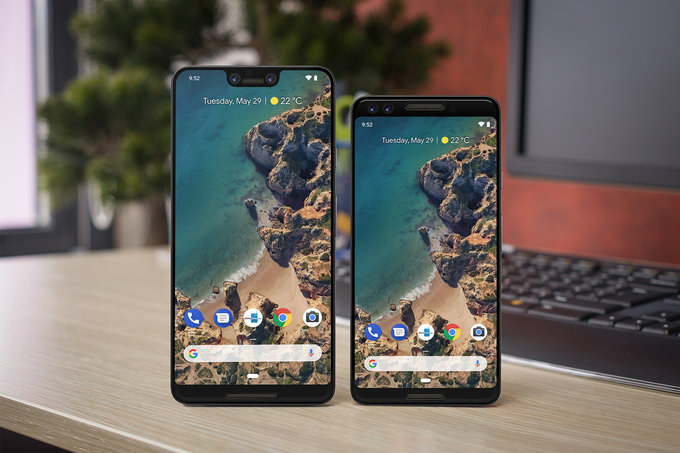 The smaller Pixel 3 has a design that is somewhat dated thanks to those big bezels above and below the screen, but the Pixel 3 XL looks just as sleek as any other recent Android flagship phone. It does clone the iPhone X's notch though, which is something that hardcore Android fans haven't been happy about with regard to all the other recent phones that copy Apple's design. Of course, many of those phones also offer a related feature that Apple does not: The ability to hide the notch.
Phones like the LG G7 ThinQ and OnePlus 6 include a setting in the phone's software to hide the notch by making the background black. Then, only status bar icons and notification icons are displayed on either side of the notch. There's a very good chance that Google will offer this option as well, and now a Reddit user named "fondantsnail" has created a Pixel 3 XL render that shows us what the phone might look like with the notch hidden:
The render on the left shows us Google's rumored Pixel 3 XL design with the notch enabled in the phone's software. Then on the right, we can see what the phone might look like with the notch hidden in the software. Will this be enough to appease Android fans who inherently hate anything that even resembles an Apple product? Only time will tell, but our guess is they'll happily look past the iPhone X's notch at the top of the Pixel 3 XL's screen in order to get their hands on the latest and greatest Google phone.