Today, Photomator, the powerful AI image editor from the Pixelmator Team, has released update 3.1, which magically removes color banding and increases color depth in JPEG photos, turning them into RAW-like images.
This function is called Smart Deband, and it's available with version 3.1 of the app for iPhone, iPad, and Mac users. According to the Pixelmator developers, Photomator can now "easily transform low-quality photos, such as heavily compressed JPEGs, into images with RAW-like quality. The Smart Deband feature intelligently removes compression artifacts from photos and increases color depth with a single click, producing smooth, professional-looking photos that can be edited with RAW-level precision."
Smart Deband gets help from two features to unlock precise editing tools for any photo:
Artifact Removal: Thanks to the cutting-edge artifact removal algorithm, Smart Deband intelligently detects and evenly smooths out areas of photos that feature gradients or solid colors with unwanted color banding and blocking artifacts;
16-Bit Color Depth: To ensure especially smooth color transitions when restoring gradients, Smart Deband also increases the color depth of a photo to 16 bits – a color depth comparable to RAW photos. This means you can edit the enhanced photo with the quality and precision of a RAW image.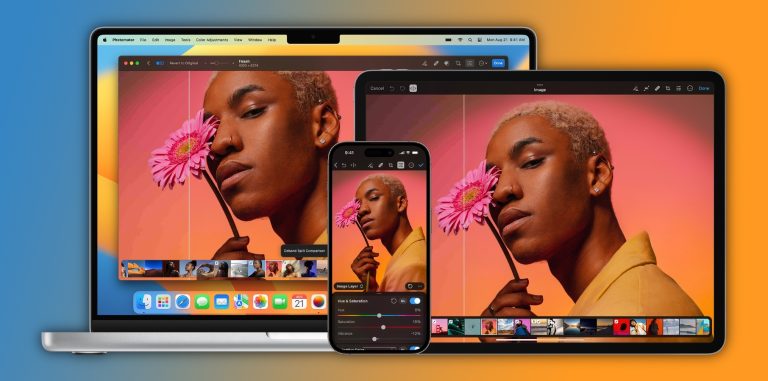 This is yet another AI feature available to Photomator. In total, the app has eight more machine-learning functions:
Auto Enhance: Automatically enhance photos like a pro photographer;
Super Resolution: Magically increases the resolution of photos with no unwanted blurring;
Denoise: Effortlessly remove camera noise and image compression artifacts;
Repair: Remove small imperfections or even entire objects from photos;
ML Crop: Automatically improve the composition of photos;
Select Subject: Quickly and easily select subjects of photos;
Select Sky: Instantly select the sky in any photo with ease;
Select Background: Automatically select the background in any photo.
In addition to Smart Deband, the Pixelmator Team offers a back-to-school deal so that users can get the Pixelmator Pro apps for 30% off. New Photomator subscribers can get more than 30% off in the first year of an annual subscription.
Photomator is available on the App Store for free but requires a subscription to unlock more than ten edits. Existing Pixelmator Pro owners can also get a better deal when subscribing to this new app.