LG's new G6 is far and away the most impressive flagship handset the company has ever produced. That's how you know just how impressive Samsung's new Galaxy S8 and Galaxy S8+ truly are: since they were announced at the end of March, LG's sleek new G6 has been completely eclipsed. It's a great phone, don't get us wrong, but it sadly doesn't offer a single advantage over Samsung's Galaxy S8. In fact, the S8 has a noted advantage in every key area, from design and display quality to power and performance.
If there is one phone launching in the first half of 2017 that might be worth considering over Samsung's Galaxy S8 and S8+, it's probably the OnePlus 5. The upcoming Chinese flagship phone will likely be no match for Samsung's design, but rumors suggest it will compete where power and specs are concerned. What's more, it will likely cost a fraction of what Samsung is charging for the S8. Now, it looks like every last detail surrounding this sleek new OnePlus phone has been leaked.
Last week, a leak gave us a good look at some of the OnePlus 5's specs. Then, earlier this week, leaked benchmarks showed that the upcoming new is going to be one of the most powerful smartphones ever, which makes it a real Galaxy S8 rival since it's expected to cost so much less than Samsung's new flagships. Now, it looks like nearly every question mark that might be left has been covered by this latest OnePlus 5 leak.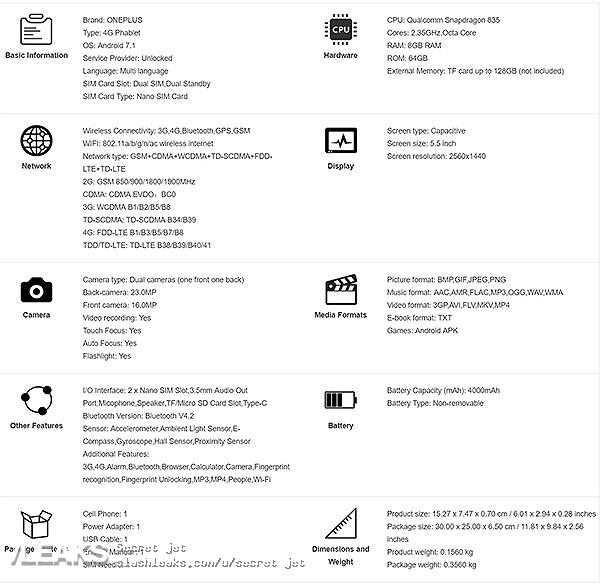 The image above was posted to Slashleaks on Thursday morning, and it seemingly shows all of the upcoming new phone's specs. Highlights include a Qualcomm Snapdragon 835 chipset, up to 8GB of RAM, Android 7.1 Nougat, a 23-megapixel camera, and a huge 4,000 mAh battery. Alongside this specs sheet was another sheet claiming that the OnePlus 5 will start at $450, which is significantly less than Samsung's $650 Galaxy S8.
Again, none of this is confirmed for the time being, but OnePlus is expected to make its new OnePlus 5 official in the coming months.