We already know that OnePlus will launch a new affordable flagship smartphone this summer, and we already know the phone will be called OnePlus 5 — the company confirmed all that already. A variety of other leaks have also revealed the purported specs of the phone, and a blurry image coming from a OnePlus exec offered us the first glimpse of what could be the phone's dual lens camera. Unsurprisingly, the leaks continue with a first benchmark leak for the handset, which seems to indicate the OnePlus 5 will be slightly faster than the Galaxy S8.
Obtained by GSM Arena from a trustworthy source, the following image shows Geekbench scores for the OnePlus 5. We're looking at 1963 and 6687 for single- and multi-core tests.
That's in line with what the Galaxy S8 got when it comes to single-core performance (1978), but a lost better than the multi-core score (6375) for Samsung's new phone.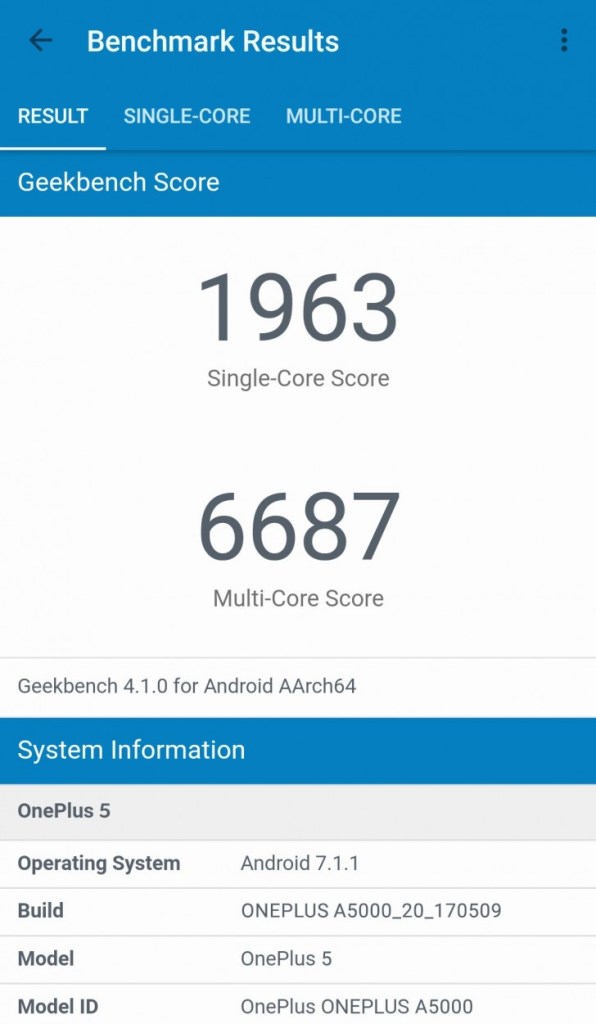 How is that possible given that the OnePlus 5 is expected to feature the same Qualcomm Snapdragon 835 platform that powers the Galaxy S8? Well, the OnePlus 5 might feature more RAM, and it'll run a different version of Android 7.1 Nougat.
The Galaxy S8 already delivers a remarkable performance in real life tests setting a new standard for 2017 Android smartphones, and we can only expect the OnePlus 5 and every phone that will pack the same Qualcomm processor to match it. At the same time, recent performance comparisons with the iPhone 7 showed that the Galaxy S8 may be the fastest Android phone in town, but it still can't touch the iPhone. The OnePlus isn't likely to outpace the iPhone 7 in the same tests either.