It may look like a tablet that can be used to play some of the hottest Nintendo games out there, and not only, but the Switch is a lot dumber than a cheap tablet. That's because playing games is pretty much everything you can do on the device.
However, the feature you've been waiting for is coming soon, according to a new report, and if accurate, it'll upgrade your Switch experience, whether it's on the go, or at home.
The Switch is finally getting video streaming support, and that means you'll be able to play Netflix, Hulu, and YouTube videos on your console. That's an incredibly cool feature, one that Nintendo took its time to release.
In fact, it's not even official as Nintendo hasn't announced it yet. But the new Switch capability might come real soon, as Nintendo's E3 keynote scheduled for 12 PM EST.
The news comes from Business Insider which spotted this Best Buy page: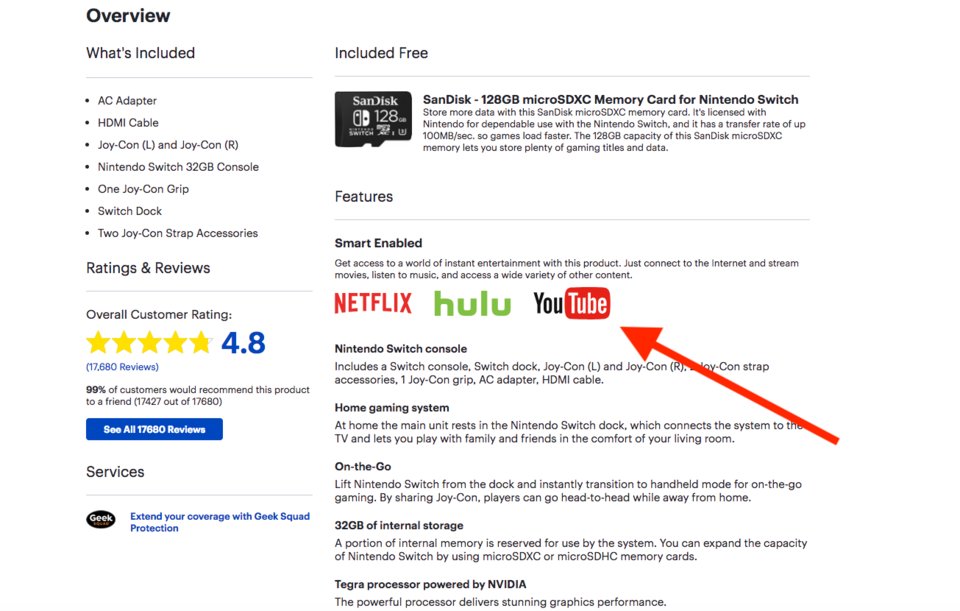 Best Buy fixed the blunder, but not before the screenshot above was captured.
The Switch is about to become "smart-enabled." And here's the explanation of the feature:
Get access to a world of instant entertainment with this product. Just connect to the internet and stream movies, listen to music, and access a wide variety of other content.
"A wide variety of other content?" Dare we say full-fledged browser support is coming to the Switch? We have no idea, what's clear is that the Best Buy seems to think that you'll be able to stream Netflix, Hulu, and YouTube on the console.
It makes sense to see distinct apps for each of these services, and previous rumors did say that streaming content was on Nintendo's agenda.
All we need now is for Nintendo to confirm the feature and issue software updates to enable video and music streaming.